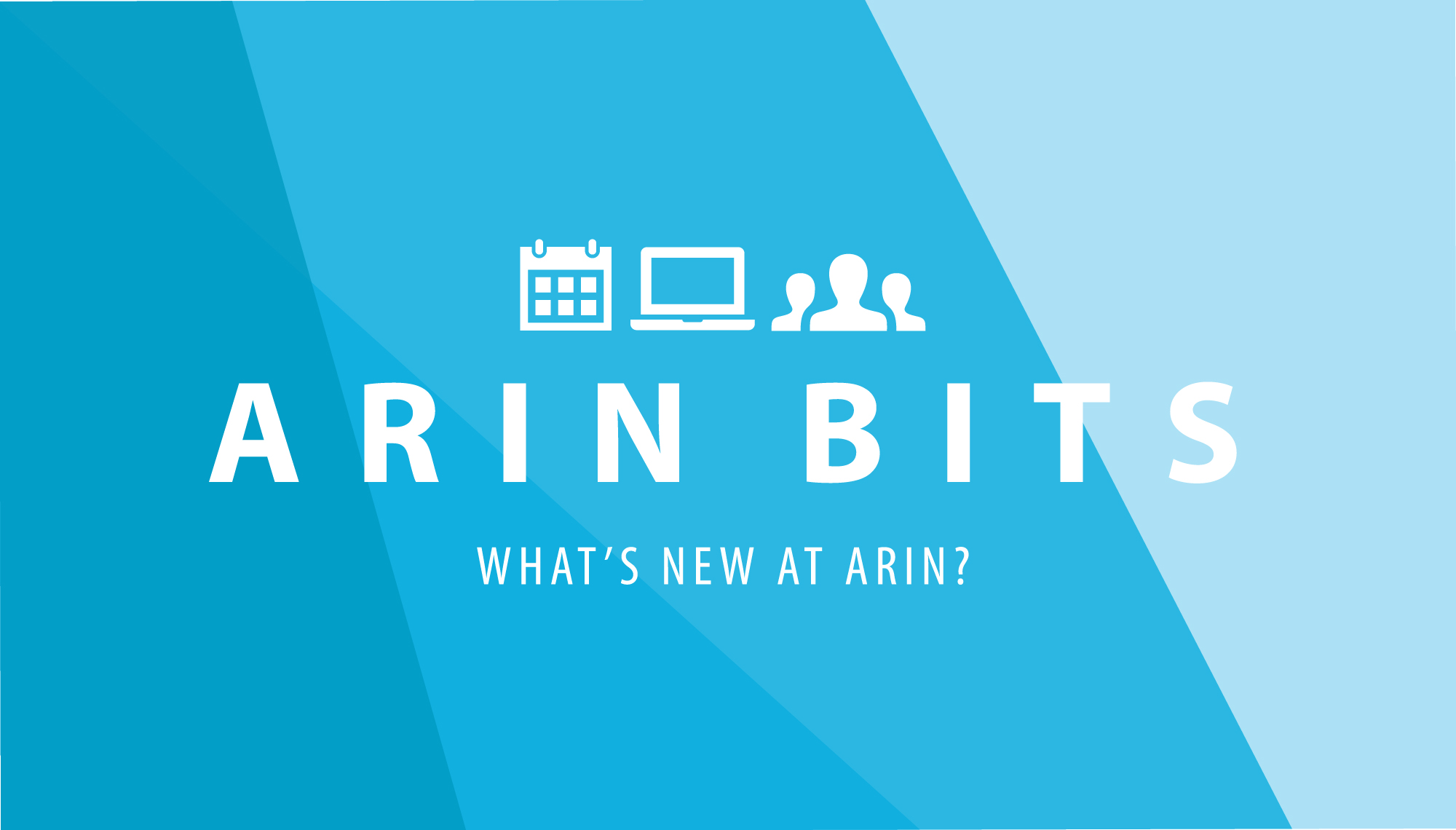 ARIN Bits: December 2018 [Archived]
OUT OF DATE?
Here in the Vault, information is published in its final form and then not changed or updated. As a result, some content, specifically links to other pages and other references, may be out-of-date or no longer available.
It's the most wonderful time of the year– ARIN Bits time! In this edition, we provide information about our recent ARIN election results, bid farewell to two of our staff members, introduce current policy proposals under discussion, share tips from our Registration Services and Financial Services departments, and so much more! Missed last quarter's edition? You can find all past editions on our ARIN Bits page.
Farewell, Nate and Cathy!
Please join us in bidding Nate Davis and Cathy Handley farewell and congratulations as they begin retirement this month. Nate Davis, ARIN's Chief Operating Officer, has been with us for 14 years and Cathy Handley, Senior Director of Government Affairs and Public Policy, has been with us for ten years. We wish them all the best in retirement and thank them for their years of service to the ARIN region.
And the winners are…
Thank you to everyone who voted in the 2018 ARIN Elections. The results of the election were announced on 15 October but in case you missed them, take a look now.
Congratulations to those elected to serve on the ARIN Board of Trustees, Advisory Council and NRO Number Council!
Join us for ARIN 43 in beautiful Barbados!
We're accepting applications for our Fellowship Program to attend ARIN 43 in Bridgetown, Barbados from 7-10 April 2019. Apply for a fellowship  now through 5:00 PM EST on Wednesday, 16 January 2019.
ARIN 43 Fellowships may also include registration and hotel accommodations for CaribNOG 17, which will be held following ARIN's meeting in the same location from 11-12 April 2019. Learn more about CaribNOG.
Registration for ARIN 43 is now open, so secure your spot to join us!
We have a few policy proposals under discussion, including:
Pending Board of Trustees Review:
Recommended Draft Policies:
Draft Policies:
You can find the status of current policy discussions on our Draft Policies and Proposals page and subscribe to ARIN-PPML (Public Policy Mailing List) to voice your opinions. Membership is not required to participate!
Future of Technology Summit (FTSUMMIT) – 10-12 February 2019
John Curran will be speaking at the Future of Technology Summit in Washington, D.C., an event dedicated to exploring how technology is on track to fundamentally change what our work looks like in the next five to ten years, and what decision makers must do now to be prepared. John will discuss what's in store for the future of the Internet as the very way we connect to it is changing.
Our Featured Policy Requirement
Direct assignments from ARIN to End-User organizations (NRPM 6.5.8)
Did you know that End-user organizations can easily qualify for an initial IPv6 assignment? Under current policy, most organizations will qualify for their first IPv6 assignment of a /48. Larger blocks are issued on the nibble boundary (/44, /40, etc), and are justified by the number of sites the organization has in their network. Have any questions?  Give our Registration Services team a call at 703.227.0660 or submit an Ask ARIN ticket from within your ARIN Online account.
A tip from our Registration Services Department
"How long will my ticket take to be completed?" We get that question a lot.  ARIN staff reviews and responds to all tickets and correspondence in the order they are received.  We endeavor to reply within two business days. The overall duration of a ticket will vary depending on how much correspondence is required for your particular ticket.
Here are some tips that may help expedite the completion of your ticket:
Ensure you thoroughly review and respond to all items asked of you by ARIN staff within the ticket

Ensure any necessary documents are attached to your ticket

If you have any questions, you may want to give us a call at the Help Desk for a quick conversation. Once all your questions have been answered, be sure to provide your written response within the ticket.

You can check the status of a ticket and review all correspondence within a ticket in the Tickets and Messages section of your ARIN Online account. You may want to check on a ticket to ensure ARIN staff is not waiting for a response from you on that ticket.
A tip from our Financial Services Department
How to Cancel and Return Resource(s) to ARIN
When your organization no longer needs and/or does not want to pay to renew the Internet number resources directly registered to your organization, those resources can be proactively returned to ARIN.
Returning IPv4 Addresses, IPv6 Addresses, or ASNs (Internet Number Resources)
If you would like to return the Internet number resources, the following steps are necessary to validate that is the true intention of your company and that the person submitting the request has authority to act on the company's behalf to transact the return.
1. Log in to ARIN Online and create a ticket via Ask ARIN, stating that you have Internet number resources you would like to return. If you don't have an ARIN Online account, you may create one by going to our Account Setup page.
2. Please provide your Organization ID (Org ID) and list each IPv4 address block, IPv6 address block, or ASN you would like to return.
3. Please include a signed and notarized document from an officer of your organization with an acknowledgment of their return. **This document must include that he/she:  **
Authorizes the return of the resources to ARIN,

Permanently releases all registration rights to the resources, and

States his/her understanding that once the registration rights to the resources are relinquished, they cannot be later reinstated.Get involved with us in 2019
4. An analyst will work with you to secure the return of the resources.
Get involved with us in 2019!
Since the new year is upon us and it's the perfect time for a fresh start, consider making 2019 the year you get more involved with us! There are so many ways to be a part of what we do, some of which you may not even be aware. Here are a few ideas:
Want more information about any of these ideas? Email us at info@arin.net.
Check out these Customer and Member stats! (As of 30 Nov 2018)
38,140 total customer organizations, including 5,893 member organizations

815 8.3 Transfers and 141 8.4 Transfers completed YTD 2018

8.4 Transfers completed YTD 2018: 64 to APNIC, 61 to RIPE NCC, 11 from APNIC, 5 from RIPE NCC

58.7% of members have an IPv6 block
Is IPv6 on your list of New Year's resolutions? We can help you get started.
Catch up on our recent posts:
OUT OF DATE?
Here in the Vault, information is published in its final form and then not changed or updated. As a result, some content, specifically links to other pages and other references, may be out-of-date or no longer available.