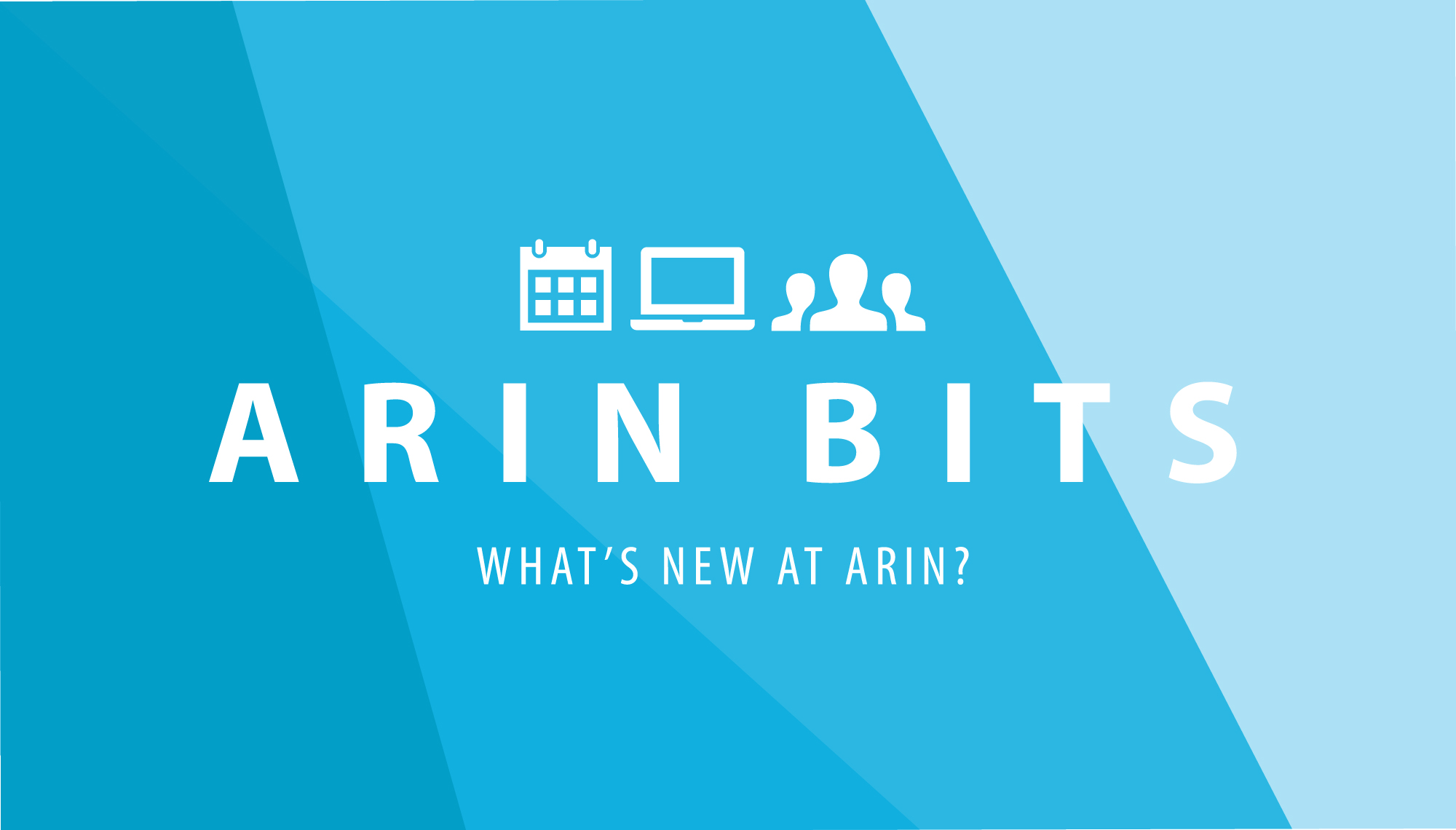 ARIN Bits: March 2018 [Archived]
OUT OF DATE?
Here in the Vault, information is published in its final form and then not changed or updated. As a result, some content, specifically links to other pages and other references, may be out-of-date or no longer available.
We've been springing ahead with lots of projects, outreach events, policy discussions, and so much more this quarter. In this edition of ARIN Bits, we share upcoming events we'll be hosting, important changes we're making to our website, the launch of a new initiative in the Caribbean, and much more! Missed last quarter's edition? You can find all past editions on our ARIN Bits page.
---
Join us at ARIN 41 in Miami!
ARIN 41 is next month! Are you ready? We are! We hope to see you in sunny Miami, Florida from 15-18 April at the Hilton Miami Downtown. This will be a great opportunity to engage in policy discussions, network with colleagues, learn more about ARIN services and operations, and attend workshops and tutorials. If you can't be there in person, remote participation is always an option and is equally rewarding. View the agenda for ARIN 41 and register as either an in-person or remote attendee.
We're shaking things up.
In case you haven't heard, big changes are on the horizon for www.arin.net! We are currently digging into a major effort to modernize and improve our website so that it is more attractive, intuitive, responsive, and accessible. In short, we want to make using the ARIN website a better experience for everyone.
If you're interested in what lies ahead for www.arin.net, then we hope you're planning on attending ARIN 41 in Miami. During the meeting, there will be a presentation summarizing our efforts and we'll even be showing off a preliminary preview of the new site so we can gather user feedback right at the meeting. It will be a great opportunity for the community to get a feel for the new website and steer us in the right direction with their feedback!
We are also currently running a Tree Test to get community input on the navigation on the new website. Want to participate? Take the Tree Test now.
We thank everyone for their patience as we work toward the completion of this very important project.
What's new in the Caribbean?
In February, Caribbean Outreach Liaison Bevil Wooding launched a new initiative called ARIN in the Caribbean, designed specifically for the Caribbean portion of the ARIN region. Programs in Grenada, Barbados, St. Lucia, and St. Kitts and Nevis were well attended.
The one-day program features information on ARIN and its services, as well as how we can help you and your organizations design, secure, and maintain robust networks and contribute to Internet numbering policy development for the region.
ARIN in the Caribbean events are free to attend and offer a great environment to learn and share. The program includes presentations on timely topics such as obtaining IPv6 addresses from ARIN and transfers of number resources. In addition, there will be presentations on current policy discussions, ARIN technical services, and best practices for building resilient Caribbean networks.
To learn more and view upcoming dates and locations, visit our ARIN in the Caribbean page.
Will we see you at ARIN on the Road?
ARIN on the Road is your chance to get face time with ARIN and get your questions answered. These traveling, no-cost events provide the latest from ARIN on everything from technical services and tools to current ARIN policy developments and the status of IPv6 adoption.
ARIN on the Road will visit Minneapolis, MN on 1 May and London, ON on 3 May. Registration is now open for both events.
And mark your calendars: ARIN on the Road will also be making stops in St. Louis, MO and Atlanta, GA on 5 and 7 June, respectively. We hope to see you at an upcoming event!
We have a few policy proposals under discussion, including:
Recommended Draft Policies under discussion:
ARIN-2017-3: Update to NPRM 3.6: Annual Whois POC Validation

ARIN-2017-8: Amend Community Networks

ARIN-2017-10: Repeal of Immediate Need for IPv4 Address Space (NRPM Section 4.2.1.6)

ARIN-2017-12: Require New POC Validation Upon Reassignment

ARIN-2017-13: Remove ARIN Review Requirements for Large IPv4 Reassignments/ Reallocations
Draft Policies under discussion:
ARIN-2017-9: Clarification of Initial Block Size for IPv4 ISP Transfers

ARIN-2018-1: Allow Inter-regional ASN Transfers

ARIN-2018-2: Clarification to ISP Initial Allocation and Permit Renumbering
Editorial changes under discussion:
Correct References to Rwhois (formerly ARIN-prop-251)

Reallocation and Reassignment Language Cleanup (formerly Draft Policy ARIN-2017-11)
You can find the status of current policy discussions and subscribe to ARIN-PPML (Public Policy Mailing List) to voice your opinions. And remember, membership is not required to participate!
In February 2018 we added some new features to ARIN Online:
We completed a number of performance improvements and implemented multiple bug fixes on Whois.

The Transfer performance was improved, resulting in shorter processing time for large transfers.

The pages and processes in ARIN Online were improved and streamlined, including Transfer Requests, Ticket - Request Details, Ask ARIN, and Password Change.

ARIN's MD5-PW generator has been updated and is available for use with ARIN's Internet Routing Registry (IRR).

We updated the Whois Inaccuracy Form to provide additional guidance to users.

For Two-Factor Authentication, we removed the QR code and key viewing after initial setup (customer request).
Check out our open consultations:
On occasion, we need to consult with our members and/or the community at-large regarding our services and practices. To address this need, the ARIN Consultation and Suggestion Process (ACSP) was formed. The ACSP enables communications in an organized, deliberate, and transparent manner, and provides a feedback mechanism whereby the sense of the community or members regarding a specific issue can be gauged.
We currently have two consultations open for community feedback:
Consultation 2018.1 will remain open until 25 April and 2018.2 will remain open until 30 April. To contribute to the discussion, please provide comments to arin-consult@arin.net. Or you can subscribe to the mailing list.
Our Featured Policy Requirement:
Pre-approval for Transfers between Specified Recipients within the ARIN Region (NRPM 8.3) and Inter-RIR Transfers to Specified Recipients (NRPM 8.4)
Did you know your organization can be pre-approved to receive transfers for up to your 24-month demonstrated need? Once pre-approved, you can then submit as many 8.3 and/or 8.4 transfers as needed until your 24-month pre-approved amount is depleted. If you would like to submit a transfer pre-approval request, please find additional information and instructions on our Transfer Pre-Approval page.
A Tip from ARIN's Registration Services Department:
Don't forget that our Resource Analysts are easily reachable via telephone! If you would like to discuss anything related to ARIN Online, Internet number requests, or any other service we offer, give our Registration Services team a call at 703.227.0660 Monday through Friday, 7:00 AM to 7:00 PM ET. There is rarely a queue, and our average wait time is currently at 10 seconds!
A Tip from ARIN's Financial Services Department:
Are you wondering why you haven't received an invoice or other communication from us? The cause may be related to any number of reasons, but some common reasons could be that the:
contact left the company,

contact changed roles within your company, or

company email address changed
Annual invoices and reminder notices are emailed to persons who have been designated to represent the organization as the Billing, Admin, and Tech contact. Keeping these contacts up-to-date is an important part of making sure your annual invoices and reminder notices arrive in your inbox on time.
To update the Admin and Tech Point of Contact (POC), see the tip from our Registration Services Department in ARIN Bits in December 2017.
To update the Billing contact, you must use one of the methods below, including the Organization Identifier (Org ID) or last invoice number to identify the account:
Send an email to billing@arin.net

Submit an ARIN Online request from within the "Payments & Billing" link located on the left

Mail (correspondence only) to PO Box 232290, Centreville, VA 20120
Have any questions? Give our Financial Services Department a call at 703.227.9886 or submit an Ask ARIN ticket from within your ARIN Online account, and an account representative will be happy to help you.
Check out these Customer and Member Stats (As of 28 February 2018):
37,000+ organizations served by ARIN

21,000+ organizations under contract with ARIN, including 5,732 member organizations

309 8.3 transfers and 31 8.4 transfers completed YTD 2018

8.4 transfers completed YTD 2018: 23 to APNIC, 5 from APNIC, 4 to RIPE NCC, 3 from RIPE NCC

56.4% of members have an IPv6 block
Here are a few helpful IPv6 links:
See you next quarter!
OUT OF DATE?
Here in the Vault, information is published in its final form and then not changed or updated. As a result, some content, specifically links to other pages and other references, may be out-of-date or no longer available.