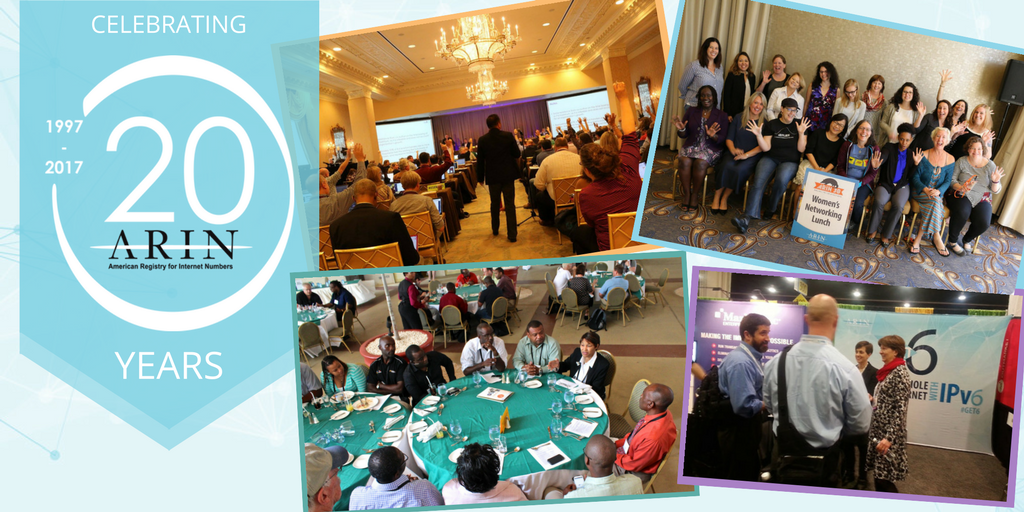 On the Road Again: Highlights from ARIN's Outreach
We are celebrating our 20th anniversary this December and have found ourselves reflecting over these last two wonderful decades. One of the most important organizational objectives we have here at ARIN is our community outreach efforts. We make it a priority to reach out to you, our community, to provide the tools and advice you need when it comes to Internet number resources. We have hosted and attended an incredible number of events over the years, and thought it would be fun to look back and share where we've been and what we've accomplished with our community.
What kind of outreach do we do?
Each year, we host or attend a number of different events. Twice annually we hold our Public Policy and Members Meetings in the second and fourth quarters in various locations throughout our region. These meetings provide an opportunity for the entire Internet community to engage in policy discussions, network with colleagues, and attend workshops and tutorials. Everyone with an interest in Internet number resources is welcome to attend the Public Policy & Members Meetings and registration is free!
We also host many ARIN on the Road events around our region throughout the year. These free events provide local communities with the latest news from ARIN, covering everything from requesting IP addresses and Autonomous System Numbers (ASNs) to the status of IPv6 adoption, to current policy discussions, and updates about our technical services. Did you know that you can request an ARIN on the Road in your city, town, or metro area? I encourage you to send an email to info@arin.net if you believe your local Internet community would be interested in participating.
While we do discuss IPv6 at ARIN on the Road, that is not the only way we continue to spread the word in support of IPv6 deployment. Our message has evolved since we started actively promoting IPv6 in 2007, when we set up our TeamARIN site and began exhibiting at major industry shows. Today we exhibit at fewer tradeshows, but we do send speakers to many events across a wide range of industries, where we encourage organizations to prepare for the future by enabling IPv6 on their websites.
Additionally, members of our team attend community events around the world. Whether it be other RIR meetings, Internet Governance events, or partners such as NANOG or CARIBNOG, we believe it's important to show our support to the wider Internet community. For a full list of events we host or attend, check out our events page.
Where was our first meeting?
Our first members meeting took place in Chantilly, Virginia on 20 March 1998. Since then, we've held a total of 40 meetings over the last 20 years!
Where was our first AOTR?
Our first ARIN on the Road event was held in Phoenix, Arizona on 17 August 2010. Since then we have held an additional 46 AOTR events and counting!
How can you get involved?
Phew! As you can see, we've done a lot over the last 20 years, but we've only just begun. We plan to continue expanding our outreach efforts around our region, including a continued focus on the Caribbean, and it is all possible thanks to our wonderful community.
There are so many ways you can continue to get involved with ARIN, including:
Recent blogs categorized under: Outreach
---
GET THE LATEST!
Sign up to receive the latest news about ARIN and the most pressing issues facing the Internet community.
SIGN ME UP →
---
Blog Categories
ARIN Bits
•
IPv6
•
Business Case for IPv6
•
Fellowship Program
•
Grant Program
•
Caribbean
•
Internet Governance
•
Updates
•
IPv4
•
Elections
•
Tips
•
Public Policy
•
Customer Feedback
•
Security
•
Outreach
•
RPKI
•
Training
•
IRR
•
Data Accuracy