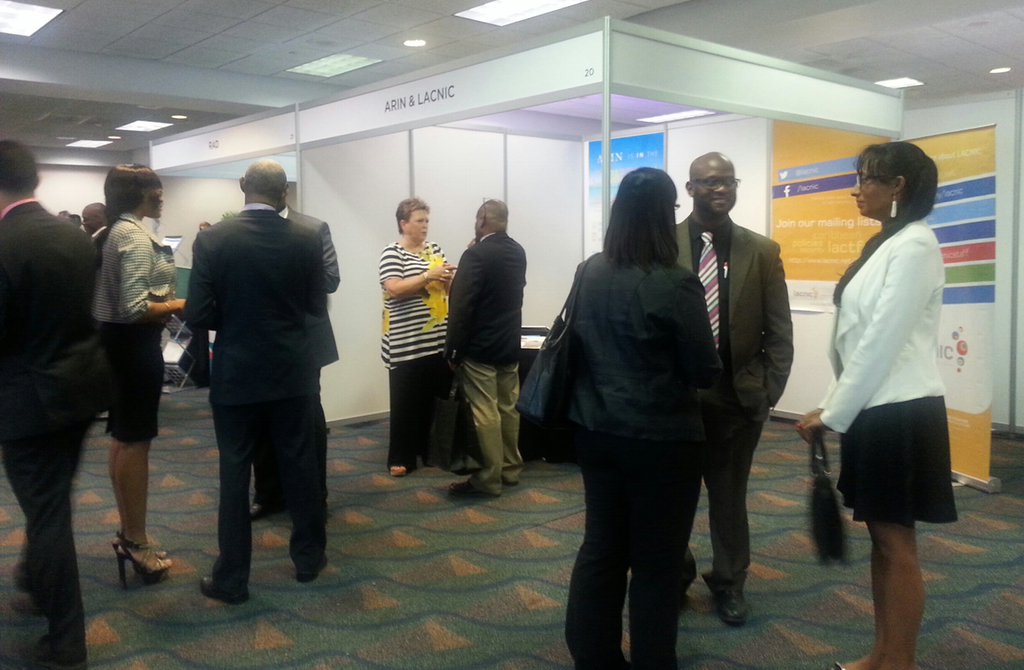 Engaging the Caribbean ICT Community
Last week I had the opportunity to connect with attendees at the Caribbean Association of National Telecommunication Organizations (CANTO) 31st Annual Conference and Trade Exhibition in Miami, FL. I found the Caribbean ICT community to be most welcoming and interested in bettering the Internet in their local communities to promote economic and social development. ARIN has been pleased to take part in this CANTO event for the many years as we encourage the Caribbean Internet community to get involved in everything from requesting number resources to public policy discussions.
ARIN shared a booth in the exhibit hall with our friends from LACNIC, the other RIR that also serves the Caribbean region. I joined both Cathy Handley, ARIN's Executive Director of Government Affairs and Public Policy and Richard Jimmerson, ARIN's Chief Information Officer to speak with many stakeholders and answer questions about our IPv4 waiting list, getting an ASN, steps needed to prepare for IPv6 and more. Jointly with LACNIC we also hosted a couple of Ministerial events to drive home the importance of governmental participation in the Internet governance process and the need for all levels of support for IPv6 adoption.
I was delighted by how appreciative many were that ARIN is making a continued effort to engage and support the Caribbean. And it was great to be able to explain in-person the many ways they could become engaged in the ARIN community. For example, ARIN offers a fellowship program to send up to five people per region to each Public Policy and Members Meeting held in the spring and fall of each year. In addition to fellowships, we also offer full remote participation options in case attending in person is not possible. This fall we will be headed to Montreal in Canada in the spring of 2016 we will take to Montego Bay in Jamaica. Also, we hosted our most recent Caribbean ARIN on the Road educational event in Dominica in June of this year and are always open to suggestions on where to go next.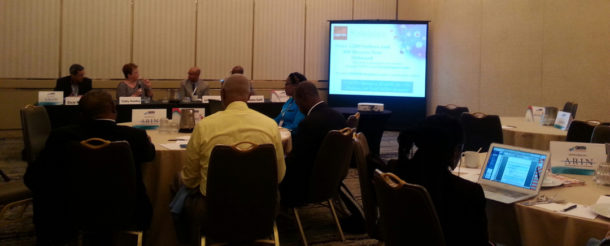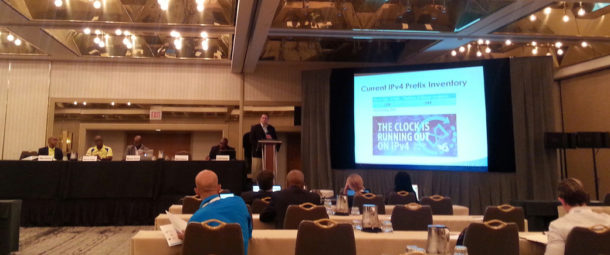 On Wednesday afternoon, representatives from ARIN, LACNIC, ICANN, and the Internet Society took part in a joint session to discuss the ever-changing ICT ecosystem. The panel covered topics like the impending IPv4 depletion in our region, the example of the RIRs as successful multistakeholder model, IP address transfers, IPv6, the status of the IANA stewardship transition, and more.
Along with CANTO, here at ARIN we share the common interest of Internet growth and stability in the Caribbean. We depend on the participation of all of our members to make sure we're able to meet the needs of our entire region. No matter where you reside, if you are looking to get more involved in ARIN here are a few places you can start:
Get the latest news from ARIN
Follow and contribute to policy discussions
Subscribe to ARIN's public policy mailing list (ppml)
Request resources from ARIN
Come to an ARIN event
ARIN biannual meetings and one-day ARIN on the Road events provide a chance to network with colleagues and discuss important matters.
Get resources on IPv6
Recent blogs categorized under: Caribbean