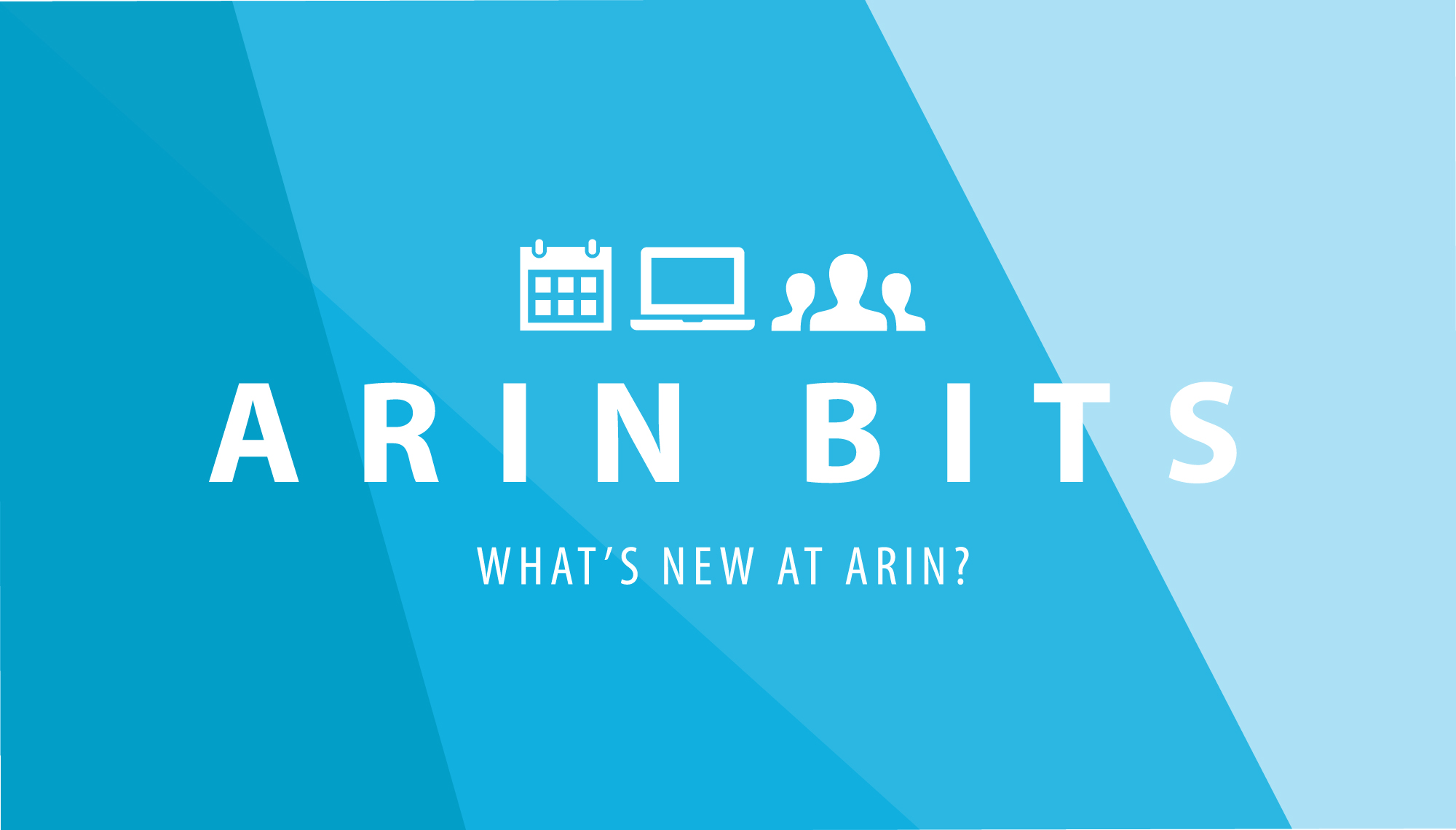 ARIN Bits: September 2018
As we enter a new season, we're happy to be back with another edition of ARIN Bits! We've been working hard this summer and want to fill you in on what we've been up to. In this edition, you'll learn what's on the ARIN 42 agenda, meet our newest Board Member, read about the draft policies under discussion, hear about our latest outreach initiative and so much more.
Missed last quarter's edition? You can find all past editions on our ARIN Bits page.
Take a look at the agenda for ARIN 42 next month:
ARIN 42 is just a few weeks away! We hope to see you in Vancouver from 4-5 October at the Hyatt Regency Vancouver, directly following NANOG 74 in the same location. This will be a great opportunity to engage in policy discussions, network with colleagues, learn more about our services and operations, and attend workshops and tutorials.
If you can't join us in Vancouver, remote participation is always an option and can be equally rewarding! In an effort to create a truly open community forum, we provide meeting materials, live transcripts, and webcasts so you can be part of the action, wherever you are. Remote attendees will also have access to a live chat as well as voting options to make sure your voice is heard. It's the next best thing if you can't be there in person. Be sure to join in for the policy discussions and also for candidate speeches on Thursday afternoon.
It's almost time to vote! Are you ready?
It's almost time to vote in the 2018 ARIN Elections! Elections for two seats on the ARIN Board of Trustees, five seats on the ARIN Advisory Council, and one seat on the Number Resource Organization Number Council (NRO NC) will be held online 4-12 October. Take a look at this compilation of candidate biographies and questionnaire responses and submit your statement of support.
When it comes time to vote, eligible Voting Contacts from General Members in Good Standing should log in to ARIN Online and look for the "Vote Now" message on the dashboard. Additionally, all NANOG 74 and ARIN 42 meeting attendees registered for these meetings by 27 September (and who are not ARIN Voting Contacts) will be sent an email on 4 October with a link to vote in the NRO Number Council election.
If you have any questions about elections, email members@arin.net. Happy voting!
Congratulations Ms. Regenie Fräser!
We're pleased to announce that during their 31 July 2018 Board of Trustees Board meeting, ARIN Trustees unanimously agreed to appoint Ms. Regenie Fräser to serve a one-year term on the ARIN Board of Trustees effective 1 January 2019, and in observer status in the interim period. Ms. Fräser served as the Secretary General of the Caribbean Association of National Telecommunication Organizations from 2004-2015.
The appointment is part of the ARIN Trustees ongoing commitment to Board diversity and fulfills the April Call for Volunteers of Caribbean background.
Congratulations to Ms. Fräser on her appointment! We look forward to her participation within and contributions to the ARIN Board of Trustees and the community.
We have a few Draft Policies under discussion, including:
Recommended Draft Policies:
ARIN-2017-12: Require New POC Validation Upon Reassignment

ARIN-2018-1: Allow Inter-regional ASN Transfers

ARIN-2018-3: Remove Reallocation Requirements for Residential Market Assignments
Draft Policies:
ARIN-2018-2: Clarification to ISP Initial Allocation and Permit Renumbering

ARIN-2018-4: Clarification on Temporary Sub-Assignments
You can find the status of current policy discussions and subscribe to ARIN-PPML (Public Policy Mailing List) to voice your opinions. And remember, membership is not required to participate!
We've released our Number Resource Policy Manual (NRPM) Repository:
In response to community suggestion 2018.1: Revision Management System for NRPM, we're pleased to announce the release of the Number Resource Policy Manual (NRPM) Repository, a Markdown-based revision history interface utilizing the Git version control system.
This repository is available as a public resource that will be maintained alongside the current HTML format for all NRPM versions going forward.
The repository contains a single Markdown file with a commit history spanning all 46 NRPM iterations and a user-friendly web interface for viewing differences between versions.
It's also available via standard Git commands for those familiar with using Git for code and documentation repositories.
Join Us For Lunch!
Representatives from our customer organizations in the Indianapolis and Chicago areas are invited to join us for our newest initiative, ARIN Lunch by the Numbers.
These lunches are specifically tailored to our customer organizations who may not have much visibility into the inner workings of ARIN. During lunch, our staff will present you with an informal overview of our current activities and services. Afterward, there will be plenty of time for questions and for you, our valued community members, to provide us with feedback. We will have a Registration Services Help Desk at each event, so please bring any specific questions about your resources.
Registration is free and is now open for both events:
ARIN Lunch by the Numbers: Indianapolis
Tuesday, 30 October 2018
11:45 AM to 2:00 PM
ARIN Lunch by the Numbers: Chicago
Wednesday, 31 October 2018
11:45 AM to 2:00 PM
In September we added a few new features to ARIN Online:
We completed a number of infrastructure improvements and performed multiple bug fixes.

Whois now provides an error response when it receives a forward domain query that does not include qualifiers or flags.

Changes were made in our system to improve the speed of network and ASN transfers.

RPKI now allows input and certification of Direct Assignment (DS) and Direct Allocation (DA) resources that are under Early Registration Transfer (ERX) Project space as well as DS and DA resources that are top legacy networks.

For RDAP queries on the Origin AS field, the results are limited to 256 networks.
Join us for Industry events this fall:
This fall, we'll be participating in events across our region, including WISPAPALOOZA, Internet2 Technology Exchange, EDUCAUSE, the Canadian ISP Summit and more. We'll be discussing topics like IPv6, transfers, updating info in Whois, and more. Stop by and see us if you plan to be there.  See TeamARIN for more details.
Our Featured Policy Requirement:
Did you know that under section 5 of NRPM, you can request an Autonomous System number (AS Number) from ARIN even if you don't have IPv4 or IPv6 addresses directly registered with ARIN? You can use an ARIN issued AS number for use with IPv4 or IPv6 addresses which have been issued by your Internet Service Provider.
A Tip from ARIN's Registration Services Department
A ticket cannot be re-opened once it has closed. All tickets in ARIN Online close after three months of inactivity. A notification that your ticket will auto-close is sent 15 days prior to closure. To keep the ticket open, simply reply to the ticket, and the auto-close clock will reset. If you did not intend to let a ticket close, you must submit a new ticket. In the new ticket, reference the ticket number for the ticket that closed. If any utilization or other time sensitive information was provided in the previous ticket, you may want to include updated current information in the new ticket.
Check out these Customer and Member Statistics (As of 31 August 2018)
5,851 member organizations

604 8.3 transfers and 103 8.4 transfers completed YTD 2018

8.4 transfers completed YTD 2018: 50 to APNIC, 7 from APNIC, 41 to RIPE NCC, 5 from RIPE NCC

58.1% of members have an IPv6 block
Helpful IPv6 Links
Catch Up on Our Recent Posts:
Recent blogs categorized under: ARIN Bits
---
GET THE LATEST!
Sign up to receive the latest news about ARIN and the most pressing issues facing the Internet community.
SIGN ME UP →
---
Blog Categories
ARIN Bits
•
IPv6
•
Business Case for IPv6
•
Fellowship Program
•
Grant Program
•
Caribbean
•
Internet Governance
•
Updates
•
IPv4
•
Elections
•
Tips
•
Public Policy
•
Customer Feedback
•
Security
•
Outreach
•
RPKI
•
Training
•
IRR
•
Data Accuracy