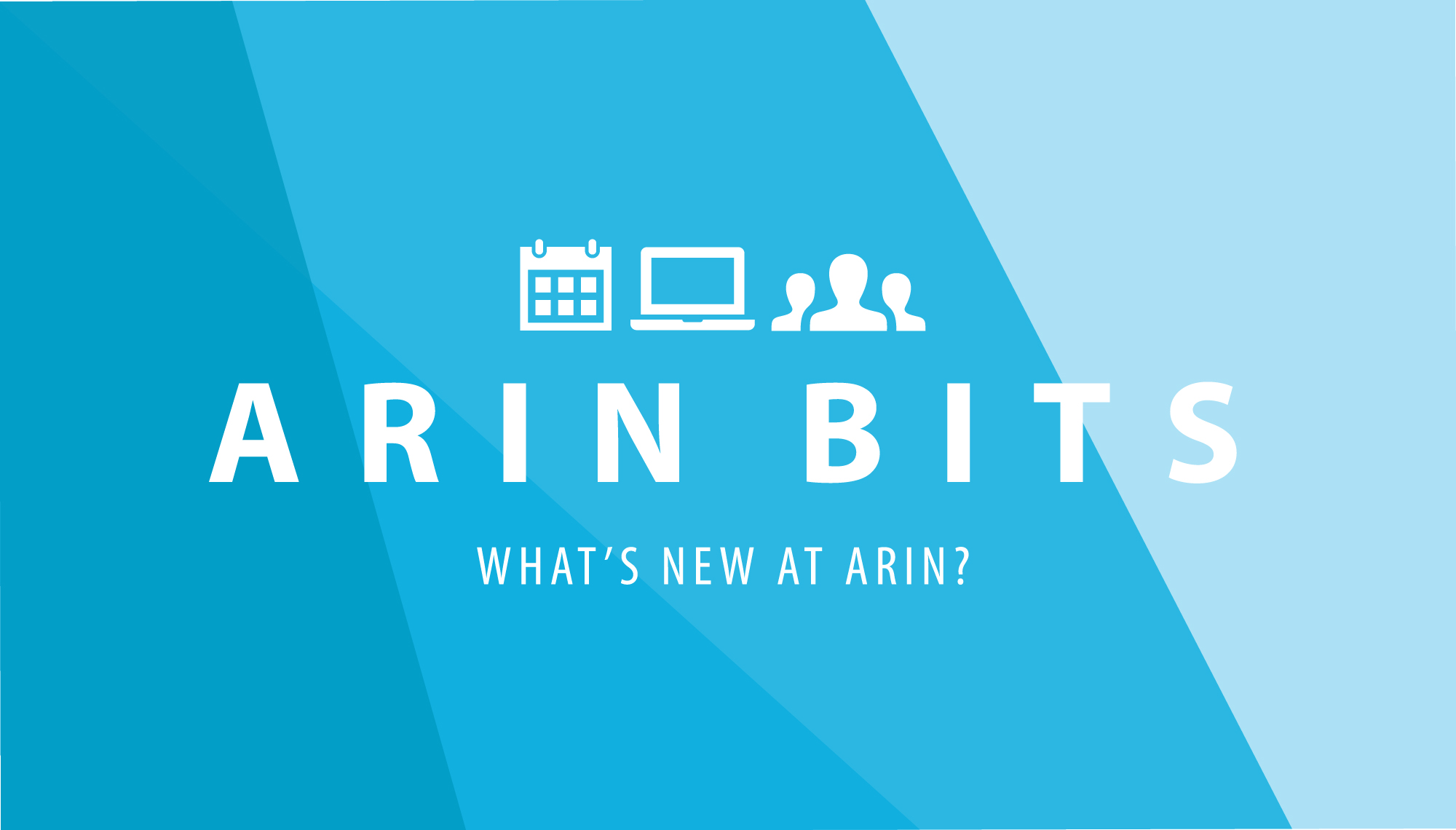 ARIN Bits: September 2017
We're back with the next edition of ARIN Bits! In case you missed the first one, ARIN Bits is a quarterly e-news update that is distributed via email to our community to keep everyone in the loop on the latest happenings here at ARIN.
We always encourage feedback on the information we provide. Feel free to reach out to us at info@arin.net with your thoughts. Enjoy the bits below!
---
ARIN 40 is next month! Are you ready?
We are! We hope to see you in San Jose, CA from 5-6 October at the Fairmont San Jose, directly following NANOG 71 in the same location. This will be a great opportunity to engage in policy discussions, network with colleagues, learn more about our services, and attend workshops and tutorials. If you can't be there in person, remote participation is always an option. You can view the agenda for ARIN 40 and register online as either an in-person or remote attendee.
ARIN Elections open 5 October!
Are you ready to get your vote on? Elections for two seats on the ARIN Board of Trustees and five seats on the ARIN Advisory Council will be held online 5-13 October 2017. View the candidates and their biographies or submit/view statements of support.
When it comes time to vote, eligible Voting Contacts from General Members in Good Standing should log in to ARIN Online and look for the "Vote Now" message on the dashboard. If you have any questions about elections, email members@arin.net.
We have several policy proposals under discussion, including:
Draft Policy ARIN-2017-3: Update to NPRM 3.6: Annual Whois POC Validation

Draft Policy ARIN-2017-4: Remove Reciprocity Requirement for Inter-RIR Transfers

Draft Policy ARIN-2017-5: Improved IPv6 Registration Requirements

Draft Policy ARIN-2017-6: Improve Reciprocity Requirement for Inter-RIR Transfers

Draft Policy ARIN-2017-8: Amend the Definition of Community Network
You can find the status of current policy discussions on our Draft Policies and Proposals page and subscribe to ARIN-PPML (Public Policy Mailing List) to voice your opinions. Membership is not required to participate!
September 2017 Deployment Items
We've redesigned and improved some of our pages in ARIN Online, including:
Account/Profile Setup and Confirmation

Your Account > Settings > Security Info: Manage Two-Factor Authentication and Manage API Keys

Your Account > Organization Identifiers > Organization > Manage Voting Contact

IP Addresses > Search > Network > View and Manage Networks > Delete Network
We also modified the Transfer > Mergers and Acquisitions Transfers (NRPM 8.2) page based on changes to the Number Resource Policy Manual (NRPM), resulting from the implementation of Recommended Draft Policy ARIN-2016-9.
The notification email that is sent to a Point of Contact (POC) when removing the POC from an organization now includes the POC Handle. (ARIN Suggestion 2017.2)
The form to submit suggestions to ARIN as part of the ARIN Consultation and Suggestion Process has been revised to clarify that submitters can choose to remain anonymous and that contact information is not published. (ARIN Suggestion 2017.12)
The "No Valid POC Resource Report" has been updated to include the date the POC was last updated, the invalid POC handle, and invalid POC name. (ARIN Suggestion 2016.09)
The ARIN RPKI Trust Anchor has been modified to reflect all holdings (0/0) to fulfill our commitment set by the Number Resource Organization (NRO) for all of the Regional Internet Registries (RIRs). See the "All Resources Applicability Statement" dated 21 January 2017.
The 2017 Inter-RIR and Specified Transfers of Internet Number Resources page has been replaced by the Statistics: Specified Transfers of Internet Number Resources page. This page provides data on completed transfers in HTML format, and can be sorted based on selected criteria.
Apply for an ARIN 41 Meeting Fellowship!
We're accepting applications for our Fellowship Program to attend ARIN 41 in Miami, FL from 15-18 April 2018. Apply now through 5:00 PM EST on Sunday, 28 January 2018 to be considered! ARIN 41 Fellowships may be extended to include registration and hotel accommodations for CaribNOG 15, which will be held 18-20 April 2018.
Attend ARIN on the Road: Columbus
ARIN on the Road will close out the year by visiting Columbus, OH on 2 November. Do you want us to make a stop in your city next year? Let us know! Send an email to meetings@arin.net.
Our Featured Service/Policy Requirement
Dedicated IPv4 block to facilitate IPv6 Deployment (NRPM 4.10) - As part of the community-adopted policy, a contiguous /10 IPv4 block has been set aside and dedicated to facilitate IPv6 deployment. Allocations and assignments from this block must be justified by immediate IPv6 deployment requirements.
Learn more about NRPM 4.10 and the criteria for receiving an allocation or assignment from this block.
A Tip from Our Registration Services Department
Need to remove all reassignments from one of your allocations? If your ARIN Online account is linked as the Admin or Tech Point of Contact (POC) for your organization, you can remove the reassignments by navigating to the parent network, click Actions, then Delete Reassignments.
Need to create new reassignments? You can also do that through your ARIN Online account. Navigate to the parent block, click Actions, then Reassign.
Are you new to reassignments? Check out James Ricewick's blog about reassignments!
A Tip from Our Financial Services Department
Need to pay an invoice? Visit our Make a Payment page for details:
Methods of payment:
Credit card (We do not retain card numbers; transactions are processed using secure protocols.)

Check (mail to the Baltimore, MD remittance address found on the invoice.)

ACH or Wire transfer (email billing@arin.net to request instructions)
Remember, payment information is not accepted by phone!
Subscribe to One of Our Mailing Lists
Joining an ARIN Mailing List is a great way to stay up-to-date and informed about everything happening here! All mailing lists are open to the public except the ARIN Discussion mailing list, which is for ARIN Members only.
Check out these Customer and Member Stats! (As of 31 Aug 2017)
5,635 member organizations

1,257 8.3 (transfers to specified recipients) and 84 8.4 (inter-RIR transfers to specified recipients) transfers completed YTD 2017

8.4 transfers completed YTD 2017: 61 to APNIC, 13 from APNIC, 18 to RIPE NCC, 12 from RIPE NCC

55.2% of members have an IPv6 block!
Deploying IPv6? Check out these helpful links:
We'll be back next quarter with a new edition of ARIN Bits!
Recent blogs categorized under: ARIN Bits