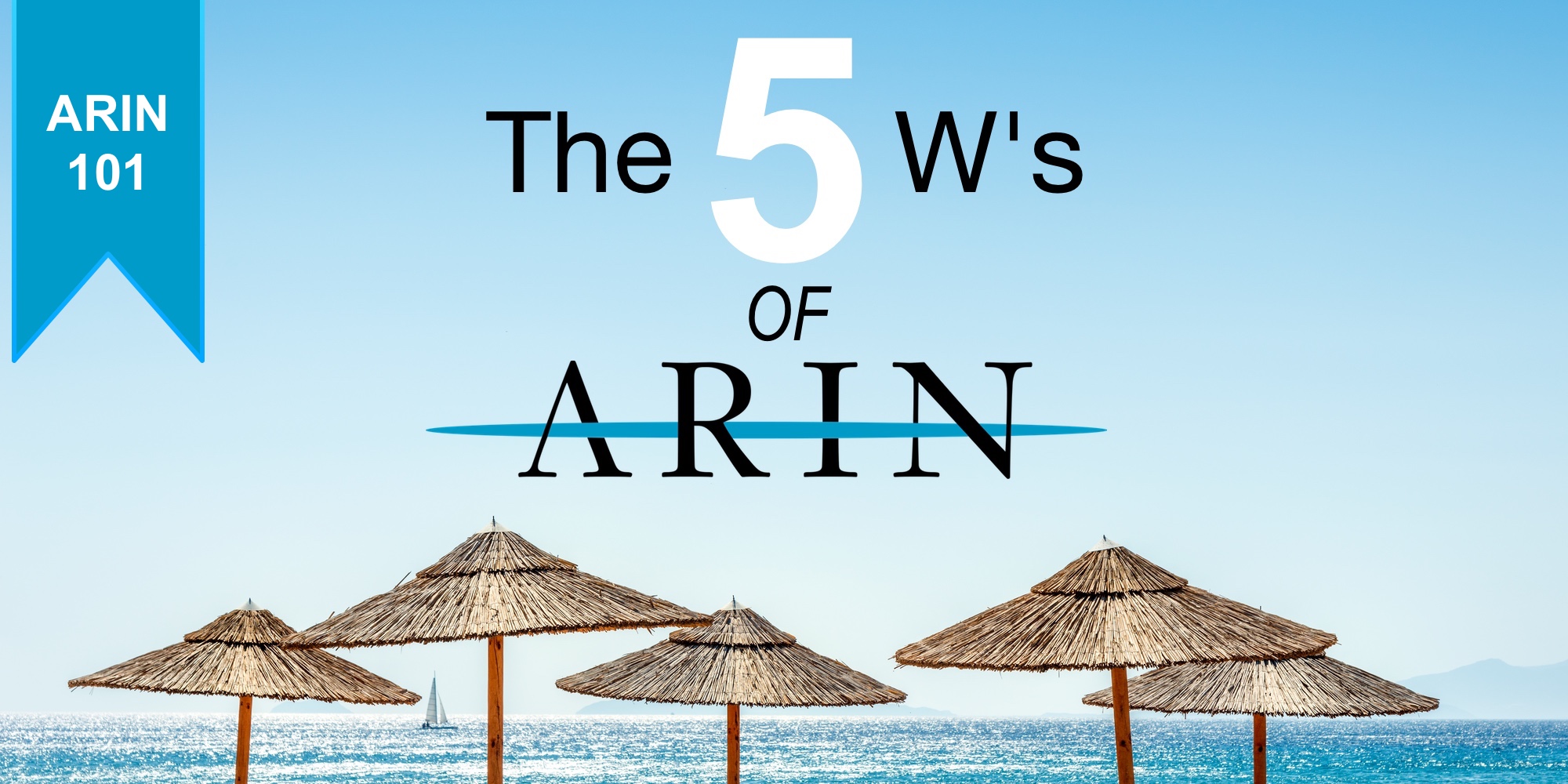 The 5 W's of ARIN
It's sweet summertime, and it seems like the perfect opportunity to welcome newcomers to our community. We want to take a moment to step back and introduce ourselves to those of you who may not be familiar with who we are, what we do, and how you can get involved in our community.
Who are we?
We're the American Registry for Internet Numbers, or more simply, ARIN!  We're a nonprofit corporation responsible for distribution and administration of IPv4 and IPv6 address space and Autonomous System Numbers (ASNs), which are collectively known as Internet number resources. Our core business is the fair distribution of IP addresses and ASNs based on community developed policy, along with maintaining the accuracy and stability of the Internet number registry system.
We are a staff of 80+ distributed across five departments: Registration Services, Engineering, Human Resources and Administration, Financial Services, and Communications and Member Services. We work together to ensure that our members always come first.
What do we do?
Well, we do a lot. Our Registration Services Help Desk, via email or telephone,  is usually the first point of contact for many of our new customers. Our team is there to help when you need to request new resources or submit a transfer request. They are also available to walk you through any questions you may have through our ARIN Online portal.
What is most important to remember is that we are a community. What we do as a registry is determined by the individuals in that community who choose to participate. Not sure how to get involved? We host Public Policy and Member Meetings twice a year that are open and free to anyone. These meetings are held in various locations throughout our region and provide you the opportunity to engage in policy discussions, learn about our new services, talk to our onsite registration team, and discuss operational and financial matters.
We also facilitate an open and transparent Policy Development Process (PDP) for our community. We don't create policy; we listen to you and dictate our operations accordingly. Anyone, except ARIN staff, can participate in suggesting new or revised policy and voicing opinions about suggested policy proposals. ARIN membership is not required to participate. For more information on ARIN policies and the PDP, visit our Policy Development Process page.
Now let's get technical. We are constantly working to provide the online tools and services needed to request, manage, secure Internet number resources and automate all your interactions with ARIN. Visit our Services page to learn your options to manage Whois and Registration Data Access Protocol, Routing Information, DNS Security, Provisioning and Maintenance of Registration Records, RPKI, and so much more. Is there something you think we should be developing to help you? Tell us by submitting a suggestion to our ARIN Consultation and Suggestion Process.
When did we first form?
We were born on 22 December 1997. Before we formed, the task of assigning addresses was handled by one individual, Jon Postel, on a volunteer basis, and as legend goes, in a paper notebook. This became too large a task for one person to handle, so the Internet Assigned Names and Numbers Authority (IANA) was established as the "custodian" of Internet addresses, along with an Internet Registry function to handle the registration tasks. Over time, the general Internet community decided to separate the management of domain names from the management of IP addresses, in part to maintain stability of the IP numbering system. As a result, we were established to provide IP registration services as an independent, nonprofit corporation. Now if you hear someone referencing ARIN's database as Postel's notebook, as is the case now and again, you'll know why.
Where is our region?
There are five Regional Internet Registries (RIRs) throughout the world. Our region includes the United States, Canada, and parts of the Caribbean. We also cover Antarctica… brrr.
Why?
So, why should you care about us? Well, the Internet plays a pretty big role in everything we do. Not just here at ARIN, but everywhere. And right now there is a lot going on behind the scenes of the Internet's inner workings, especially surrounding IPv4 depletion and the adoption of IPv6 (more on that in a future post.) It is important to stay informed and get involved, and we have many ways for you to do so.
We look forward to having you as a part of our community!
Recent blogs categorized under: Tips