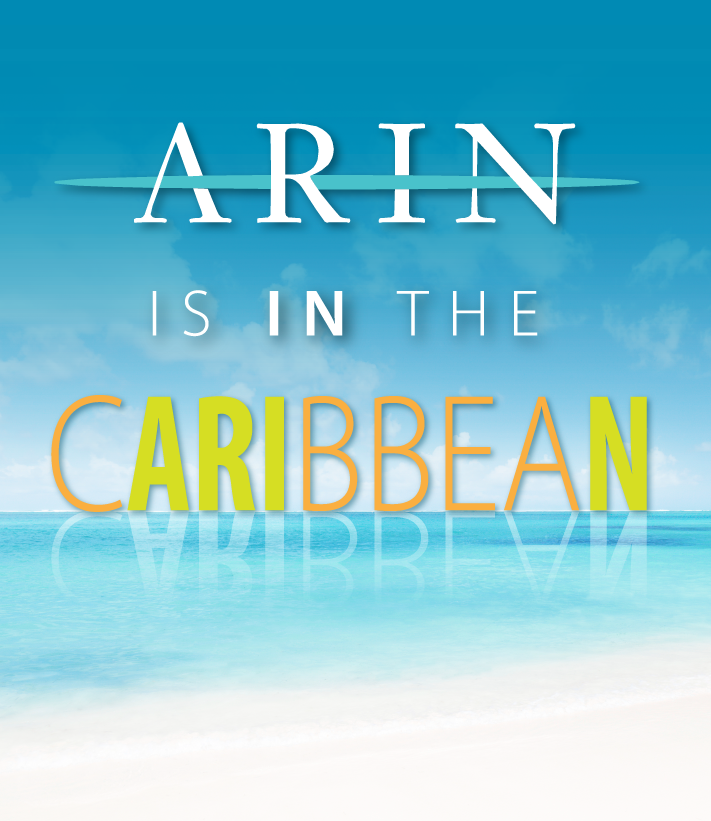 ARIN is in the Caribbean
By Cathy Handley, Executive Director of Government Affairs and Public Policy, ARIN
See what we did there?  Not only are the letters A-R-I-N actually in the word cARIbbeaN, but so much more.  There are many Caribbean economies in the ARIN's service region and we work hard to serve everyone that depends on us for Internet number resources.
For those of you in the Caribbean, we have some suggestions for what you can do to prepare for the future of the Internet and to get more involved in ARIN and other important organizations in the Caribbean.
Get ready for IPv6
Network operators and content providers alike need to prepare for the future Internet.  You can find resources about IPv6 adoption on our IPv6 Info Center and IPv6 Wiki.  When you're ready to request IPv6 addresses, it's easy, just begin on our Request Resources Page.
Get involved in Internet governance discussions
The future of the Internet is too big of an issue to ignore, and many discussions are going on now that will affect how the Internet is managed in the years to come. Find information about what Internet governance is, and how you can get involved on our Internet Governance webpage.
Attend an ARIN Meeting
ARIN holds two Public Policy and Members Meetings a year for members of the entire Internet community to engage in policy discussions and network with colleagues. These meetings are held in locations across the US, Canada, and Caribbean to allow individuals in all areas of the ARIN region to attend.  In April 2013 we hosted our meeting in Bridgetown, Barbados.
Apply for a fellowship to an ARIN Meeting
We also offer the opportunity to attend an ARIN meeting for free through the ARIN Fellowship Program.  Thus far, twelve fellows have come from the Caribbean and we are always seeking more applicants. For those who are not able to attend an ARIN meeting in person, we also offer many remote participation options as well.
Get involved with CaribNOG
ARIN works closely with local operator groups in our region, including the Caribbean Network Operators Group (CaribNOG), toward the shared goals of the successful operation of the Internet infrastructure. ARIN regularly sponsors CaribNOG and members of our engineering team frequently give presentations at these events to help support the needs of Caribbean network operators.
Get involved with the CTU
ARIN has been a supporter of the Caribbean Telecommunications Union (CTU) since 2007.  The CTU is an organization dedicated to facilitating the development of the regional telecommunications sector as well as working with Caribbean intergovernmental agencies for capacity building, knowledge sharing, education and policies for Internet governance within the Caribbean. ARIN provides educational information at Ministerial and ICT Roadshows, collaborates to get the word out about ongoing ICT capacity-building efforts carried out by the CTU, and, where possible, lends resources to reach ARIN's Caribbean community.
Get involved with CANTO
The Caribbean Association of National Telecommunication Organization (CANTO) serves the Caribbean telecommunications and Internet community by influencing policy, providing information in all aspects of the industry as it evolves, and facilitating a meaningful collaborative process. ARIN consistently sponsors and sends speakers to the annual CANTO meeting to support their efforts in the Caribbean ICT community.
Join ARIN's Government Working Group (AGWG)
ARIN has maintained a long-standing, well-established working relationship with the governments, regulators, and law enforcement agencies (LEAs).  This cooperative relationship has become increasingly important, as the wider Internet community strives to ensure that all voices are heard and the interests of all parties are considered.  The ARIN Government Working Group (AGWG) is a forum for learning about and discussing matters relating to the Internet, with specific focus on cooperation between the private and public sectors. The AGWG provides a venue for ARIN community members and government representatives to meet and discuss areas of common interest
There are lots of ways you, as a Caribbean community member, can participate in the issues, forums, and organizations at the core of Internet.  All of the contributions you make are valued and help keep the Internet open, stable, and secure.
Recent blogs categorized under: Caribbean
---
GET THE LATEST!
Sign up to receive the latest news about ARIN and the most pressing issues facing the Internet community.
SIGN ME UP →
---
Blog Categories
ARIN Bits
•
IPv6
•
Business Case for IPv6
•
Fellowship Program
•
Grant Program
•
Caribbean
•
Internet Governance
•
Updates
•
IPv4
•
Elections
•
Tips
•
Public Policy
•
Customer Feedback
•
Security
•
Outreach
•
RPKI
•
Training
•
IRR
•
Data Accuracy