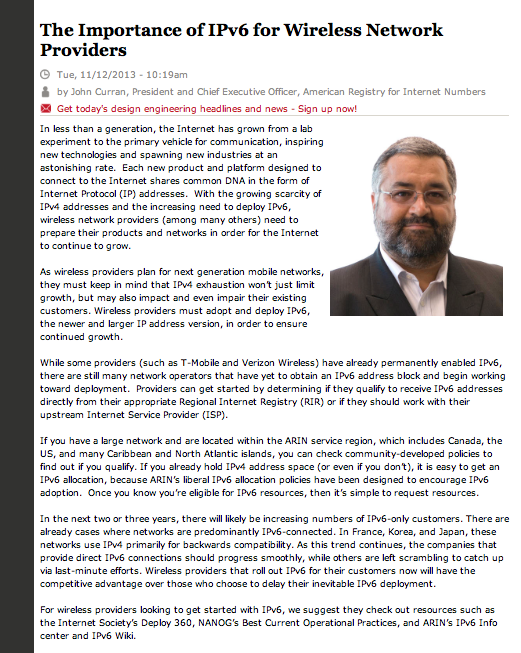 Where to Start: IPv6 for Wireless Network Providers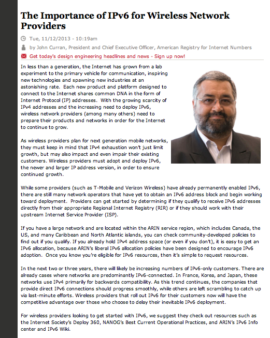 As the ARIN IPv4 address pool nears depletion and the global population continues to rely on a growing Internet, wireless providers need to plan for next-generation standards and ensure their services support existing and future customers by adopting IPv6.
However, a common roadblock to IPv6 adoption is the question "Where do I start?"
ARIN President and CEO John Curran recently published a byline in Wireless Design & Development Magazine offering pointers on planning for the future Internet, especially for those providers who have yet to get started with their IPv6 deployments.
Getting started…
Providers can get started by determining
(a) if they qualify to receive IPv6 addresses directly from their appropriate Regional Internet Registry (RIR) or
(b) if they should work with their upstream Internet Service Provider (ISP).
If you are located within the ARIN service region (Canada, the US, and many Caribbean and North Atlantic islands) you can check our community-developed policies to find out if you qualify. Other RIRs have similar community-developed policies, so if you are outside the ARIN region you will need to check with your RIR.
Requesting resources…
Once you determine that you're eligible, then you just need to request resources. For those located in the ARIN region, you will need to create an ARIN online account (if you don't have one already) and submit your request online.
Still have questions?
Here are some good resources with helpful information for wireless providers on how to prepare and implement IPv6 plans:
Don't forget to check out John's full article in Wireless Design & Development Magazine and let us know what you think in the comments below!
Recent blogs categorized under: IPv6