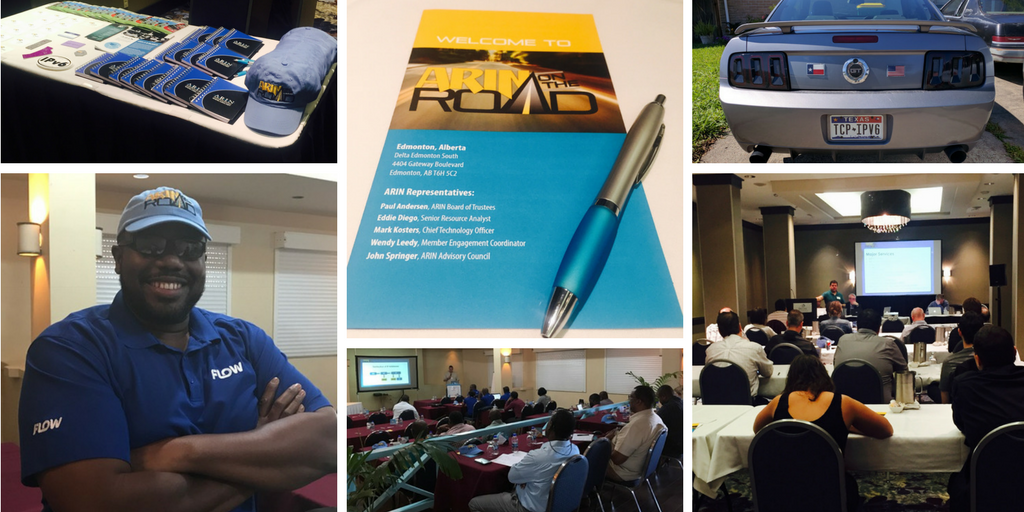 On the Road Again
We are well into our 2017 schedule of crisscrossing the ARIN service region to bring updates on ARIN activities and services, and most importantly to engage with you, our community and customers. We started the year in Houston, TX and then hopped farther south to St. John's, Antigua. Next, we are headed to Little Rock, AR; Las Vegas, NV with NANOG, and we hope to soon finalize plans for a June stop in Denver, CO. Our travels will begin again in the early fall; we are looking at stops in San Juan, PR; Toronto, ON and somewhere in the US mid-West.
Answering Your Questions and Sharing Our Activities at ARIN on the Road Events
In the course of a year out on the road, ARIN staff and elected representatives meet over 100 new faces. Some are long-time ARIN members who have not had the opportunity to interact with us in-person, and others may be entirely new to the ARIN community.
Our free, day-long program covers timely discussions on IPv6 deployment.
And we cover lots of topics related to our customer tools and technical services.
And of course, we explain how folks can participate in developing the Internet number resource policy that ARIN staff follows to allocate resources, and why it is so important.
The ARIN on the Road program gives us an opportunity to find individuals and organizations who want to take a more active role in ARIN or make better use of the services we offer. We answer your questions, impart some knowledge, and hope to leave you with a thirst for more. That could be remotely attending the next ARIN Public Policy and Members Meeting, applying for a meeting fellowship to attend in-person, subscribing to the Public Policy Mailing List, or providing us a suggestion of a new service you would find beneficial.
We hope to see you at a future ARIN on the Road. For those we have met already, do spread the word or reach out if we can assist in any way. Members@arin.net and info@arin.net are great places to let us hear from you. Your questions and willingness to answer our questions when we meet you out on the road, provide us with valuable feedback that help shape communications and future outreach activities. Additionally, if you are not subscribed to ARIN's announce mailing list (arin-announce) and don't ever read our website announcements on www.arin.net you may be missing out.
Recent blogs categorized under: Outreach