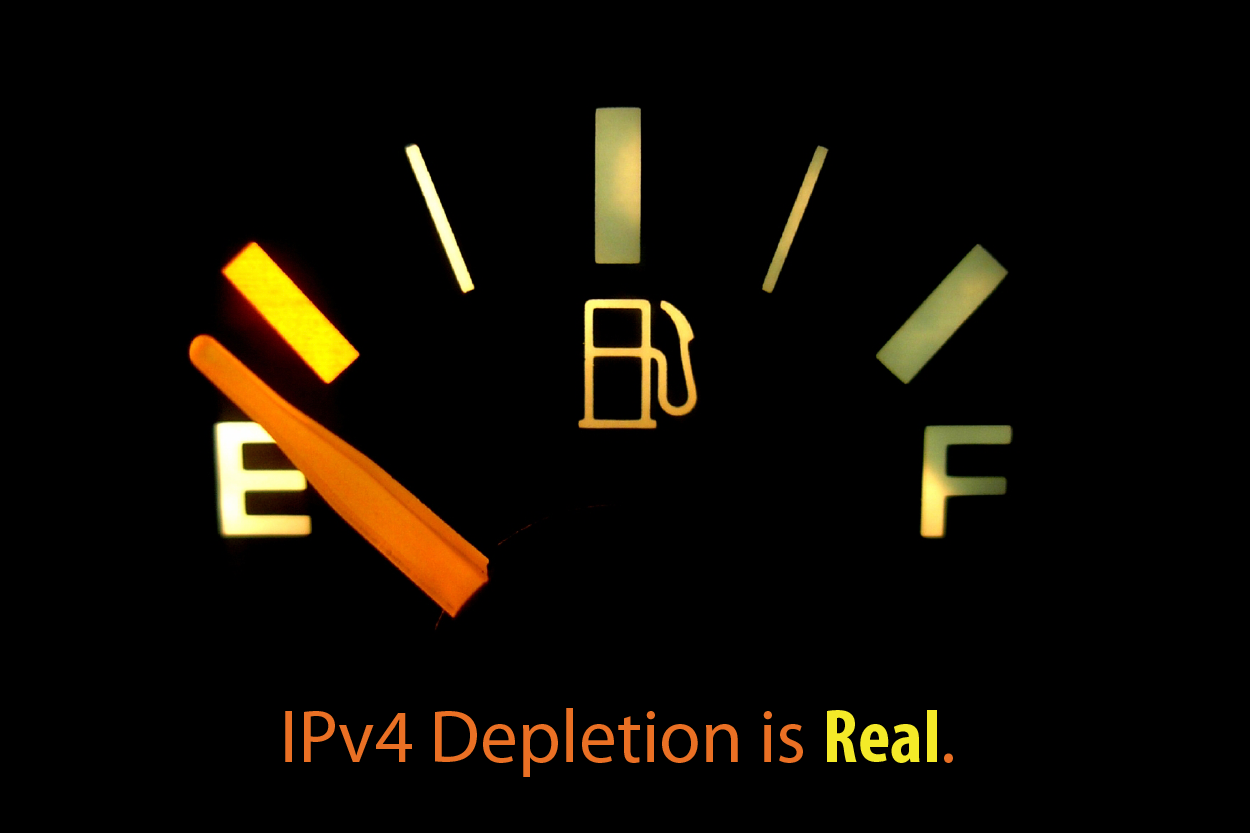 Defining Depletion: IPv4 Address Availability in the ARIN Region
Here at ARIN we have been actively discussing the depletion of the IPv4 free pool for many years. Our goal has been to prepare the Internet community for the day when we can no longer issue IPv4 address space to those who need it. As that day approaches, there has been increased interest in how IPv4 addresses are issued and what the options are after we reach depletion. To help provide more insight into the status of IPv4 at ARIN, this will be the first of a blog series to keep you informed about IPv4 depletion and the current status of IP addresses remaining in our free pool.
One of the major milestones of IPv4 depletion was in February 2011 when the Internet Assigned Numbers Authority (IANA) issued their final /8 blocks to each of the Regional Internet Registries (RIRs). Working with our final /8 blocks, each of the RIRs were well into establishing their respective countdown to depletion procedures.
In the ARIN region, a four-phase countdown plan was created that described how ARIN would distribute its remaining IPv4 address blocks. Today we are in the 4th and final phase of that countdown plan.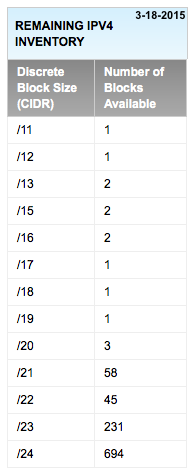 We have also been publishing information on a regular basis about the remaining IPv4 free pool inventory at ARIN. As of today, our IPv4 inventory stands at .31 of a /8. We also publish the number of discrete block sizes that remain in the inventory. This information is available and updated daily at our IPv4 depletion information page. In addition to the inventory, you can also find information about the various options to obtain IPv4 address space through ARIN policies as the ARIN IPv4 free pool depletes.
Defining Depletion
Depletion means different things in different parts of the world. In some of the other Regional Internet Registries, depletion has been associated with the triggering of "final" IPv4 regional number resource policy when the RIR dug into it's last /8 of inventory. For ARIN no such policy existed, but we have already been issuing from our last /8 for almost a year now. ARIN's current IPv4 inventory no longer includes /8s, /9s, or /10s, so depletion of these size blocks has already occurred.
Within the ARIN region, depletion status varies depending on the needs of an organization. For some larger organizations in the ARIN region, their IPv4 address space needs going forward may exceed the amount they can obtain from ARIN's remaining inventory, i.e., depletion has effectively already occurred for these organizations. For others, depletion will soon become a reality.
We expect to receive requests in the coming months that qualify for IPv4 block sizes that are no longer available in ARIN's inventory. In these cases, organizations may elect to be placed on a waiting list for their qualified block size, or elect to receive a smaller block size that is still available in the ARIN inventory. Organizations may also obtain IPv4 address space through a transfer from another organization. More information about these options are available at our IPv4 depletion page.
As ARIN gets closer to IPv4 free pool depletion in the coming months, we will provide additional updates. If you have ideas for topics or questions that you'd like us to address in this blog series, please let us know in the comments below or on social media.
Recent blogs categorized under: IPv4