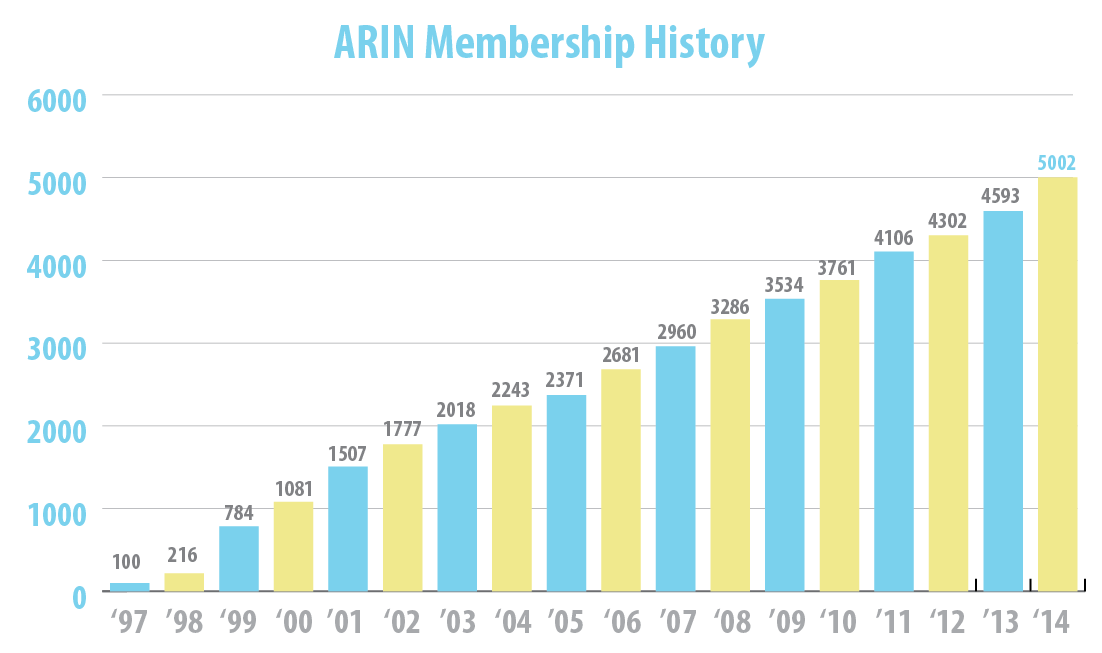 5,000 Reasons to Celebrate
We are glowing because we have just reached 5,000 Members! We wanted to get you each a cupcake with 5,000 candles but with local fire ordinances and all, we hope you enjoy this picture instead.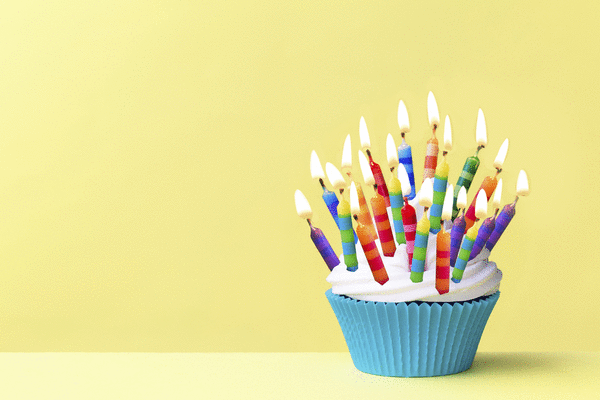 ARIN is a member-based organization, and we couldn't have made it this far without the support and guidance of our Membership. Since our inception, you have participated in 34 Public Policy and Members Meetings, initiated and discussed over 88 community-developed policies, and cast over 21,000 votes in ARIN Elections. Thank you!
When ARIN was established in 1997, we had just 100 member organizations. As the Internet expanded so did ARIN, averaging about 30 new Members each month.
ARIN's Membership structure differs from most of the other Regional Internet Registries as holding Internet number resources from ARIN Is a prerequisite for obtaining ARIN Membership.
The vast majority of ARIN Members are Internet Service Providers, who are granted automatic membership when they receive a direct allocation of IPv4 or IPv6 addresses. Currently ARIN has 4,949 Subscriber Members. Some examples of ARIN Subscriber Member organizations include Google, Galaxy Networks, Comcast, and PGI Solutions LLC. ARIN also offers an option to be a Paid Member to organizations that have Autonomous System numbers (ASNs) or direct assignments of IPv4 or IPv6. Currently ARIN has 53 Paid Members like Blue Cross and the National Water Commission (Jamaica).
We rely on our members to be "good citizens" by voting in elections, attending meetings, and participating in the policy process, so we can continue to fulfill our mission. The primary benefit and responsibility of the ARIN Membership is voting each year in ARIN Elections for the ARIN Board of Trustees and Advisory Council. So we especially appreciate all the Designated Member Representatives (DMRs) of member organizations  who vote in ARIN Elections. ARIN Members can also subscribe to the ARIN Discuss Mailing List, publish the ARIN Member logo on their website, and appear in our online member list.
Considering applying for Membership?  You can click here to find application instructions.  Perhaps your organization is already an ARIN Member.  If so, we encourage you to consider becoming more involved by attending an ARIN Meeting.  Our next meeting is ARIN 35 in San Francisco from 12-15 of April. If attendance isn't in your budget, we encourage you apply to an ARIN Fellowship for a chance to attend your first meeting at no cost.
ARIN Members are the organizations that have paved the Information Superhighway that is increasingly critical to our region's economic, educational, and social lives. Thank you ARIN Members for all of your vital work and we look forward to watching our membership numbers continue to rise as the Internet soars to unseen heights!
If you have questions about membership please reach out to ARIN's Communications and Member Services Department at info@arin.net.
Recent blogs categorized under: Updates
---
GET THE LATEST!
Sign up to receive the latest news about ARIN and the most pressing issues facing the Internet community.
SIGN ME UP →
---
Blog Categories
ARIN Bits
•
IPv6
•
Business Case for IPv6
•
Fellowship Program
•
Grant Program
•
Caribbean
•
Internet Governance
•
Updates
•
IPv4
•
Elections
•
Tips
•
Public Policy
•
Customer Feedback
•
Security
•
Outreach
•
RPKI
•
Training
•
IRR
•
Data Accuracy