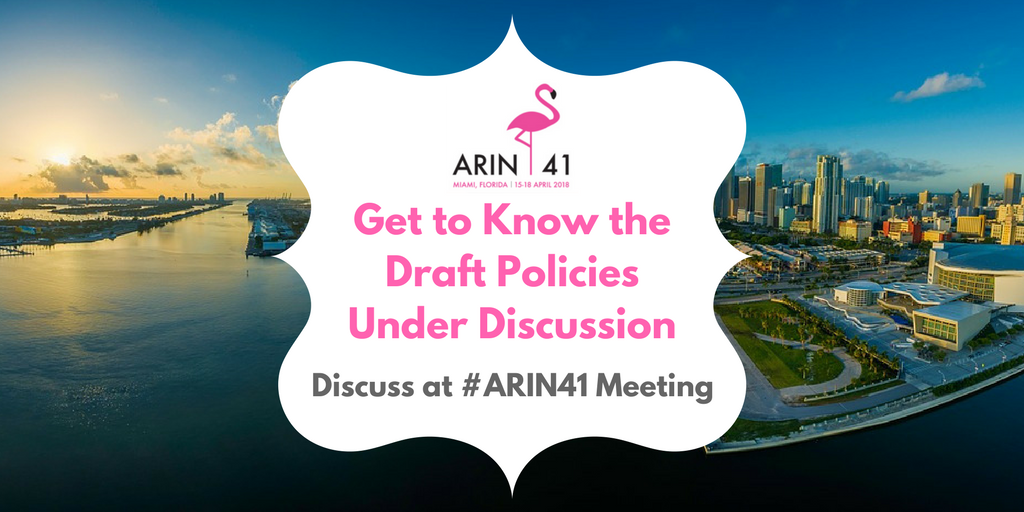 Get To Know The Draft Policies Under Discussion At ARIN 41 [Archived]
OUT OF DATE?
Here in the Vault, information is published in its final form and then not changed or updated. As a result, some content, specifically links to other pages and other references, may be out-of-date or no longer available.
With ARIN 41 just around the corner, we are excited to bring our community together and facilitate one of ARIN's prime directives: the development of policy by the community for the management of IP addresses and Autonomous System Numbers. Our biannual Public Policy and Members Meetings are the cornerstones of our Policy Development Process (PDP), and they rely on you, the community, to be successful.
Participating in policy discussions can be an intimidating experience for ARIN newcomers and seasoned veterans alike, and the policies themselves are often complex and difficult to digest. So let's break down the Draft Policies and Recommended Draft Policies up for discussion to help you get ready to participate in the meeting next week.
This specifies which organizations and Point of Contact records (POCs) are included in ARIN's annual POC Validation, and details how this validation is performed. It also directs staff to mark POCs that do NOT pass this validation as "invalid" and restrict their associated ARIN Online account access to payment and contact information update functionality.
This updates the definition and policy language for Community Networks, allowing for a single /40 allocation under the policy. Allocations approved with this policy will only be allowed to reassign blocks from this space, no reallocations will be allowed.
This removes section 4.2.1.6, which requires justification to show that the address space requested will be utilized within 30 days of the request, a section that has not been used since the IPv4 free pool depleted in September 2015.
This adds an additional step to all requests for reallocations or detailed reassignments that will result in the creation of a new Point of Contact record (POC), which includes a ten-day window for the POC to validate the request information. If the proposed POC does not validate the information, the request will be rejected.
This removes a section of the Number Resource Policy Manual (NRPM) that required ARIN review of reassignments larger than a /18 or /19 depending on organization size.
This sets a consistent ISP initial IPv4 block size for requesting organizations, whether they apply for a resource transfer directly, or first request an allocation or assignment from ARIN.
This adds the ability for ARIN staff to transfer Autonomous System Numbers (ASNs) between RIRs that share reciprocal, compatible, needs-based policies. As with current Inter-RIR IP address space transfer policy, RIRs who do not allow bidirectional transfers are excluded.
This revises initial IPv4 block size qualification language in Section 4.2.2 of the Number Resource Policy Manual (NRPM) to align it with the transfer qualification language in Section 8.5.4. This Draft Policy also points to additional sections concerning usage, and additional IPv4 address space allocation qualifications.
Participate in Policy Discussions
ARIN is committed to providing an open community forum for policy development, and that includes lowering barriers of entry of all kinds. New faces and widespread participation are key components in any Regional Internet Registry community, and ARIN is no exception. I hope the information in this post arms even the greenest ARIN participant with the tools they need to participate actively once the microphones turn on.
People from all over the ARIN region and beyond will be participating at the ARIN meeting, but vital opinions need not be conveyed in-person to be effective! If you want a great time- and wallet-friendly option for you and your organization to be heard by the ARIN community, ARIN offers a terrific remote participation experience. We'll have chat rooms for voicing your opinions during discussions, as well as a live streaming transcript so you won't miss a beat!
Remote participation  is completely free, but be sure to register early! If you register before the meeting, you can ensure that your access to the Slack chat room is in order, so you won't miss a minute of the action!
The ARIN Public Policy Meeting and Members Meeting will be webcast, including discussion sessions for all five of the above Draft Policies. Once the Public Policy Meeting begins, we make every effort to ensure that policy discussions are held at their scheduled times, and we notify remote participants in the event of agenda changes. Check the meeting agenda  for complete schedule details. For details, visit the Remote Participation page . Note that all remote participants are subject to the Remote Participation Acceptable Use Policy (AUP).
To submit your very own Internet number resource policy proposal, just fill out our brief template and send it to policy@arin.net. Don't worry about getting the wording of your proposal exactly right – our Advisory Council will work with you directly to help transform your idea into a clear change, removal, or addition to policy text, and get it the community attention it needs to move through the PDP.
If you're more of a visual learner, check out our new video entitled "ARIN's Policy Development Process" to learn more about each step of the PDP, and become a part of the Internet's future today!
Additional resources can be found on the following web pages:
OUT OF DATE?
Here in the Vault, information is published in its final form and then not changed or updated. As a result, some content, specifically links to other pages and other references, may be out-of-date or no longer available.