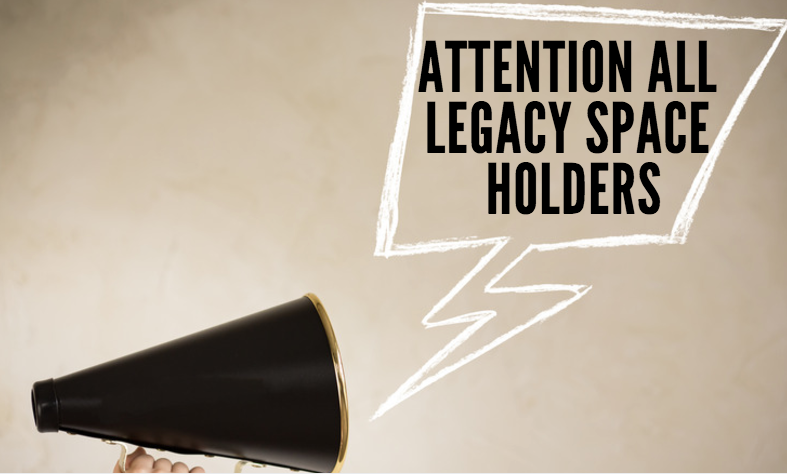 Attention All Legacy Space Holders:  How to Keep Your Whois Data Accurate and Why It's Important [Archived]
OUT OF DATE?
Here in the Vault, information is published in its final form and then not changed or updated. As a result, some content, specifically links to other pages and other references, may be out-of-date or no longer available.
Based on input received from some legacy space holders, we understand there may be some concern that if you update your Whois records, ARIN might want to take away your unused IPv4 resources or force you into signing a Registration Services Agreement or Legacy Registration Services Agreement (RSA/LRSA). You may be surprised to learn that's not the case. We'd like to take this opportunity to dispel those rumors once and for all, provide you with the correct information, and help guide you through the process of updating your data.
Why is it important for legacy space holders to have accurate Whois records?
There are a number of reasons why you might want to keep your Whois information accurate and up-to-date. Some of those reasons have been outlined in previous blogs, namely Suzanne Rogers' blog, "Is Your Whois Data Stuck in the Past?" and my blog, "How Whois Accuracy Impacts Public Safety." I would like to highlight a few reasons that might be of particular interest to legacy space holders.
Hijacking
ARIN has previously noted that outdated Whois records have become a prime target of IP address hijackers and are often used for illegal activities such as spamming and spoofing. Of the roughly 25,000 legacy networks registered in ARIN's Whois, about 53% of them have either no associated Point of Contact (POC), or have a POC that has never been verified by ARIN (referred to as an "Invalid POC"). These stale records become the networks of choice for hijackers looking for IPv4 address space to spam with or try to sell.
Transfers
With the increasing value of IPv4 addresses in the market today, many legacy space holders may wish to transfer their unused resources to other organizations in need of those addresses. The only way to do this through ARIN is to have accurate and up-to-date registration information in Whois that ARIN staff can verify. The process is always much easier and faster when Whois information is accurate and current.
Which ARIN services are provided without an RSA/LRSA and which ones will require one?
Legacy resource holders have the following services available to them without having a signed RSA/LRSA:
Manage their IPv4 resource registration information in ARIN's Whois

Manage associated reverse DNS nameserver delegations

Set an Origin AS number for the IPv4 legacy resource

Set up an ARIN Online account (our web interface for managing Internet number resources)
The following transactions will require a legacy space holder to have a signed RSA/LRSA:
Approved resource transfers may require a signed RSA/LRSA depending on the type of transfer

Customers seeking to be added as a source to ARIN's Specified Transfer Listing Service (STLS) must have the resources under RSA/LRSA

Customers seeking to utilize RPKI (a free, opt-in service that allows users to certify their ARIN Internet number resources) must have the resources under RSA/LRSA

Customers seeking to secure their reverse DNS zone management via DNS Security (DNSSEC) functionality can add DS Records for Internet number resources that are covered by a RSA/LRSA

ARIN Membership via application – entities with a signed RSA/LRSA and Internet number resources from ARIN (end users, for example) may become members by filling out the application and paying an annual membership fee (or by enrolling in ARIN's Registration Services Plans which include ARIN Membership)

View our updated Legacy Resource Services page
How can I use ARIN Online to update my Whois record?
The first step is to create an ARIN Online profile:
Click "new user?" below the login boxes on the left side of any page on the ARIN website

Follow the instructions on the form

You will receive a confirmation email and must verify your account using the link provided within 24 hours

Once you've verified your account, log in to ARIN Online

Accept the ARIN Online Account Terms of Service Agreement

Create a profile
If you are already listed as a POC in Whois, you can link your ARIN Online account to that POC by clicking Your Account > Point of Contact records in the left-hand menu, and clicking the link in the first box. Once you link your account to your POC, you may view information for all organizations associated with your handle by selecting Your Account > Organization Identifiers in the left-hand menu.
For more information, check out the About ARIN Online page.
You can use ARIN Online at any time to perform the following resource management tasks:
Add, delete, or modify nameservers for Reverse DNS

Add, delete, or modify POCs associated with the resource

Change the NetName of an IP address block or the ASName of an ASN

Add reassignment information via SWIP-EZ (only available if the legacy block is a direct allocation)

Modify organization information to include mailing address; adding, deleting, or modifying POCs; and adding public comments

Request new number resources – requirement to sign standard RSA and pay fees are applied only upon approval

Request the transfer of number resources  – requirement to sign RSA/LRSA and pay fees are applied only upon approval

Request an organization name change – this must be a simple name change and not the result of any merger or acquisition activity – in that case, documentation will be required

Request an organization recovery – needed when the registered Admin or Tech POC are no longer associated with the organization and a new POC needs to be added to the organization record, or no Admin or Tech exist on the record. An RSA/LRSA is only required if the organization recovery results in a transfer.

Validate your POC record during ARIN's annual POC validation by clicking the "Requires Validation" link next to the applicable record. You can also validate your POC by:

Clicking the secure link in the validation email that ARIN sends once per year

Replying to the validation email and putting "Correct" in the subject line

Updating your POC record in ARIN Online if the POC information is no longer accurate

Submit questions via Ask ARIN
One last point of clarification…
There is one last point that we would like to emphasize to all legacy space holders. We have heard on numerous occasions that legacy space holders don't want to come to ARIN to update their Whois records because they believe that ARIN will try to reclaim their legacy IPv4 resources for lack or utilization and/or require you to sign a RSA/LRSA. Please note that ARIN will not reclaim your legacy IPv4 resources when you come to ARIN to update your records, request IPv6 resources, or request to transfer your legacy resources. Nor will we require you to sign a RSA/LRSA unless you seek additional ARIN Registry services noted above.
If you need assistance in updating your ARIN Whois information or have questions, please contact a member of our Registration Services team at 703.227.0660 Monday through Friday 7:00 AM to 7:00 PM EST or submit an Ask ARIN ticket from within your ARIN Online account.
OUT OF DATE?
Here in the Vault, information is published in its final form and then not changed or updated. As a result, some content, specifically links to other pages and other references, may be out-of-date or no longer available.