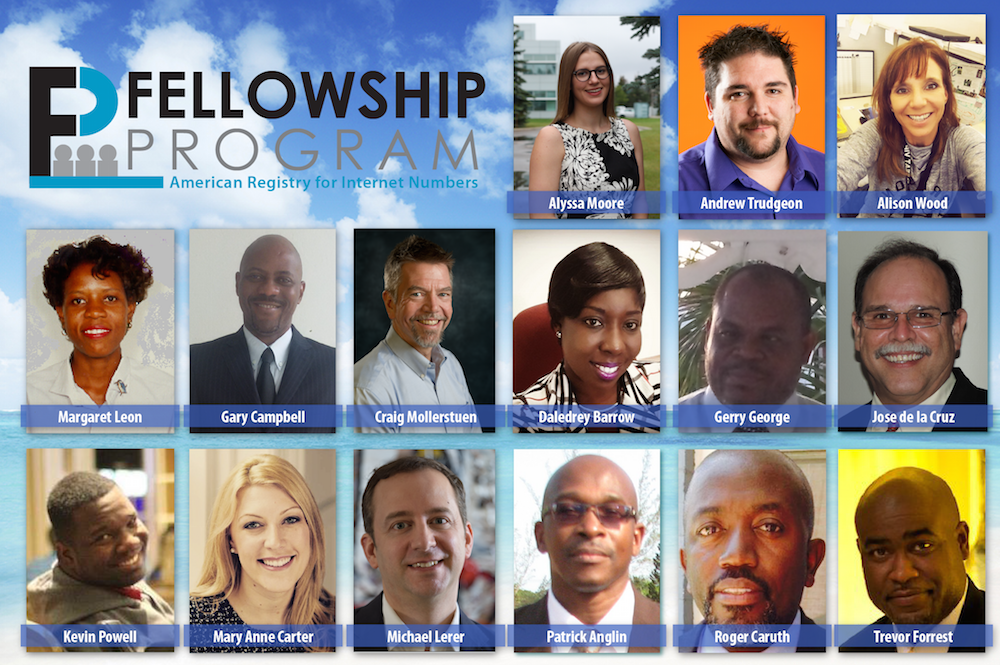 Introducing the ARIN 37 Fellows [Archived]
OUT OF DATE?
Here in the Vault, information is published in its final form and then not changed or updated. As a result, some content, specifically links to other pages and other references, may be out-of-date or no longer available.
Just a few more weeks until we head to Montego Bay, Jamaica for ARIN 37! We hope you're planning to join us and if you are, you'll keep an eye out for our 15 fellows and say hello. We have a great group coming to ARIN 37 and I've been lucky enough to get their thoughts about the upcoming meeting. It's been a fantastic opportunity for me to learn more about them and what excites them about ARIN and the Internet community.
To better understand each of the fellows' interest in ARIN and their desire to attend ARIN 37, I first asked, "Why did you apply for a Fellowship?" This led to some interesting insight from our fellows. Patrick Anglin (Jamaica) shared that he wanted his voice to be a part of the Internet governance discussion, and that seemed to be a common theme for many of the fellows. Kevin Powell (Jamaica) also remarked that he was interested in "finding out the latest updates on … IPv4 number allocation and where we are with IPv6." Andrew Trudgeon (Canada) valued the chance to make new contacts at the last ARIN meeting he attended, and he wished to further his conversations at ARIN 37. Some were even persuaded by others to apply, like Alison Wood (USA), who was encouraged by a coworker who was an ARIN fellow a few years ago and greatly valued the experience.
And after the time spent on their applications, how did the fellows feel when they learned they were selected? I was pleased to learn that Trevor Forrest (Jamaica) was elated, Craig Mollerstuen (USA) was appreciative, and Alison Wood "literally jumped up in the air and cheered!" We're off to a good start with reactions like those!
Next, I wanted to know what our fellows were most looking forward to at the meeting. Obviously, Jamaica's sunshine and palm trees are a draw, but what else excites them about being at ARIN 37? Jose de la Cruz (USA) is looking forward to reconnecting with his mentor from ARIN 36 and meeting new network professionals. Andrew Trudgeon is ready for some "open discussion from some extremely bright minds in the field" and Gerry George (Caribbean) is excited about "the opportunity to meet with ICT peers at the following CaribNOG event." Trevor Forrest is excited for the chance to network as well as have some discussions about how the regulatory and policy framework in his country can be improved.
What about the takeaways? We all know there's a lot to gain by attending an ARIN Public Policy and Members Meetings, but what is the number one experience or piece of knowledge our fellows hope to gain?
Margaret Leon (Caribbean) is eager to learn more about ARIN's general activities – undoubtedly a worthwhile goal. Michael Lerer (Canada) "would like to gain a better understanding of how the consumer, product, ISP, and hardware participants interact, and the economic factors that influence strategy decisions for those stakeholders." Alyssa Moore (Canada) is looking to find out how she and her organization can "engage in and contribute to the policy development process." DNS registration and address space management are on the mind of Gary Campbell (Jamaica), and Andrew Trudgeon and Craig Mollerstuen are both eager to learn about smaller Internet Service Providers making the move to IPv6. Learning more about IPv6 was a common theme, I quickly discovered!
It's clear that there will be plenty to do at ARIN 37, and a lot to learn, but our fellows aren't just thinking about the here and now – they're also looking to the future and keeping in mind how to put all they learn into action. Patrick Anglin is looking forward to drafting effective strategies for enabling the increased use of technology in the Caribbean, specifically Jamaica. He hopes this will ultimately foster societal (not just economic) development. Daledrey Barrow (Caribbean) looks to inspire others to become involved in the local and international Internet registration process. Gerry George is looking at it a bit differently – he is excited that after participating in online sessions in the past, he can now get some first-hand and up-close experience with the meetings and gain a greater appreciation of the outcomes of the various discussions. And Roger Caruth (USA) anticipates being "actively involved in working groups, conducting research, and presenting literature for public consumption." We look forward to your input, Roger!
All in all, it was great for me to have the chance to get to know our fellows a little better and on a more personal level. I'm looking forward to meeting them in Jamaica, and I hope I'll get to meet you there too!
OUT OF DATE?
Here in the Vault, information is published in its final form and then not changed or updated. As a result, some content, specifically links to other pages and other references, may be out-of-date or no longer available.