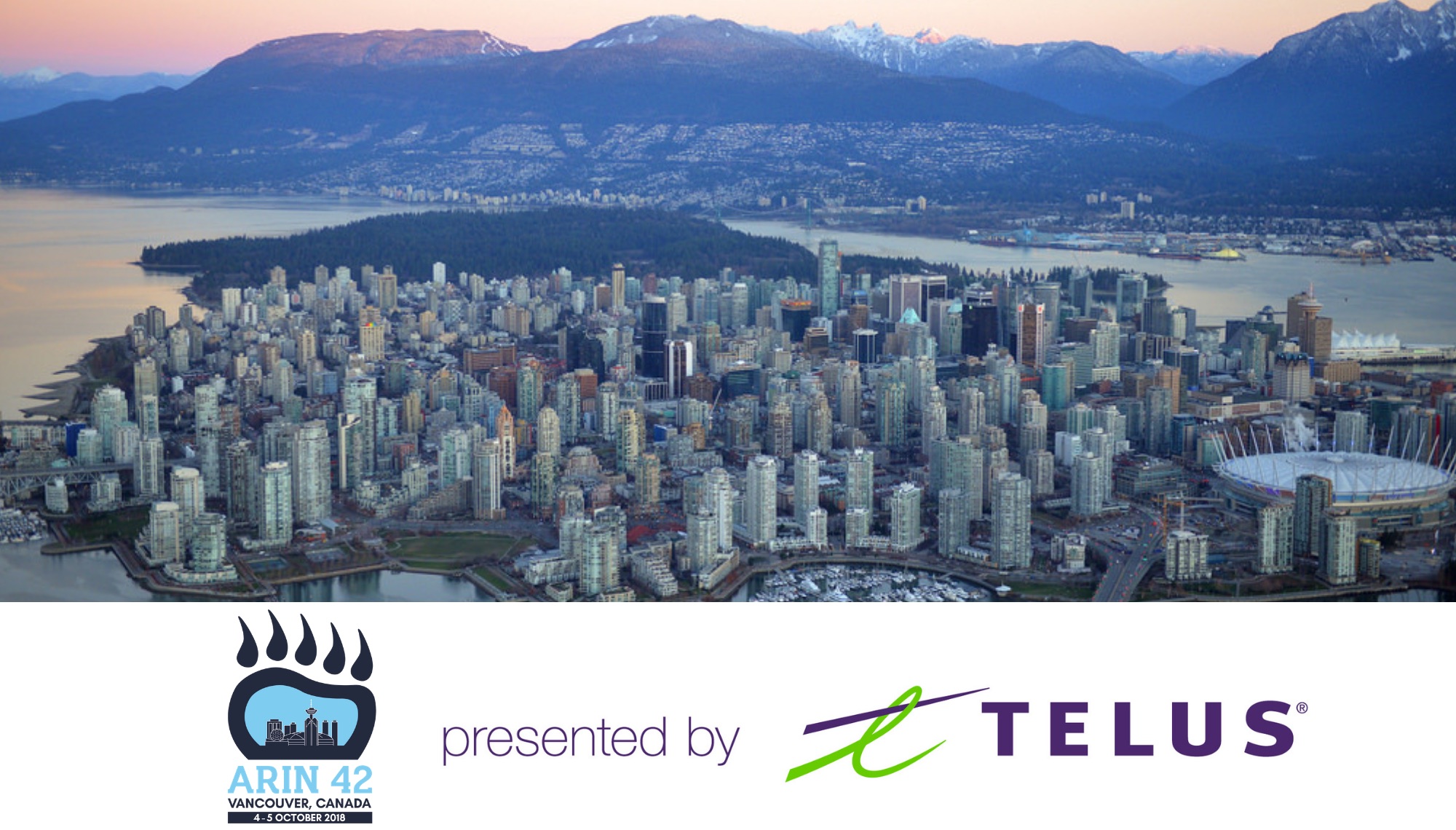 Supporting the Internet Community: Meet ARIN 42 Sponsor, TELUS
We asked our ARIN 42 network sponsor to explain what motivated them to provide connectivity for the meeting. If your company would be interested in supporting a future ARIN meeting, let us know! Here's what TELUS had to say:
---
TELUS is proud to once again support the Internet community through providing network connectivity at ARIN 42, in addition to NANOG 74, taking place in Vancouver. In July, IETF 102 was held in Montreal, where TELUS also provided network connectivity. These are continuations of our support of industry events held in Canada going back to ARIN 25, which was held in Toronto in 2010.
Throughout my 13 years at TELUS, I have been very fortunate to be part of a company that gives to its communities in so many meaningful ways. One program at TELUS rewards every team member with the chance to designate a charitable donation in exchange for giving time to charities and community programs. Another matches personal charitable donations dollar for dollar.
In 2016, TELUS Internet for Good launched to provide make Internet service accessible to low income families, providing thousands of families access to the online services that many of us take for granted. A similarly ambitious program, TELUS Mobility for Good, launched in 2017 and provides eligible youth and young adults with access to phones and mobile data plans at no cost. TELUS Health for Good is the latest such initiative, which just recently launched this year. TELUS Health for Good funds mobile health clinics, which provides access to health and social services to our society's most vulnerable members.
TELUS is also investing in Canada by building our wireless and TELUS PureFibre™ networks, which will ensure Canadians have access to world-class connectivity well into the future. Continuing to lead the pack for wireless speed in Canada, TELUS is proud to have earned major third-party awards in both 2017 and 2018 from J.D. Power, Speedtest (by Ookla), PC Mag, and OpenSignal.
TELUS has also been a leader in Canada for IPv6 deployment. At the time of my previous blog post for ARIN in 2015, TELUS had recently begun deploying IPv6 for our subscribers. Now, all TELUS home Internet subscribers have access to IPv6, as do many of our TELUS Mobility customers. Canada's overall IPv6 deployment has gone from 2.18% to 19.74% in this time, in large part because of TELUS taking the lead in the industry.
On behalf of TELUS, I am pleased to welcome the ARIN community back to Vancouver, where all attendees can enjoy an IPv6-enabled connection on one of Canada's best networks.
Any views, positions, statements or opinions of a guest blog post are those of the author alone and do not represent those of ARIN. ARIN does not guarantee the accuracy, completeness or validity of any claims or statements, nor shall ARIN be liable for any representations, omissions or errors contained in a guest blog post.
Recent blogs categorized under: Updates