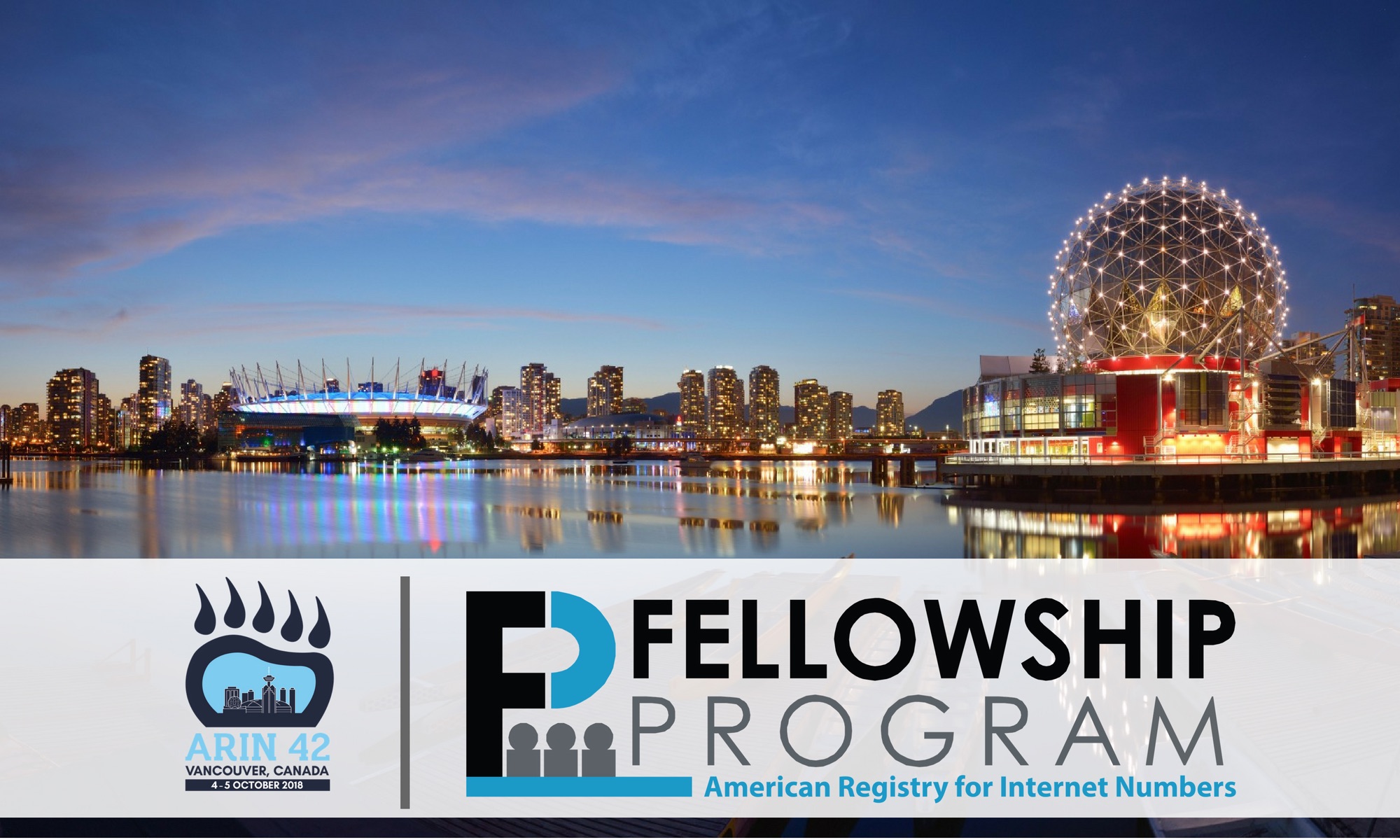 Introducing the ARIN 42 Fellows!
We're gearing up for ARIN 42 next week, and we're excited to introduce the 12 new and returning fellows that will be joining us in Vancouver, British Columbia. Over the last nine years we've welcomed 111 fellows to our Public Policy and Members Meetings to expand our educational outreach and add new voices to our public policy discussions. With our new slate of fellows, we've now pushed that number to 123! We encourage you to take a moment and get acquainted with this great group of people who will be joining us, and be sure to say hello when you see them around the meeting.
Let's meet the ARIN 42 fellows!
Returning fellow, Patrick Anglin works for The University of the West Indies and will be joining us from Jamaica. He applied for the fellowship in order to deepen his involvement in the multi-stakeholder process, add his voice to the Internet governance discussion, and enhance his knowledge of the issues surrounding the management and allocation of Internet number resources. When asked what he hopes to gain by attending an ARIN meeting, Patrick said he "hopes to obtain a good or better understanding of the issues currently being discussed in the Internet governance community and their effect on the Caribbean and Jamaica." He is most looking forward to "networking with those in the ARIN community who influence policy and technology (innovation, adoption, and use) in North America and the (northern) Caribbean."
Blaise Arbouet, a returning fellow from Canada, works for Haiti Cyber Con. According to Blaise, he decided to reapply for the fellowship because "The first ARIN meeting was an introduction for me to the organization processes and policies. I think that participating for a second time will help me to stop being an observer, and start being an active participant. I also love the company of [the] ARIN staff and team, they are good people to talk with." He described feeling "enthusiastic and lucky" when he learned he was selected as an ARIN 42 fellow. His number one experience he hopes to gain by attending ARIN 42 is to "take the microphone, speak, and contribute to the process."
Andrew Martey Asare of National Capital FreeNet Inc. will be joining us in Vancouver from his home country of Canada! He decided to apply for the ARIN fellowship when his "colleagues Andrew Dalle (a former ARIN fellow) and Shelley Robinson spoke about the [fellowship] benefits to National Capital FreeNet (NCF) from Andre's fellowship." He looks forward to learning about "how a small ISP like NCF can deploy IPv6 and transition [their] members to IPv6." When asked how he believes this experience will support what he hopes to do now and in the future, Andrew said "As the Service Operations Manager, I am looking to enhance our IPv6 transition plans with the knowledge and experience of people I meet at ARIN 42 who have already undertaken their transition." Andrew is most looking forward to joining the Newcomer Orientation we'll be hosting on Wednesday 3 October.
Suzette Burley works for Digicel Jamaica and will be traveling to Vancouver from Jamaica! She decided to apply for the ARIN fellowship after hearing about the knowledge and experience past fellow Kerrie Richards gained from her fellowship with ARIN in 2017. "… this made me want to learn more about ARIN's policy development process and how I can be a voice in these discussions." When asked how she sees herself contributing to ARIN's mission in the future, she said, "I recently attended ARIN in the Caribbean and it was quiet enlightening. I learnt a lot about the importance of each country having its own IXP for redundancy, quality of service and last mile internet in the rural areas. … My hope in the future is that I can be an active voice in the policy discussions that will affect change in Jamaica and the rest of the Caribbean."
Gary Campbell, returning fellow, works for the Ministry of Science, Energy and Technology and is coming to us from the Caribbean. He applied for the ARIN 42 fellowship because he has "a very keen interest in the mandate of ARIN and would like to contribute in a meaningful way from a regional perspective." He is most looking forward to "meeting with global stakeholders, sharing country/regional experiences, and further participating in the international Internet community."
Cesar Casilla of Procuraduria Especializada Contra Los Crimenes y Delitos de Alta Tecnologia, will be representing the Dominican Republic at ARIN 42. He applied to be a returning fellow based on the "unforgettable experience" he had with us at ARIN 40. He's looking forward to learning about the policy process, clarifying any doubts he has about the draft policies, and making new friends.
Roosevelt Lewars works for the University of the Commonwealth Caribbean and is joining us from Jamaica. He decided to apply for another fellowship because, "The ARIN staff is always so warm, welcoming and encouraging; it was on receipt of an alumni invitation followed by further discussion that I decided to reapply for an ARIN fellowship." He is most looking forward to seeing the ARIN staff and staying up-to-date on the policies being discussed at ARIN 42.
Returning fellow, Austin Murkland of Qscend Technologies, Inc. is from the United States. Austin says, "I believe every opportunity to meet with peers and engage in dialogues about issues relating to ARIN, the Internet in general, or even just sharing knowledge specific to ourselves or our careers, deepens the connections between professionals in this industry and provides an opportunity to lessen regulatory hurdles with face to face communication." When asked how he felt when he learned he was selected to join us at ARIN 42 he said "supercalifragilisticexpialidocious." We love the enthusiasm, Austin!
Adrian Schmidt of Burman University is also a returning fellow from Canada. When asked how he believes this fellowship experience will support his future endeavors he said, "It will help me to acquire the knowledge that I need to become an active and participating member of this community, and the connections with people will help me to get the answers that I need to navigate the different ways that we can collaborate with ARIN."
Alan Shackleford of Johns Hopkins University will be traveling from the United States. He applied for our fellowship because he wanted to attend an ARIN meeting since he has "enjoyed them in the past and always comes away with new information and contacts." As a fellow, he foresees himself contributing to ARIN in the future by "staying involved with information technology as it pertains to the medical field, and a good understanding of the way addressing, routing, etc. is governed is essential. And I will remain an advocate for ARIN, encouraging people to participate and contribute." Alan is most looking forward to "listening to the discussions, business meetings and lectures from the best minds in the business."
Soren Sorensen of Sundog Network will be joining us from the United States. When asked what piece of knowledge he hopes to gain from attending ARIN 42, Soren says, "I am looking for information that might help folks in Northern Minnesota develop more affordable and resilient IP networks and Internet access to better serve more of the poor and Native American communities." He is most looking forward to attending the newcomer orientation and meeting his mentor.
Ovidiu Viorica is also joining us from the United States.  Ovidiu says, "I hope to spread awareness about ARIN and encourage and guide the involvement with ARIN for other stakeholders from New Mexico and the region." He also believes "this experience will provide me with tools and connections that will improve my work with the New Mexico schools." When asked how he felt when he was selected as an ARIN 42 fellow, he said "honored." And we're honored to have you, Ovidiu!
We want to wish another big congratulations to our ARIN 42 fellows. We can't wait to see you all in Vancouver!
P.S. The ARIN Fellowship Program for ARIN 43 in Barbados 7-10 April 2018 will be accepting applications soon. Stay tuned.
Recent blogs categorized under: Fellowship Program