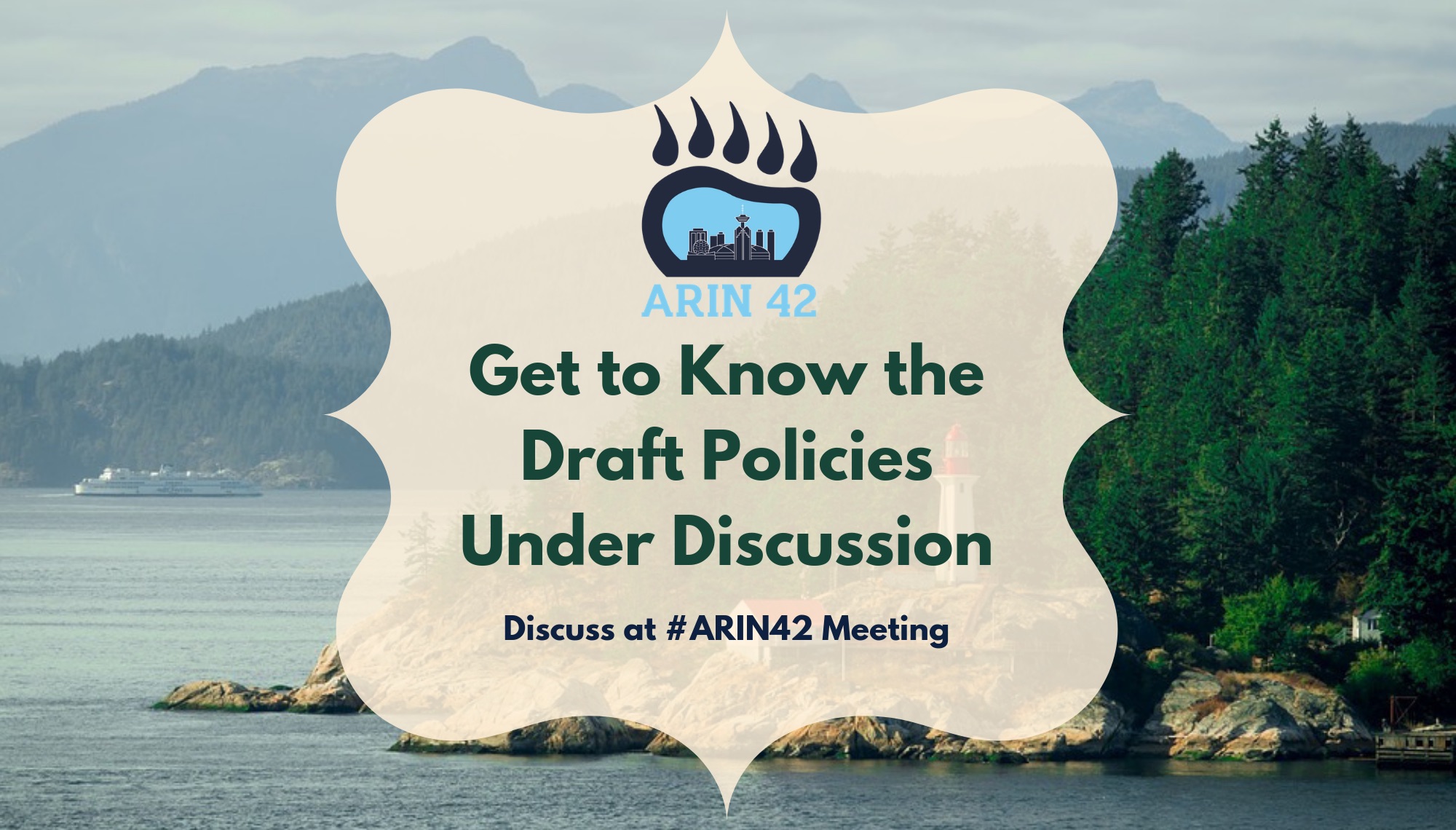 Get to Know the Draft Policies Under Discussion at ARIN 42
With ARIN 42 fast approaching, we are excited to bring our community together and facilitate one of ARIN's prime directives: the development of policy by the community for the management of IP addresses and Autonomous System Numbers. Our biannual Public Policy and Members Meetings are the cornerstone of our Policy Development Process (PDP), and they rely upon you, the community, to be successful.
Participating in policy discussions can be an intimidating experience for ARIN newcomers and seasoned veterans alike, and the policies themselves tend to be complex and difficult to digest enough to jump into discussions. Let's take a look at the Draft Policies and Recommended Draft Policies up for discussion.
Recommended Draft Policy ARIN-2017-12 adds an additional step to all requests for reallocations or detailed reassignments that will result in the creation of a new Point of Contact record (POC), which includes a ten-day window for the POC to validate the request information and avoid having the request rejected. The Board of Trustees remanded this Recommended Draft Policy to the Advisory Council in July so they could discuss and investigate the impact of this change on some larger organizations that submit many automated reassignments to ARIN.
Recommended Draft Policy ARIN-2018-1 adds the ability for ARIN staff to transfer Autonomous System Numbers (ASNs) between RIRs that share reciprocal, compatible, needs-based policies. As with current Inter-RIR IP address space transfer policy, RIRs who do not allow bidirectional transfers are excluded.
Draft Policy ARIN-2018-2 adjusts IPv4 initial allocation policy to allow organizations without direct allocations, direct assignments, re-allocations or reassignments to qualify for up to a /24 automatically, and larger if they document how they will utilize the space.
Recommended Draft Policy ARIN-2018-3 eliminates the requirement for ISPs that have individual IPv4 customers, otherwise referred to as residential subscribers to register reallocations and reassignments with ARIN for each of them.
Recommended Draft Policy ARIN-2018-4 adds clarifying language to the NRPM definitions of Assignments, Reassignments, Allocations, and Reallocations, to clarify that temporary or incidental use of address space by third parties do not qualify as reassignments or violate any other policies that restrict IP address space usage to the organization it is assigned or allocated to.
Participate in Policy Discussions
ARIN is committed to providing an open community forum for policy development, and that includes lowering barriers of entry of all kinds. New faces and widespread participation are key components in any Regional Internet Registry community, and ARIN is no exception. I hope the information in this post arms even the greenest ARIN participant with the tools they need to participate actively once the microphones turn on.
People from all over the ARIN region and beyond will be participating at the ARIN meeting, but vital opinions need not be conveyed in-person to be effective! If you want a great time- and wallet-friendly option for you and your organization to be heard by the ARIN community, ARIN offers a terrific remote participation experience. We'll have chat rooms for voicing your opinions during discussions, as well as a live streaming transcript so you won't miss a beat!
Remote participation is completely free, but be sure to register early! We are using Slack for ARIN 42, and all remote participants will be sent an invitation to create an account to access meeting chat. For details, visit the Remote Participation page. Note that all remote participants are subject to the Remote Participation Acceptable Use Policy (AUP).
The ARIN Public Policy Meeting and Members Meeting will be webcast, including discussion sessions for all five of the above Draft Policies. Once the Public Policy Meeting begins, we make every effort to ensure that policy discussions are held at their scheduled times, and we notify remote participants in the event of agenda changes. Check the meeting agenda for complete schedule details.
To submit your very own Internet number resource policy proposal, just fill out our brief template and send it to policy@arin.net. Don't worry about getting the wording of your proposal exactly right – our Advisory Council will work with you directly to help transform your idea into a clear change, removal, or addition to policy text, and get it the community attention it needs to move through the PDP.
If you're more of a visual learner, check out our new video entitled "ARIN's Policy Development Process" to learn more about each step of the PDP, and become a part of the Internet's future today!
Additional resources can be found on the following webpages:
Or check out this video to learn why (and how) you should participate at ARIN 42. We look forward to seeing you there!
Recent blogs categorized under: Public Policy