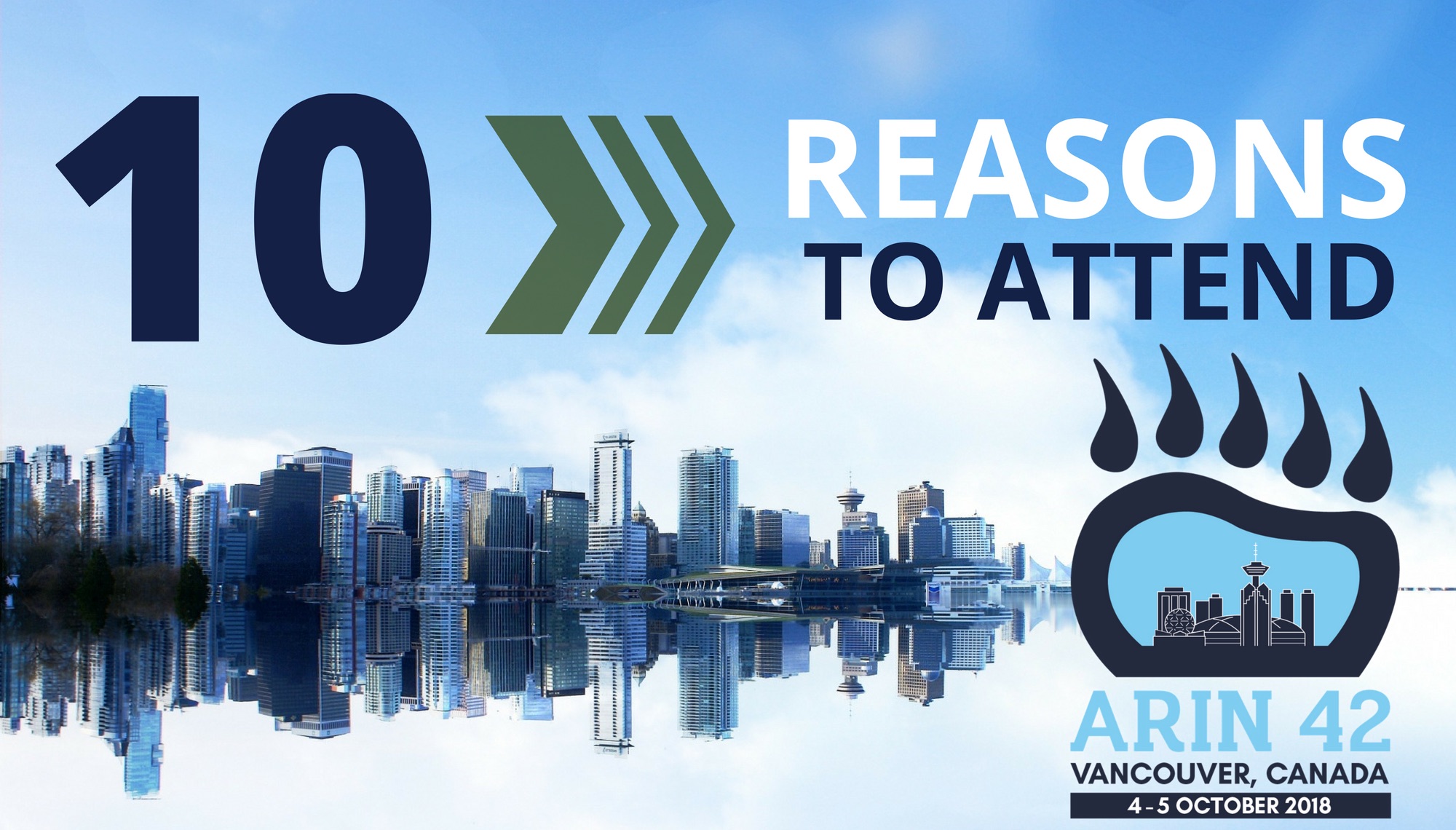 10 Reasons to Attend ARIN 42
You may have heard that we've opened registration for our next Public Policy and Members Meeting, ARIN 42, in Vancouver, BC 4-5 October. And maybe you're thinking, "That's nice, but why should I attend?" Well, there are lots of reasons we think you should attend, but we've compiled our top ten reasons for you.
(Not sure what our Public Policy and Members Meetings are about? No worries, just read this first.)
1. Impact the future of the Internet. We are one of five Regional Internet Registries in the world. Your voice can make a big impact on the development of the Internet in our region. Attend ARIN 42 to learn about and participate in the Internet Number resource policy development process.
2. Rub elbows with Internet Influencers. Our friendly community is full of brilliant minds. Expand your knowledge (and your network) by getting to know some of the most influential people in the Internet world.
3. Learn what ARIN can do for YOU. Learn more about our services and see how we may be able to serve you or the organization you represent.
4. Interact with our Board of Trustees, Advisory Council, and staff in person. Our meetings offer a unique opportunity to chat with and get to know all three of these groups in the same place.
5. Did you go to IETF? If not, get the lowdown from our intrepid IETF reporter with her crowd-favorite, IETF report which focuses on topics of interest to the Network Operator community.
6. Exert your influence and share your knowledge. You have a unique perspective and experience – share it at the microphone during policy discussions, or connect with us to see your story in this space! We love sharing stories from our community here on TeamARIN.
7. Get social with us. Join us at our ARIN social on Thursday evening to network and unwind in a fun, casual environment.
8. Attend NANOG 74. Our meeting directly follows NANOG 74 in the same location. Kill two birds with one stone and come early to attend their meeting. Already planning to attend NANOG 74? Stay after their meeting to join ours! Registration is free for everyone if you sign up by 2 October.
9. Get a sneak peek of our new website. We're working on launching a new ARIN website, and we're previewing a close to finished product at ARIN 42. See what we've done and let us know what you think. We will have a user testing table on-site.
10. Come visit our help desk! Need to check in on your resources or get some assistance with your ARIN Online account? We will have members from our Registration Services team on-site ready to help answer your questions. Pop by the help desk to say hello!
Have I convinced you yet? Great! After registering for ARIN 42, (you know you want to) take a look at these ideas for how to spend your free time in beautiful Vancouver.
Wake up early and go for a walk or jog around Stanley Park. Come back by 8:00 AM to enjoy a complimentary breakfast before our meeting starts at 9:00 AM.

After the meeting ends on Friday, grab a few friends and spend the afternoon exploring Vancouver's oldest neighborhood, Gastown.

Extending your stay through the weekend? Enjoy views from above by visiting Capilano Suspension Bridge or by embarking on one of these beautiful hikes.
There are so many reasons to join us at ARIN 42. We hope this sheds light on just how impactful our meetings are to advancing the future of the Internet. We look forward to seeing you in Vancouver! And if you can't join us in person, we look forward to your virtual participation.
Ready? Register now!
Recent blogs categorized under: Public Policy