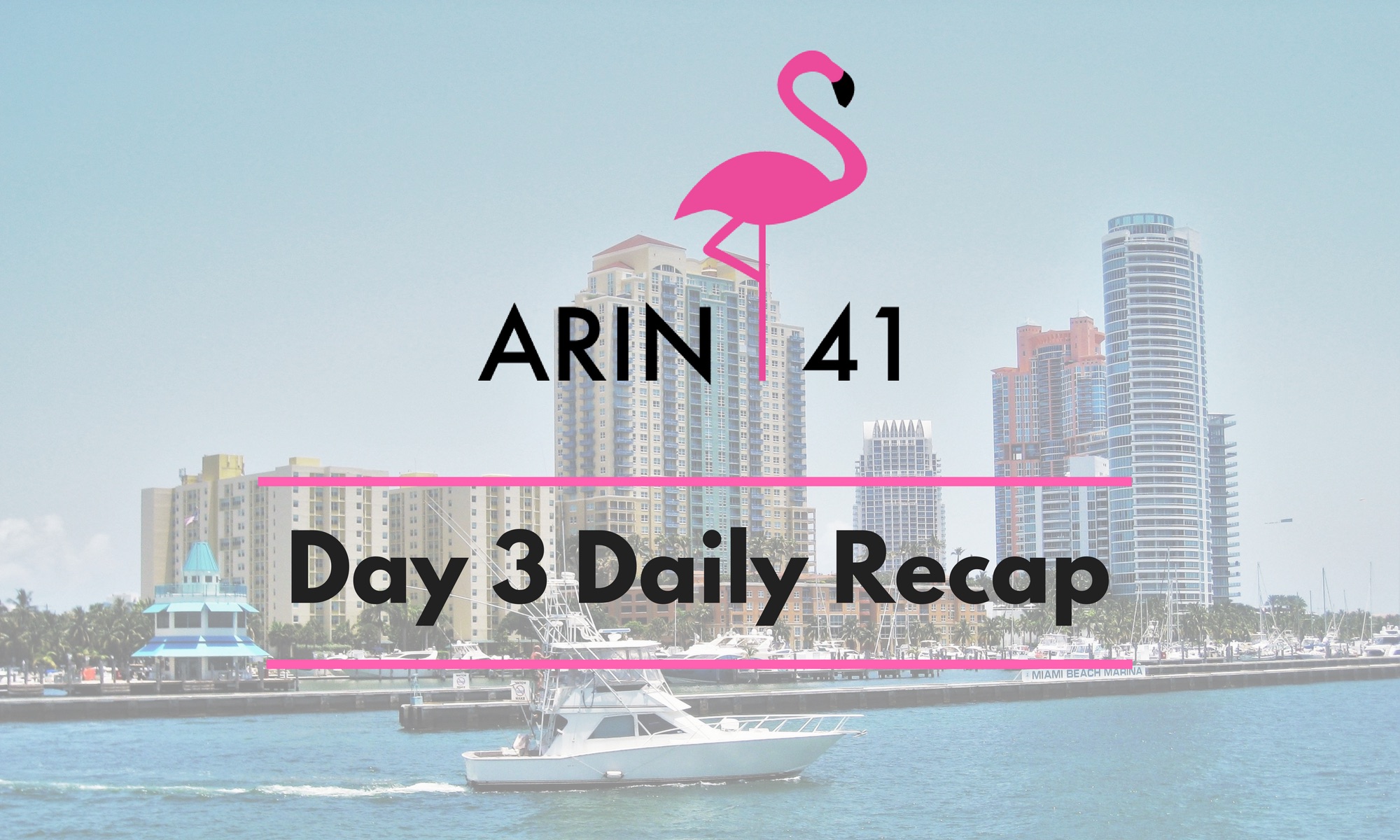 ARIN 41 Day 3 Daily Recap
We have arrived at the final day of our meeting. What a week it's been! After enjoying our last breakfast together, we headed in for the final round of presentations.
In the morning we heard updates from our various heads of department here at ARIN. First up was Susan Hamlin, Senior Director of Communications and Member Services. She presented the latest projects we've been working on and introduced the members of our team (complete with adorable baby photos!). Some of the highlights included a call for case studies, information about our TipsFor6 campaign, details about voting and membership, as well as information on our upcoming outreach events. Next up was Mark Kosters, Chief Technology Officer, presenting updates about the Engineering Team. He shared the recent projects his team has been working on including constructing the framework for the new ARIN website , updates to our user interface, updates on DNSSEC, RPKI, RDAP, information on the projects they'll be working on through Q3 of 2018, and much more.
John Sweeting, Senior Director of Registration Services, shared the status of our IPv4 waiting list, the status of our IPv6 outreach efforts, along with an overview of our customer analysis and 2017 ticket review. He was proud to say each member of the Registration Services Team has contributed a blog post to TeamARIN to pass along helpful information to our readers! Val Winkelman, Director of Financial Services, took to the mic to share updates about her team. Fun fact, the average tenure of this team is 13 years! She discussed common questions their team receives, the new Resource Transfer Fee, the invoicing structure in 2017, and details about our invoice and collection process.
After a quick break, we returned for the last portion of the ARIN 41 meeting. Director of Human Resources, Erin Alligood, was up next to share some exciting accomplishments. We were rated #14 on The Washington Post's Top Workplaces Listing for 2017 in the Small Business Category, selected Richard Jimmerson as our new COO to replace Nate Davis who will be retiring at the end of this year, and hired five new employees in 2017. She also highlighted several employee tenure milestones, and congratulated Cathy Clements and Michael O'Neill on their 20th anniversaries. Nate Davis and Cathy Handley both received a standing ovation as we all thanked them for their many years of service at ARIN as they plan to retire this year.
Tina Morris, ARIN Advisory Council (AC) Chair, presented the Advisory Council Report. She provided an overview of the 2018 Advisory Council Members and was proud to announce that we have representation from the Caribbean on our AC. She also reviewed the new proposals that have moved forward since our last meeting, ARIN 40.
Our newly elected Treasurer on the Board of Trustees, Nancy Carter, shared the Financial Report. She discussed the 2017 financial results and covered details about the 2018 budget. Paul Andersen, had the honor of presenting the final presentation of the day and meeting, the ARIN Board of Trustees Report.
We finished with an open mic session before wrapping up for the day! We want to thank everyone who joined us here for another great meeting. If you'd like to refer to anything you've seen so far, the slides from the meeting have been posted online. In the coming days, raw transcripts, full transcripts, and webcasts from the meeting will be made available as well.
Be sure to mark your calendars for ARIN 42 in Vancouver, BC 4-5 October 2018. We're currently accepting applications for the ARIN fellowship to ARIN 42.
Thank you to all those who participated in person and remotely during ARIN 41 in beautiful Miami, Florida! Be sure to stick around for CaribNOG 15 happening immediately following our meeting.
Missed day one or two of ARIN 41? Check out these recaps:
Recent blogs categorized under: Public Policy