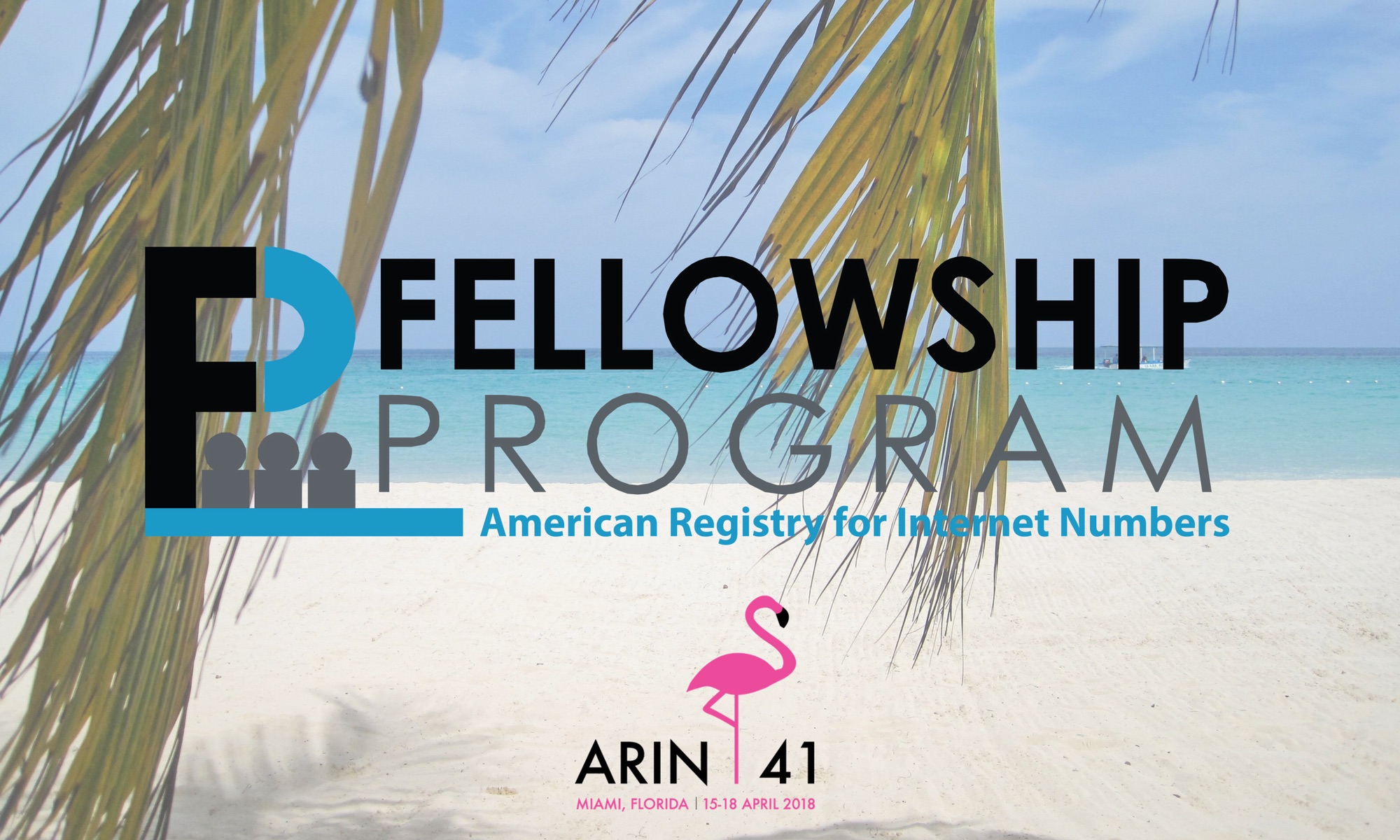 Introducing the ARIN 41 Fellows!
ARIN 41 is almost here! We're excited to introduce the 13 new and returning fellows that will be joining us in beautiful Miami, Florida for ARIN 41 next week. Since 2009, we have welcomed 98 fellows to our Public Policy and Members Meetings to expand our educational outreach and add new voices to our public policy discussions. We're happy to say with our recent additions, we've pushed that number to 111! We encourage you to take a moment and get acquainted with this great group of people that will be joining us, and be sure to say hello when you see them around the meeting.
Let's meet the ARIN 41 fellows!
When asked why she applied for an ARIN fellowship, Amicia Mussenden said she "felt it necessary to become more involved in the work of ARIN, especially the policy development processes to ensure that the unique concerns of smaller territories in the ARIN region are taken account of when policies are developed."  Soledad Roybal applied to learn "more about the technical aspects of how the Internet functions and how these aspects influence the lives of regular people." Having recently departed his role as Commissioner for Canadian Radio-Television & Telecommunications Commission (CRTC), Peter Menzies thought he "could add value to conversations by offering insights to the view from that perspective and broaden [his] own knowledge of ARIN and its ongoing work."
Cathrona Samuel made the decision to apply once she heard that "the best way to get involved with ARIN was to apply for the Fellowship program," while Jaymon Lefebvre first heard about the fellowship through Alyssa Moore of Cybera.
We love to hear one piece of knowledge our fellows hope to gain by attending ARIN 41.  Orin Roberts is curious to learn what roadblocks are "preventing the deployment and adoption of IPv6 in the region and how ARIN is proactively promoting the push away from IPv4." Marcellus Constance hopes to "network with other meeting attendees and develop an understanding of ARIN's Policy Development Process and its role in shaping the future of the Internet." Jaymon wants to know more about how "ARIN operates and how the talented folks involved are able to contribute to effective policy creation." We look forward to answering these questions at our meeting!
Our goal with the ARIN fellowship program is to encourage participation and involvement in future ARIN activities. We asked our fellows how they see themselves remaining involved in the future.  Returning fellow, Roger Caruth, has "been remotely involved by keeping abreast of ARIN development via email notices and visiting the website." Gerry George hopes to advocate and spearhead "the adoption of and migration to IPv6 in [his] country/region." Paola Perez is eager to "play a leading role in the Internet ecosystem" in her region. She knows the "Internet is growing, and the challenges to engage key players, especially women, are increasing." She wants to "contribute by improving the engagement" and has a lot of ideas for how to do this.
We asked our fellows to share how they believe this experience will support them in their own endeavors. Blaise Arbouet said since he is already "active in events/forums related to Internet Governance in the region, participating in the ARIN event will increase my network and help me prepare to mentor other people in the future." Charles Thomas feels that being surrounded by "peers and knowledgeable practitioners can only enhance [his] knowledge and understanding."
Part of the fellowship experience includes being matched with a mentor. Mentors are either seasoned attendees, Advisory Council members, or a member of our staff. They help our fellows have the best possible experience by being there to answer questions, explain the policy development process, and introduce them to other attendees. Check out the pairings for ARIN 41:
Canada
Blaise Arbouet, Haiti Cyber Con

Jaymon Lefebvre, Wild Rose School Division

Peter Menzies, Corinthian College

Orin Roberts, Bell Canada
USA
Roger Caruth, Independent Researcher

Martin Dimas, Kit Carson Electric Cooperative, Inc.

Soledad Roybal, Freelance Tech Policy Consultant

Charles Thomas, Omnipoint Technology, Inc.
Caribbean
Marcellus Constance, National Telecommunications Regulatory Commission

Gerry George, DigiSolv, Inc.

Amicia Mussenden, Government of St. Kitts and Nevis, Department of Technology

Cathrona Samuel, Antigua Public Utilities Authority
Outlying Area
Paola Perez, ISOC Venezuela / LACNIC
We can already tell this is going to be a lively group of fellows who are ready to dive into policy discussions and networking at ARIN 41.
Congratulations, once again, to our ARIN 41 fellows. We can't wait to see you all there!
P.S. The ARIN Fellowship Program for ARIN 42 in Vancouver, BC 4-5 October 2018 will be accepting applications soon. Stay tuned!
Recent blogs categorized under: Fellowship Program