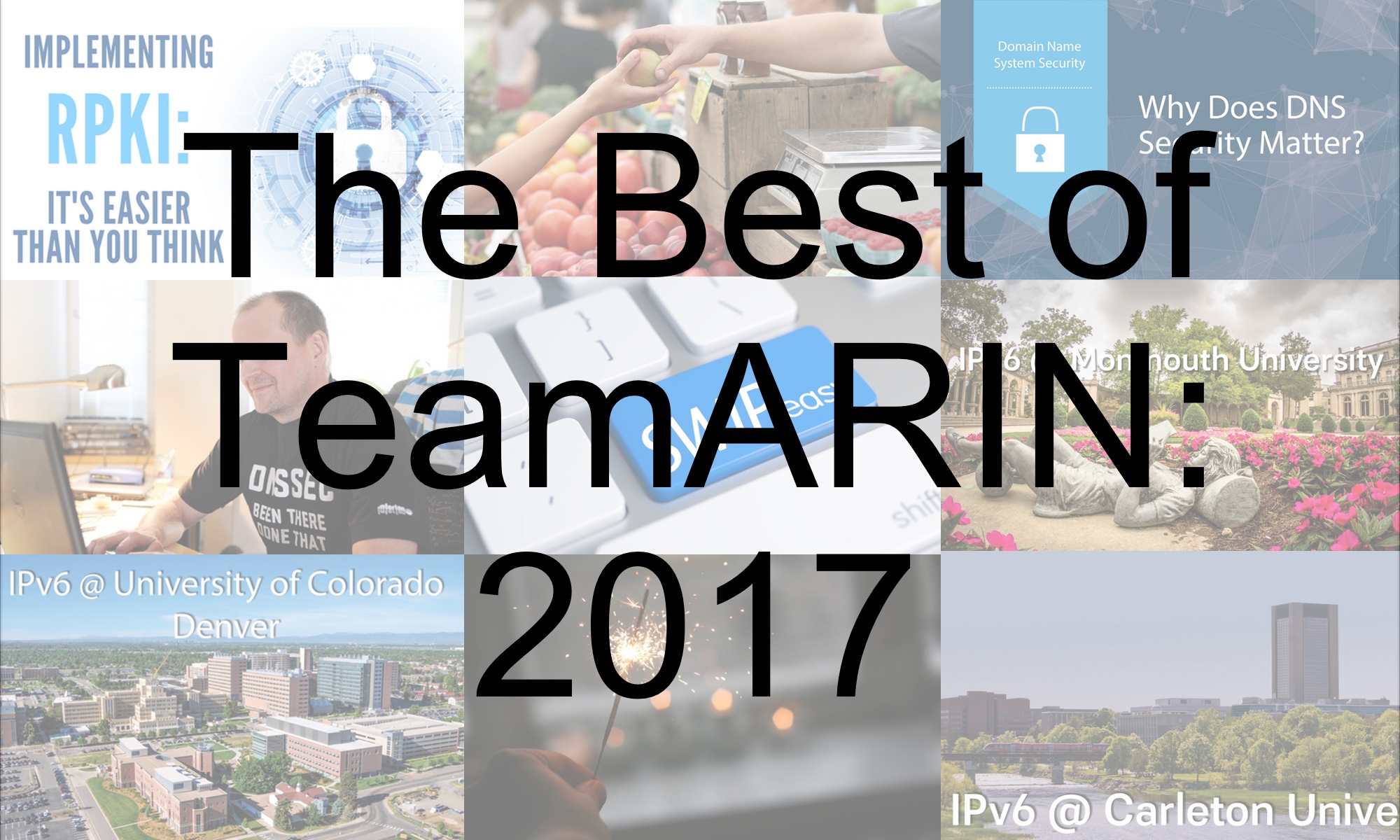 The Best of TeamARIN: 2017
2017 was an amazing year here at TeamARIN! We collaborated with guest bloggers from the community and subject matter experts inside ARIN to bring you lots of great content. As we look forward to a brand new year, we wanted to take a moment to look back at some of the most popular posts from 2017.
We're always looking to improve what we do here and we wanted to share what we're doing right – according to you! So, we rounded up the top ten posts our readers found to be the most helpful or interesting from this past year on TeamARIN. Enjoy!
---
16 Years with IPv6 - Torbjörn Eklöv, Co-Founder and Owner of Interlan, was an early adopter of IPv6. He shares the benefits of IPv6 adoption and offers advice to anyone who wants to enable IPv6 in their network with a static configuration from an ISP.
Tech industry Takes Strides Toward IPv6 - Looking back over the past year, we've seen some exciting news of increased IPv6 activity from major tech companies. While 2015 marked the year the ARIN region ran out of IPv4, 2016 marked the year more companies made a push toward its successor.
12 Steps to Enable IPv6 in an ISP Network - Jordi Palet Martinez summarizes the 12 fundamental steps necessary to achieve native IPv6 support and maintain IPv4 as a transparent service.
IPv6 is Not Optional – Mattias Lindgren, Senior Network Engineer at the University of Colorado Denver, details how he spearheaded the effort to enable IPv6 across two campuses and explains why adopting IPv6 is no longer optional.
Stop Procrastinating and Do IPv6 - Mike Milne of Carleton University takes us through the IPv6 planning process, highlighting why working on a complete end-to-end network design is enjoyable.
Let's Talk About Quick and Easy Way to SWIP - James Ricewick, Resource Analyst, talks about a new, quick and easy method of submitting reassignments from your ARIN Online account.
Stay on the Cutting Edge with IPv6 - Rob Carsey explains how Monmouth University went from IPv6 zero to IPv6 hero in less than one summer and why IPv6 is important to stay on the cutting edge in the education field.
Using the Market to Obtain or Release IPv4 - A few pointers on how to navigate the IPv4 transfer market, whether you are interested in obtaining or releasing IPv4 address space.
Why Does DNS Security Matter? - Securing DNS is critical to ensuring online safety. We discuss the importance of DNSSEC and share the services ARIN offers to help you secure your reverse zones.
Implementing RPKI: It's Easier Than You Think - Andrew Gallo, Principal IT Architect and Network Engineer at George Washington University, explains the importance of implementing RPKI and why it may be easier than you think.
We hope that if you don't already have IPv6, you are including it in your plans for 2018. We have plenty of resources to help you achieve your organization's goal in the new year. Check out our Get6 page to learn more. And if you are interested in contributing a guest post on TeamARIN, get in touch with us. We love collaborating with our readers and community. Happy New Year!
Recent blogs categorized under: Updates