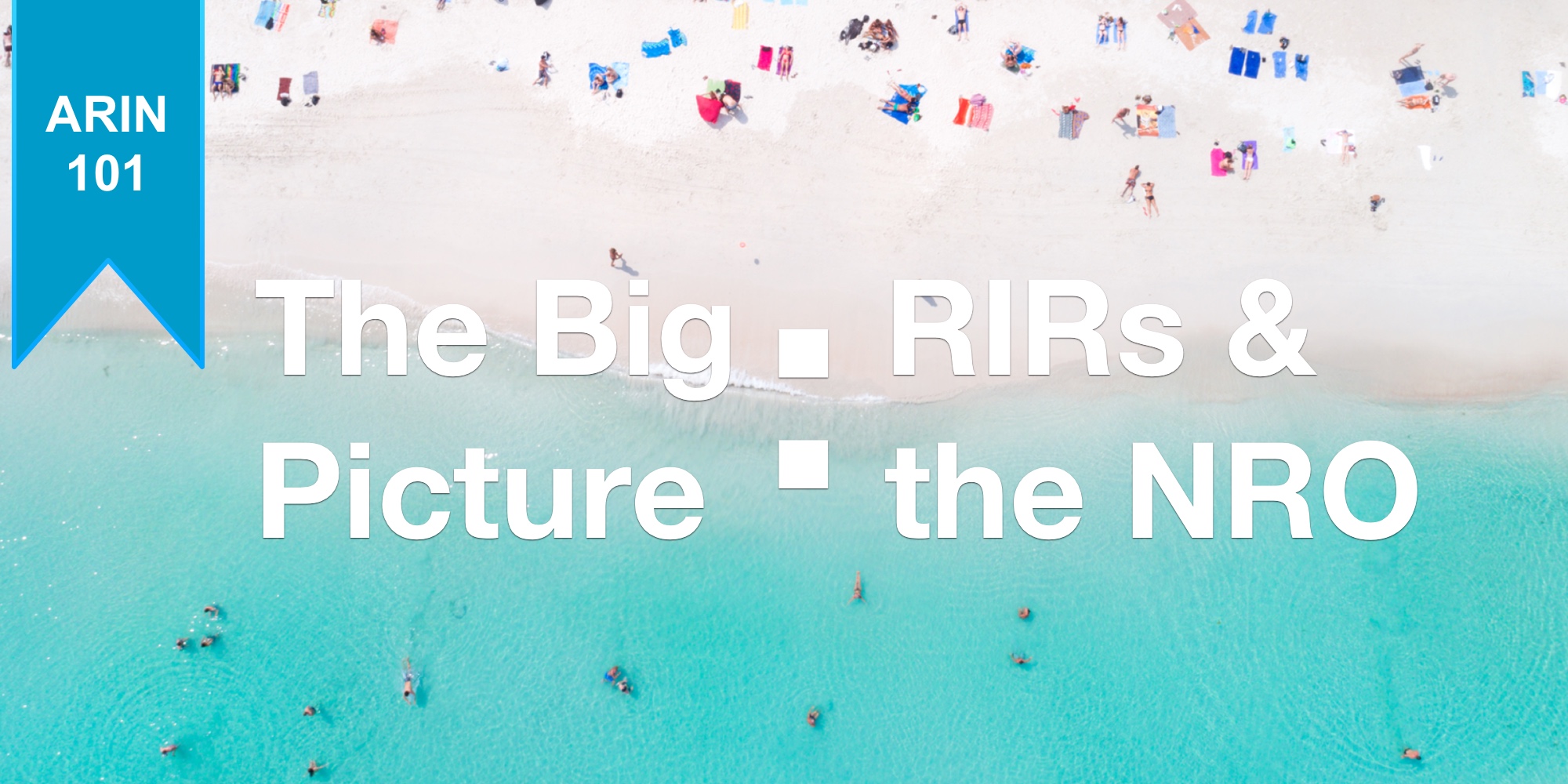 The Big Picture: RIRs and the NRO
Now that you have officially "met" us, we want to introduce you to the bigger picture of who we are. While we manage the distribution of Internet number resources for our service region which includes the United States, Canada, and parts of the Caribbean, there are four more registries serving other regional communities around the world.
The back story
At the start of the Internet, the global IP address registry was a notebook that contained a list of IP addresses with details of the organizations to which they had been allocated. As the list grew, it was clear that a more formal mechanism was needed and the Internet Assigned Numbers Authority, or IANA, was formed. After that, things continued to pick up speed, and it became clear that the responsibility for managing Internet number resources should be handled at the regional level. As a result, Regional Internet Registries (RIRs) were created.
Twenty plus years later, this community-based multi-stakeholder model continues to thrive, and each RIR is responsible for managing, distributing, and registering Internet number resources and Autonomous System Numbers within its respective region. Each operates as a not-for-profit, member-based organization governed by a member-elected board. The five RIRs include:
RIPE NCC (RIPE Network Coordination Center) established in 1992, serving Europe, Central Asia and the Middle East

APNIC (Asia Pacific Network Information Center) established in 1993 serving portions of Asia and portions of Oceania

ARIN (American Registry for Internet Numbers) established in 1997 serving the United States, Canada, and many Caribbean and North Atlantic Islands

LACNIC (Latin American and Caribbean Network Coordination Center) established in 2002 serving Latin America and parts of the Caribbean

AFRINIC (African Network Information Center) established in 2005 serving Africa and portions of the Indian Ocean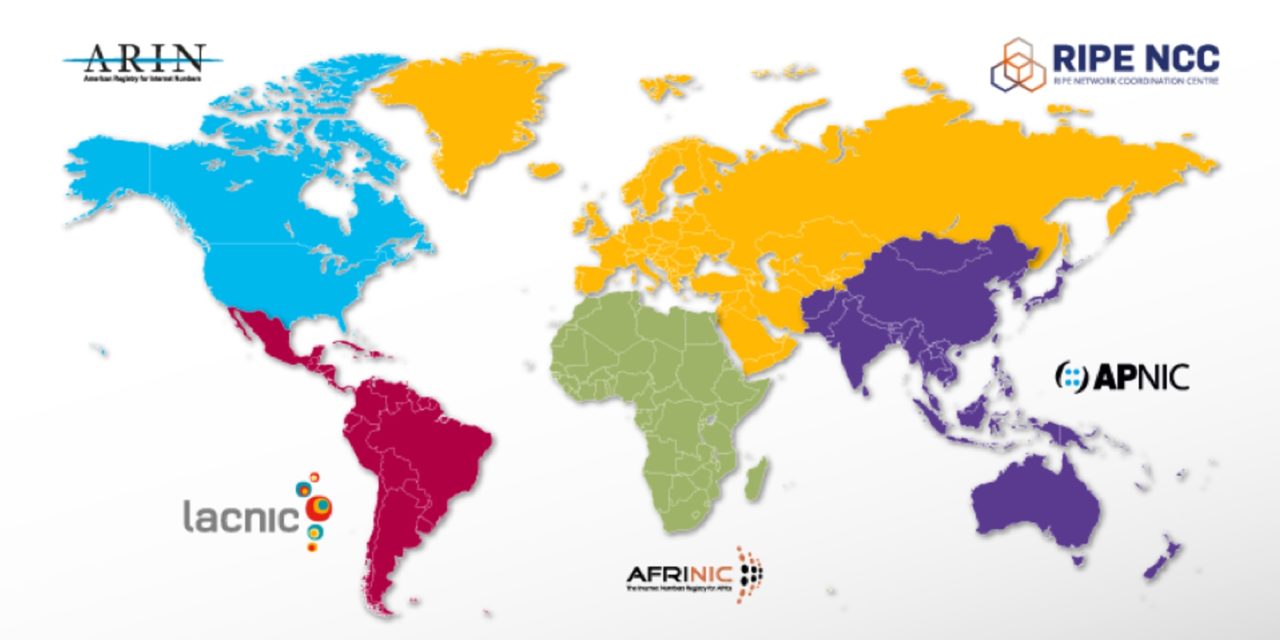 How can I become a member of an RIR?
Membership rules vary from region to region. At ARIN, general membership is attributed at the organization level. To qualify, your organization must have an ongoing relationship with ARIN for Internet number resources. You can visit our Membership Overview page to learn more about becoming a member. It is important to note that membership is not required in any RIR to participate in the policy development process.
Who develops Internet number resource policies?
The communities of each RIR are responsible for developing their own policies. This is achieved through a bottom-up, transparent and open policy development process which each RIR facilitates –through meetings and mailing lists throughout the year. These policy-related discussions are open to anyone with an interest in the Internet, and ensure the people who directly use regional Internet resources are helping define the policies that govern their distribution and use.
Do the RIRs ever work together?
While each of us works independently within our respective regions, we do sometimes coordinate efforts with one another. When we do, we are collectively referred to as the Number Resource Organization (NRO). The main goals of the NRO are to protect the unallocated Internet number resource pool, promote and protect the bottom-up policy development process, and act as a focal point for the Internet community input into the RIR system.
Quick facts:
Total membership as of February 2017:
AFRINIC – 1,450

APNIC – 13,279

ARIN – 5,467

LACNIC – 6,100

RIPE NCC – 15,481
Year regional IPv4 exhaustion announced:
AFRINIC – TBD

APNIC – 2011

ARIN – 2015

LACNIC – 2014

RIPE NCC – 2012
Percentage of members with both IPv4 and IPv6 as of March 2017
AFRINIC – 40.60%

APNIC – 51.97%

ARIN – 54.00%

LACNIC – 88.53%

RIPE NCC – 74.55%
Date and location of next biannual meeting:
AFRINIC – Lagos, Nigeria, 26 Nov - 2 Dec 2017

APNIC – Taichung, Taiwan, 7-14 Sept 2017

ARIN – San Jose, USA, 5-6 Oct 2017

LACNIC – Montevideo, Uruguay, 18 – 22 Sept 2017

RIPE NCC – Dubai, UAE, 22-26 Oct 2017
How can I get involved in my RIR?
Participation options vary by region, but one thing remains the same, our communities and processes are open to anyone who wants to take part. To see how you can get involved in your RIR, visit us online.
Recent blogs categorized under: Tips