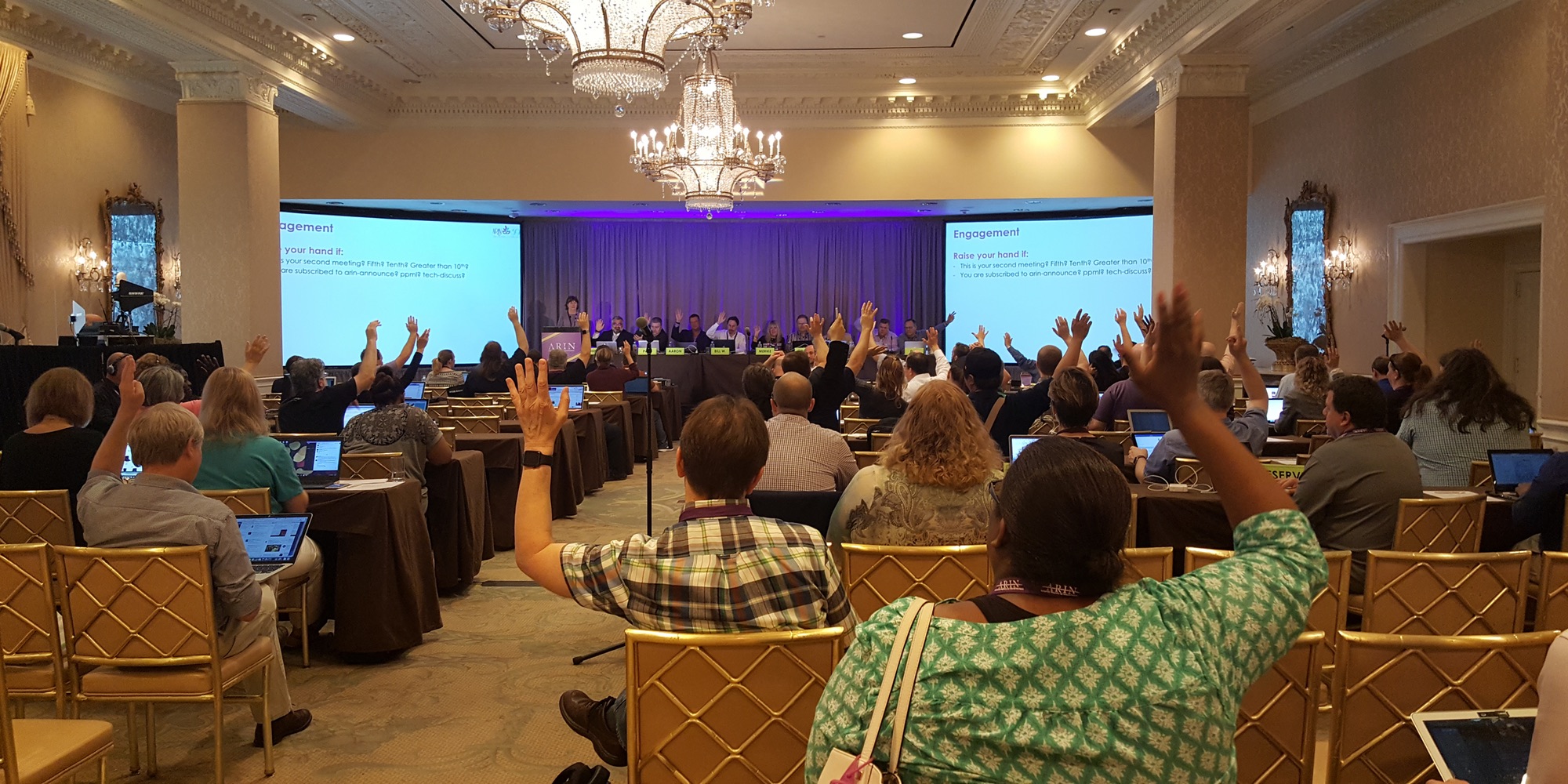 ARIN 39 Day 3 Daily Recap
Today marked the third and final day of the ARIN 39 Public Policy and Members Meeting. Throughout the week, we had great discussions, met new and old friends, and accomplished some great work.  Here's your quick recap of what happened today.
Day 3 - Members Meeting
We jumped into the day with presentations from each ARIN department head on what their teams have been up to since the last meeting.
Susan Hamlin, Director of Communications and Member Services, provided an interesting look at education and outreach programs, ARIN elections, and what's ahead for 2017. She announced that the fellowship program lifted the domicile requirement and applications to the program are now open for ARIN 40. We also heard about the recent revamp of the new and improved TeamARIN blog. As a reminder, guest posts are always welcome. She asked people to raise their hands if they have attended ten or more ARIN meetings and much of the crowd raised their hand. She also discussed ways to improve channels of communication between the community and ARIN.
Mark Kosters, CTO, gave the Engineering Report during which he explained that the operations staff has gone agile, modernized Voting Contacts (only done through ARIN Online), completed lots of UI work, worked on fixing technical debt, and had another security audit by a third-party.
John Sweeting, Senior Director of Registration Services, shared that 37,458 organizations in total are served by ARIN including Internet service providers, end users, and legacy resource holders. Trends over the past year show that IPv4 requests are declining, pre-approvals and specified recipient transfers are increasing, and IPv6 requests are remaining steady.
Val Winkelman, Director of Financial Services, indicated that the most asked questions of her department include: Can I pay with a credit card over the phone? How do I update the billing point of contact? Can you email a copy of my invoice? The answer to each of these questions is that every organization has the ability to do these functions in ARIN Online. ­­
Erin Alligood, Director of Human Resources and Administration, highlighted that A­­­­RIN successfully moved into a new office during the past year and came in under budget for it. We have a total of 84 employees with a retention rate over 94 percent, and an average tenure of over six years.
Advisory Council (AC) Chair, Dan Alexander explained the role of AC in the Policy Development Process and took a look at the policies they've been working on since the last meeting.  Next, Bill Sandiford, Board Treasurer walked us through a financial report and Paul Andersen, Board Chair, wrapped up the meeting with a Board of Trustees report during which he encouraged feedback on how to increase participation in the organization.  A final open microphone session brought forward topics like praise for the meeting location and fellowship program.
If you want to refer to anything you've seen so far, all slides from the public policy portion of the meeting and slides from today's members meeting are posted online. In the coming days, full transcripts, and webcasts from every minute of the meeting will also be made available as well. Thanks for participating in ARIN 37!
Mark your calendars for ARIN 40 in San Jose, California 5-7 October 2017.
Recent blogs categorized under: Public Policy