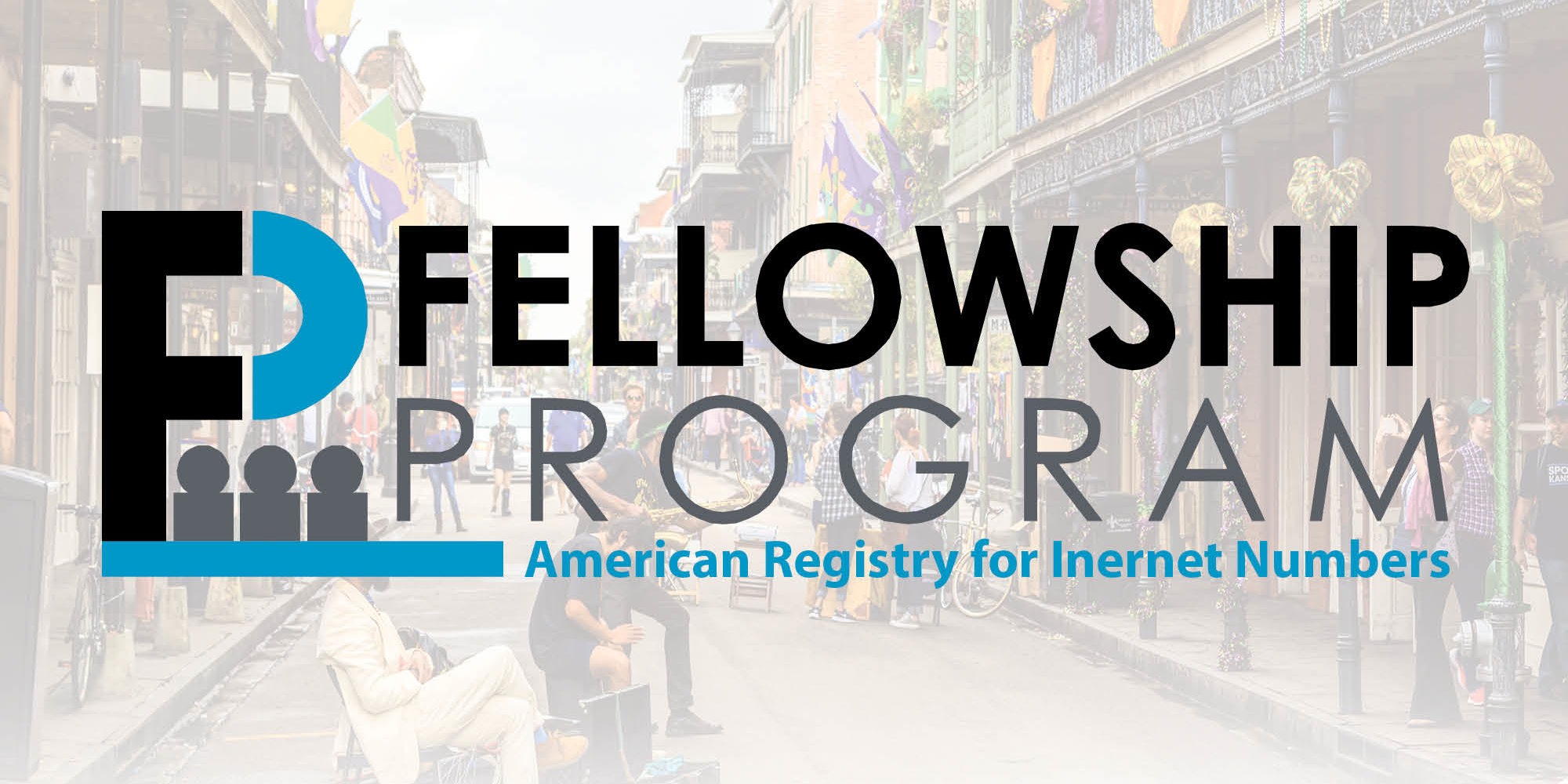 Meet the ARIN 39 Fellows
Since 2009 ARIN has welcomed 68 fellows to our Public Policy and Members Meetings in an effort to broaden educational outreach and enhance public policy discussions. On 2 April 2017 that number will jump to 83 as ARIN and the community greet 15 new and returning fellows to ARIN 39 in New Orleans, Louisiana!  In preparing for the fellows' arrival, I've had the chance to get to know more about them and thought you'd like to learn more about them too.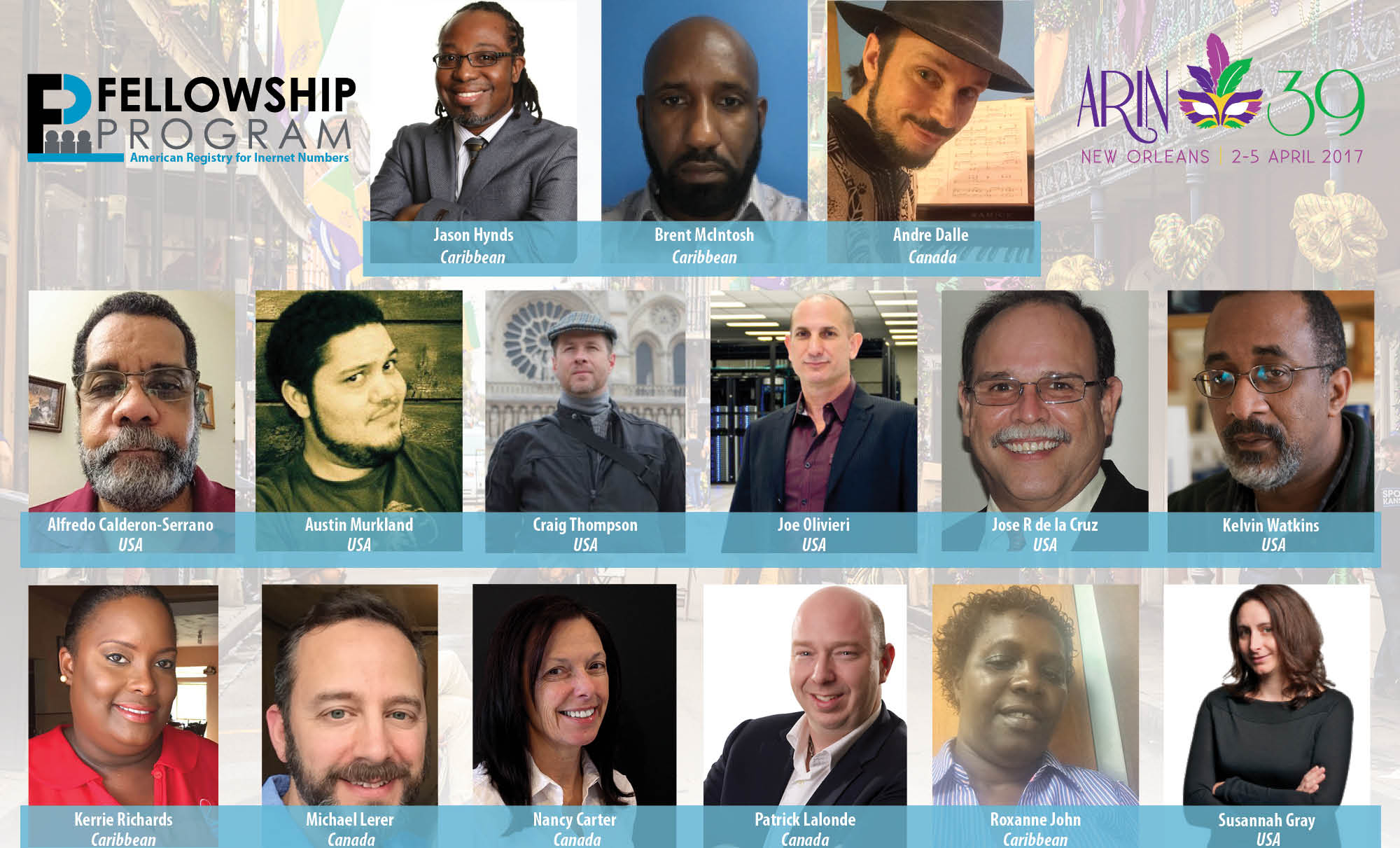 When asked why she applied for an ARIN Fellowship, Roxanne John explained she applied to the program because she believed "it's a great opportunity to learn about ARIN policies and to be part of a great network of ICT professionals across the globe." Returning fellow, Michael Lerer, reapplied after his "first experience left me with a very positive feeling about how ARIN supports its policy evolution." Now, he wants "an opportunity to more actively understand the rules of the Registry's operation." He also wants to "understand what policy issues ARIN members believe need to be addressed over the next 5 – 10 years and to see existing thinking about these issues."
It's true, we love talking policy and having our community involved with the process! Nancy Carter had been interested in attending an ARIN Member meeting for some time and when she heard Alyssa Moore (now Advisory Council member) describe her fellowship experience last year, she knew that she wanted to apply for a fellowship. The mentorship opportunity cemented her decision. And, while I may be partial to our Fellowship Program, I think the program itself coupled with the opportunity to be paired with an ARIN Advisory Council member, or seasoned community member should have everyone applying!
I was then curious to know what our fellows hope to gain by attending an ARIN Public Policy and Members Meeting. I discovered immediately that policy, IPv4 depletion, and IPv6 implementation were among the key topics that ARIN 39 fellows want to learn more about.
Craig Thompson and Joe Olivieri hope to gain a better understanding of the current state of IPv4 and IPv6 and how to better plan for the future. Austin Murkland is "very interested in seeing how the ARIN IPv4 allocation program will transition from its present/past paradigm of need-based solutions to a largely transfer-based market with less concrete "need" parameters and more free-market level abstractions regarding a stakeholder's request for allocations or transfers." Patrick Lalonde and Susannah Gray seek a better understanding of IPv4 exhaustion and IPv6 deployment. While Brent McIntosh wants to know "the best ways to motivate companies to move quickly on IPv6 deployment as well as technical knowledge on DNS for IPv6 migration." "Finding out as much as possible about transitioning to IPv6" is key to Andre Dalle as this will directly support his work at a small not-for-profit ISP that has been allocated IPv6 space. Kerrie-Ann Richards wants to "fully understand the transfer process and ARIN Governance structures" so knowledge of ARIN and what we do can be expanded in the Caribbean. Kelvin Watkins is interested in "learning more about the bigger picture of the Internet and how other groups interact with it." He's also "very interested in seeing how accurate Whois really is." Returning fellow Alfredo Calderon-Serrano seeks to "better understand the scope of opportunities" he, as an academic, can convey to his students and faculty/teacher colleagues on how to embed ARIN mission and activities within courses/curricula." Jose R. de la Cruz, also a returning fellow, looks forward to "speaking with members and ARIN staff that results in a learning experience which is then shared with students and colleagues back home."
Naturally, I'm interested in how our fellows foresee themselves contributing to and/or supporting ARIN in the future. Nancy Carter said "I will explore how I can participate in Internet Governance, and where I can be most effective or have an impact." Susannah Gray "would like to get more involved in the policy development process and/or committees that are open to the community." Alfredo Calderon-Serrano hopes to "collaborate in designing webinars to increase awareness of the need to migrate or incorporate IPv6 among future ISP services, and in translating ARIN materials to Spanish to serve the community in Puerto Rico." In fact, Alfredo Calderon-Serrano and Jose R. de la Cruz have both already reached out in hopes of planning an ARIN on the Road in Puerto Rico in the near future.
So, in summary, I asked our fellows to tell me in one word how they really felt about being selected and these were the responses I received:
Committed (Alfredo Calderon-Serrano)

Delighted (Craig Thompson)

Ecstatic (Austin Murkland)

Elated (Roxanne John, Kerrie-Ann Richards, Andre Dalle)

Excited (Michael Lerer, Brent McIntosh, Joe Olivieri, Kelvin Watkins)

Honored (Patrick Lalonde)

Thrilled (Nancy Carter, Jose R. de la Cruz)

Whoo-hoo (Susannah Gray)
Clearly we have an extremely enthusiastic group of fellows joining us in New Orleans who are anxious to learn, network, and get involved now and in the future. Fortunately, we have several ways to get involved! For one, elections are around the corner and we'll be acccepting nominations for candidates to run for the ARIN Board of Trustees and Advisory Council. Last year we had two past fellows who were nominated, ran, and ultimately elected to the Advisory Council! Hint, hint!
With ARIN 39 less than a week away, I hope you will join me in giving our new and returning fellows a warm welcome.
P.S. The ARIN Fellowship Program for ARIN 40 in San Jose, California 3-4 October 2017 will begin accepting applications on 31 March.
Recent blogs categorized under: Fellowship Program