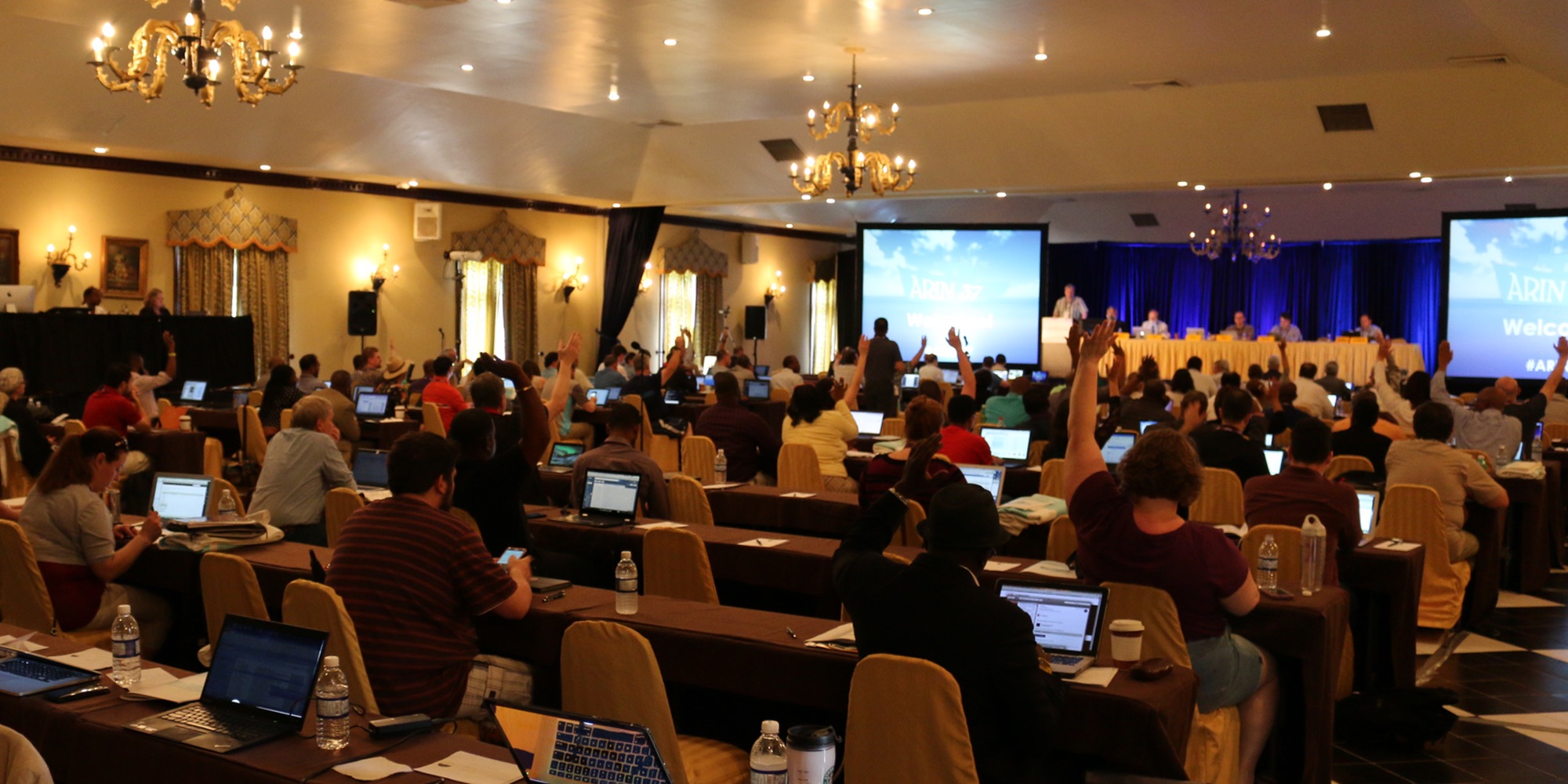 Get to know the Draft Policies Under Discussion
With ARIN 39 just around the corner, we are excited to bring our community together and facilitate one of ARIN's prime directives: the development of policy by the community for the management of IP addresses and Autonomous System Numbers. Our biannual Public Policy and Members Meetings are the cornerstone of our Policy Development Process (PDP), and they rely upon you, the community, to be successful.
Participating in policy discussions can be an intimidating experience for ARIN newcomers and seasoned veterans alike, and the policies themselves tend to be complex and difficult to digest enough to jump into discussions. Let's take a look at the Draft Policies and Recommended Draft Policies up for discussion at ARIN 39, and see just how they might impact the community, and even your organization.
What Does This Do?
This Recommended Draft Policy would allow for organizations to qualify for the same amount of IPv4 addresses they already hold (up to a /16, or 64,000 addresses) via specified transfer as long as they have utilized 80 percent of what they already hold. This method of qualifying for IPv4 space could only be used once every six months, and is supplemental to existing policy.
Who Does This Impact?
Any organization with current IPv4 allocations and in need of more would be affected by this policy, especially those in need of mid-sized IPv4 address blocks (up to a /16) through the transfer market.
What Does This Do?
This Draft Policy would restrict Point of Contact (POC) Validation outreach to only organizations with direct assignments, direct allocations, reallocations, and Autonomous System Numbers (ASNs), excluding POCs that are linked only to indirect assignments and indirect allocations. In short, this policy would stop POC validation outreach to organizations without a direct business relationship with ARIN.
What is POC Validation?
Whois is a directory service for accessing registration data (information about which organizations hold which IP addresses and ASNs), and because that information changes quite often, ARIN reaches out to each POC in Whois via email to make sure someone is still associated with the POC record. If they don't respond to that email within 60 days, their POC is marked as invalid, and users associated with invalid POCs have limited ARIN Online access until they become validated, and are publicly marked as invalid in Whois.
Who Does This Impact?
Anyone with a POC linked only to either an indirect assignment or an indirect allocation in the Whois database might be impacted by this policy (over 600,000 POCs), as they would be no longer be contacted for annual POC validation by ARIN, but may end up being contacted by their providers to keep their POC information up to date.
Additionally, every organization with customers in the first category might also be impacted by this policy, as removing indirect POCs from ARIN's annual validation efforts places higher importance on direct resource holders accurately reporting their own reassignment data as part of the Shared Whois Project (SWIP).
What Does This Do?
This Draft Policy would allow an organization that has acquired another organization to justify a Merger and Acquisition Transfer by proving that they acquired the second organization, without needing to prove utilization of the combined resources of both organizations.
Who Does This Impact?
Any organization currently acquiring another organization, or planning to, might be impacted by this policy, especially if the combined resources of both organizations equal an amount greater than that which the acquiring organization can justify under existing policy.
What Does This Do?
This Draft Policy adjusts current Specified Transfer size requirements using an algorithm that organizations would use to show utilization of their most recent transfer to extrapolate a two year growth projection.
Who Does This Impact?
Any organization planning to be involved in a specified transfer might be impacted by this policy, depending on how the specific algorithm applies to their situation. The proposed algorithm allows for a two-year pre-authorization period during which the organization may transfer" up to the total number of IPv4 addresses of the transfers included in the request, divided by the number of days (no less than 90) since the earliest specified transfer included in the request was completed, multiplied by 730."
What Does This Do?
This Draft Policy would remove the two sections of NRPM that are specifically meant for Community Networks and their operators.
What is a Community Network?
ARIN policy defines a Community Network as "any network organized and operated by a volunteer group operating as or under the fiscal support of a nonprofit organization or university for the purpose of providing free or low-cost connectivity to the residents of their local service area."
Who Does This Impact?
Anyone involved in the operation of a Community Network might be impacted by this policy, as the language it removes allows for a Community Network to be treated as an end-user as opposed to an ISP for all ARIN purposes.
What Does This Do?
This Draft Policy would further outline methods and procedures involved in ARIN¹s annual Whois Point of Contact (POC) Validation. It includes which POCs are to be verified, staff procedure, and how to handle non-responsive POCs by suggesting the removal of reverse DNS records for invalidated POCs.
Who Does This Impact?
Any organization with POCs in ARIN's Whois directory service database might be impacted by this policy, as it includes changes to how non-responsive POCs are handled and how ARIN staff will be going through the annual verification process internally.
Participate in Policy Discussions
ARIN is committed to providing an open community forum in which to develop policies, and that includes lowering barriers of entry of all kinds. New faces and widespread participation are key components in any Regional Internet Registry community, and ARIN is no exception. I hope the information in this post arms even the greenest ARIN participant with the tools they need to participate actively once the microphones turn on.
People from all over the ARIN region and beyond will be participating in ARIN 39, but vital opinions need not be conveyed in-person to be effective! If you want a great time- and wallet-friendly option for you and your organization to be heard by the ARIN community, ARIN offers a terrific remote participation experience. We'll have chat rooms for voicing your opinions during discussions, as well as a live streaming transcript so you won't miss a beat!
Remote participation is completely free, but be sure to register early! If you register before the meeting, you can ensure that your Jabber ID and access to the chat rooms are all in order, so you won't miss a minute of the action!
The entire ARIN 39 Public Policy Meeting and ARIN Members Meeting will be webcast, including discussion sessions for all six of the above Draft Policies. Once the Public Policy Meeting begins, we make every effort to ensure that policy discussions are held at their scheduled times, and we notify remote participants in the event of agenda changes. Check the meeting agenda for complete schedule details.
In order to take full advantage of remote participation, you will need a Jabber client, and we'll need your Jabber Identifier (JID) when you register. For details, visit the ARIN 39 Remote Participation page. Note that all remote participants are subject to the Remote Participation Acceptable Use Policy (AUP).
To submit your very own Internet number resource policy proposal, just fill out our brief template and send it to policy@arin.net. Don't worry about getting the wording of your proposal exactly right – our Advisory Council will work with you directly to help transform your idea into a clear change, removal, or addition to policy text, and get it the community attention it needs to move through the PDP.
If you're more of a visual learner, check out our new video entitled "ARIN's Policy Development Process" to learn more about each step of the PDP, and become a part of the Internet's future today!
Additional resources can be found on the following webpages:
Recent blogs categorized under: Public Policy