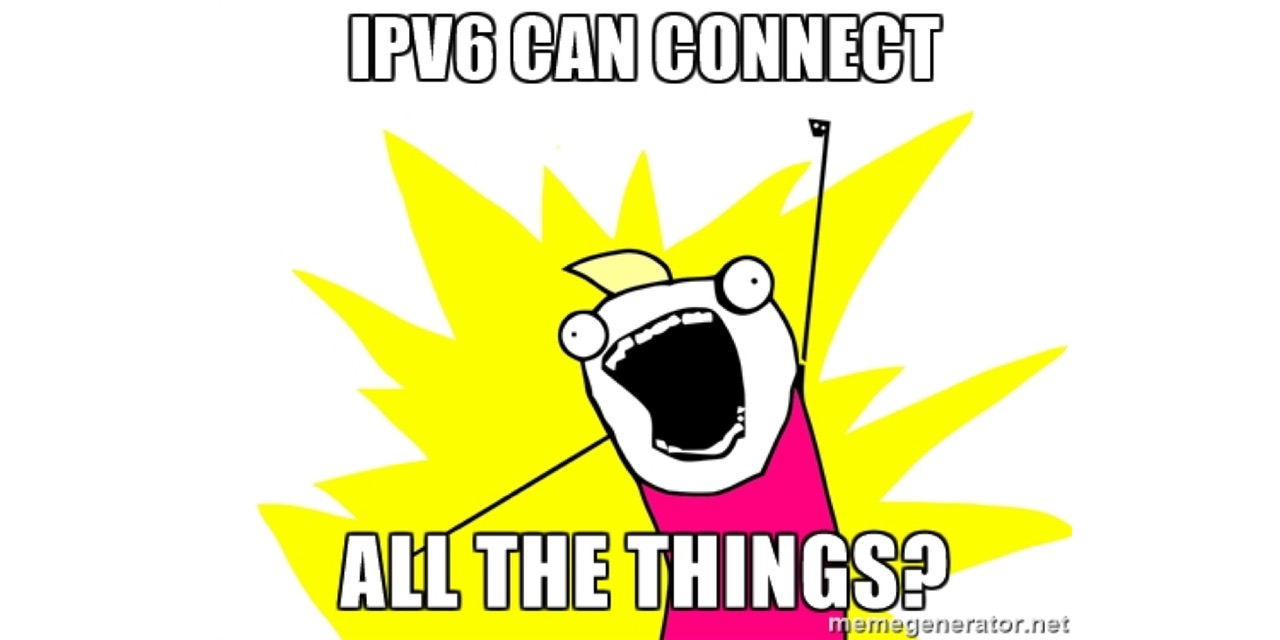 Connect All the Things
With the millions billions of devices expected to come online in the next few years, IPv6 is a major potential pain point for the many companies who have yet to adopt it.  The growth in smart devices spans across industries with advent of connected automotive systems, smart TVs, digital set-top boxes, lighting, electric meters, security cameras, health monitoring devices and so much more.
For the first time, the number of Internet-connected devices has overtaken the entire world's population.  Gartner's latest predictions suggest there will be 8.4 billion connected things by the end of this year, up 31 percent from last year.  And there could be as many as 20.4 billion things online by 2020 which is only three years away.  Consumer technology represents 63 percent of the current number of applications in use (at 5.2 billion units), while businesses are on track to account for 3.1 billion connected things in 2017.
With an even larger prediction, Cisco VNI shows that there will be more than 26 billion total global IP networked connections by 2020.  And rather alarmingly, they say only 48 percent of those devices will be IPv6 capable.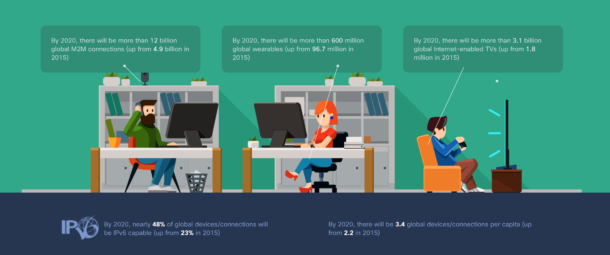 If the Internet of Things is going sustain its own growth, it needs to be built on IPv6.
IoT manufacturers need to start adopting IPv6, and IoT developers need to be incorporating IPv6 support into their products.
IEEE lists some specific aspects of IPv6 that will propel its use for IoT including:
Scalability

Growing global adoption and product availability

Overcoming Network Address Translation (NAT) limitations

IP security enablement

Mobility support

Stateless Address auto-configuration

Redesign of many features that existed in IPv4 but are greatly improved in IPv6: e.g. multicast, multiple addresses
Consisting of 340 undecillion addresses, only IPv6 can provide enough address space to support the IoT in a way the IPv4-based Internet was never intended to do. ARIN is working to support its community through the transition process. For software developers seeking information on how to make the apps work over IPv6, see this guide on preparing applications for IPv6.  We also have reserved IPv4 addresses that were set aside for organizations who need additional address space specifically for the purpose of transitioning to IPv6, see NRPM 4.10 Dedicated IPv4 block to facilitate IPv6 Deployment.
Recent blogs categorized under: IPv6
---
GET THE LATEST!
Sign up to receive the latest news about ARIN and the most pressing issues facing the Internet community.
SIGN ME UP →
---
Blog Categories
ARIN Bits
•
IPv6
•
Business Case for IPv6
•
Fellowship Program
•
Grant Program
•
Caribbean
•
Internet Governance
•
Updates
•
IPv4
•
Elections
•
Tips
•
Public Policy
•
Customer Feedback
•
Security
•
Outreach
•
RPKI
•
Training
•
IRR
•
Data Accuracy