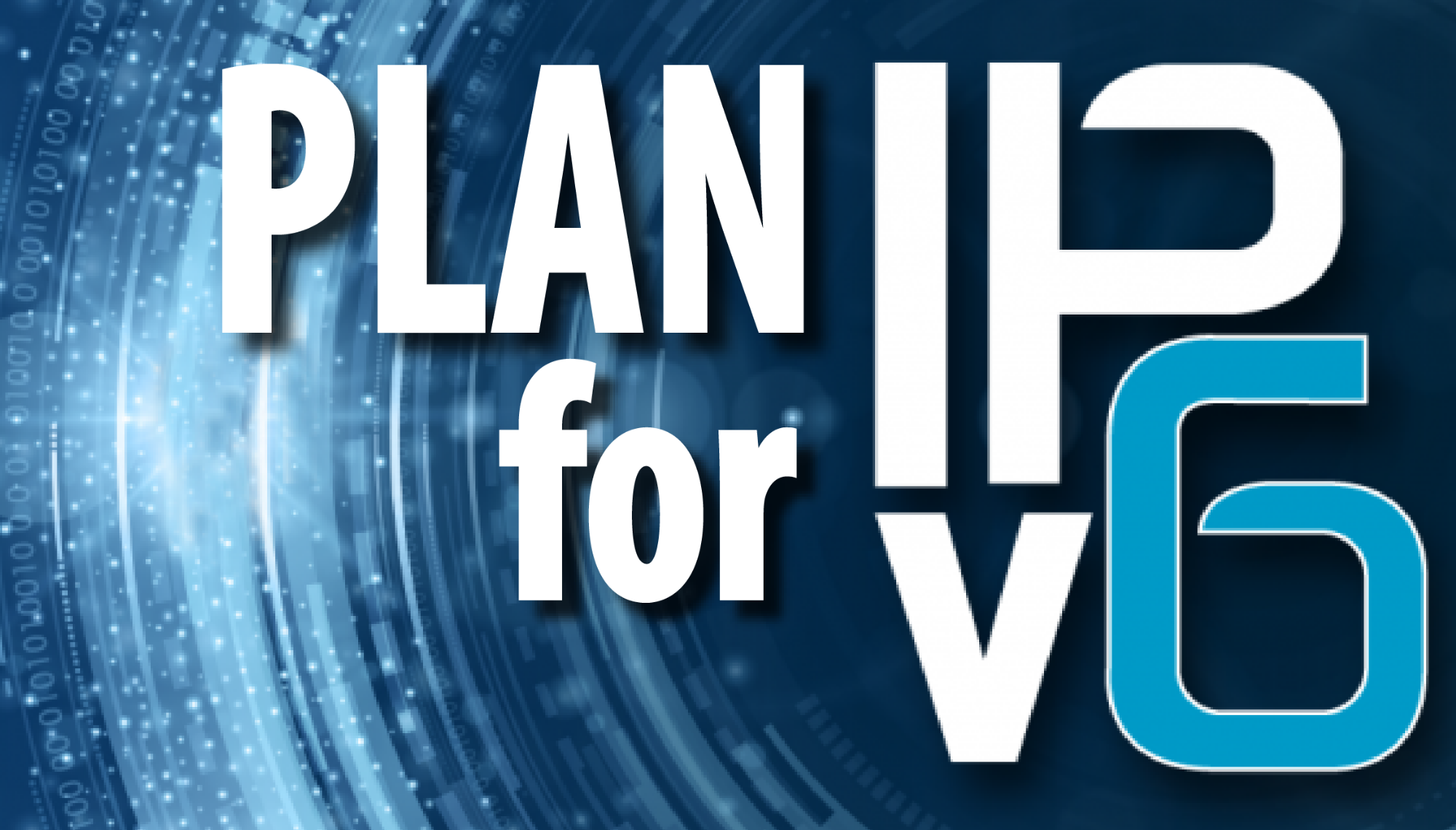 No More Excuses: IPv6 Planning Made Easy
We know that deploying IPv6 can seem daunting. There's a lot to think about – is your equipment ready? What about your software? Does your hosting provider support IPv6? Do you have an addressing plan? These are just some of the things you need to ask yourself when getting ready to make the switch to IPv6. And while there are lots of questions to be asked, we would like to focus on the big one that we frequently hear: "How much IPv6 address space do I even need?"
It's a pretty straightforward question, but we find that a lot of folks aren't sure how to decide what's appropriate for their organization. So we've developed a brand new webpage dedicated to helping you plan for IPv6, and specifically, helping you determine how much space may be right for you.
It all starts with determining whether you're an end user or Internet Service Provider (ISP):
End users operate networks that do not provide Internet access to external customers.

ISPs are either networks that provide traditional Internet access (cable, fiber, wireless, etc.) or they are hosting providers that operate services which provide Internet access (colocation, dedicated servers, virtual private servers, etc.).
Note: End users that are not ISPs but do provide Internet connectivity to users (for example, universities) may apply either as end users or as ISPs.
After that, it's as easy as 1-2-3!
Step 1: Verify that you qualify for IPv6. End users qualify if they meet any of the criteria below:
Have an IPv4 assignment from ARIN or one of its predecessors

Intend to immediately be IPv6 multi-homed

Have 13 end sites (offices, data centers, etc.) within one year

Use 2,000 IPv6 addresses within one year

Use 200 /64 subnets within one year
ISPs qualify if they meet any of these criteria:
Have an IPv4 allocation from ARIN or one of its predecessors

Intend to immediately be IPv6 multi-homed

Have a plan to make 50 assignments within five years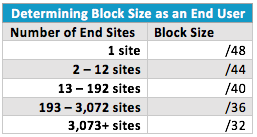 Step 2: Determine how much space you'll need. If you're an end user, block size is determined by the number of end sites in your network, not by the number of IP addresses you anticipate using (see table at right). End sites are physical locations such as offices and data centers. If you're an ISP, block size is based on the number and size of subnets to be assigned to customers, not on the number of IP addresses required by customers. ISPs will typically assign one subnet (/48 or smaller) to each customer.
If you want to brush up on exactly how many IPv6 addresses a /48, /44, etc. contains, refer to our CIDR chart.
Step 3: You're almost done! All you need to do after completing steps 1 and 2 is submit your resource request via your ARIN Online account.
That's it! For more information on the different steps in this process (including more details on determining block size), you'll want to visit our IPv6 planning page. Our goal is to demonstrate how easy getting IPv6 can be, and we hope we've helped you see that making the switch doesn't have to be confusing. And if you're ever not sure about something, contact us and we'll guide you through the process.
Recent blogs categorized under: IPv6
---
GET THE LATEST!
Sign up to receive the latest news about ARIN and the most pressing issues facing the Internet community.
SIGN ME UP →
---
Blog Categories
ARIN Bits
•
IPv6
•
Business Case for IPv6
•
Fellowship Program
•
Grant Program
•
Caribbean
•
Internet Governance
•
Updates
•
IPv4
•
Elections
•
Tips
•
Public Policy
•
Customer Feedback
•
Security
•
Outreach
•
RPKI
•
Training
•
IRR
•
Data Accuracy