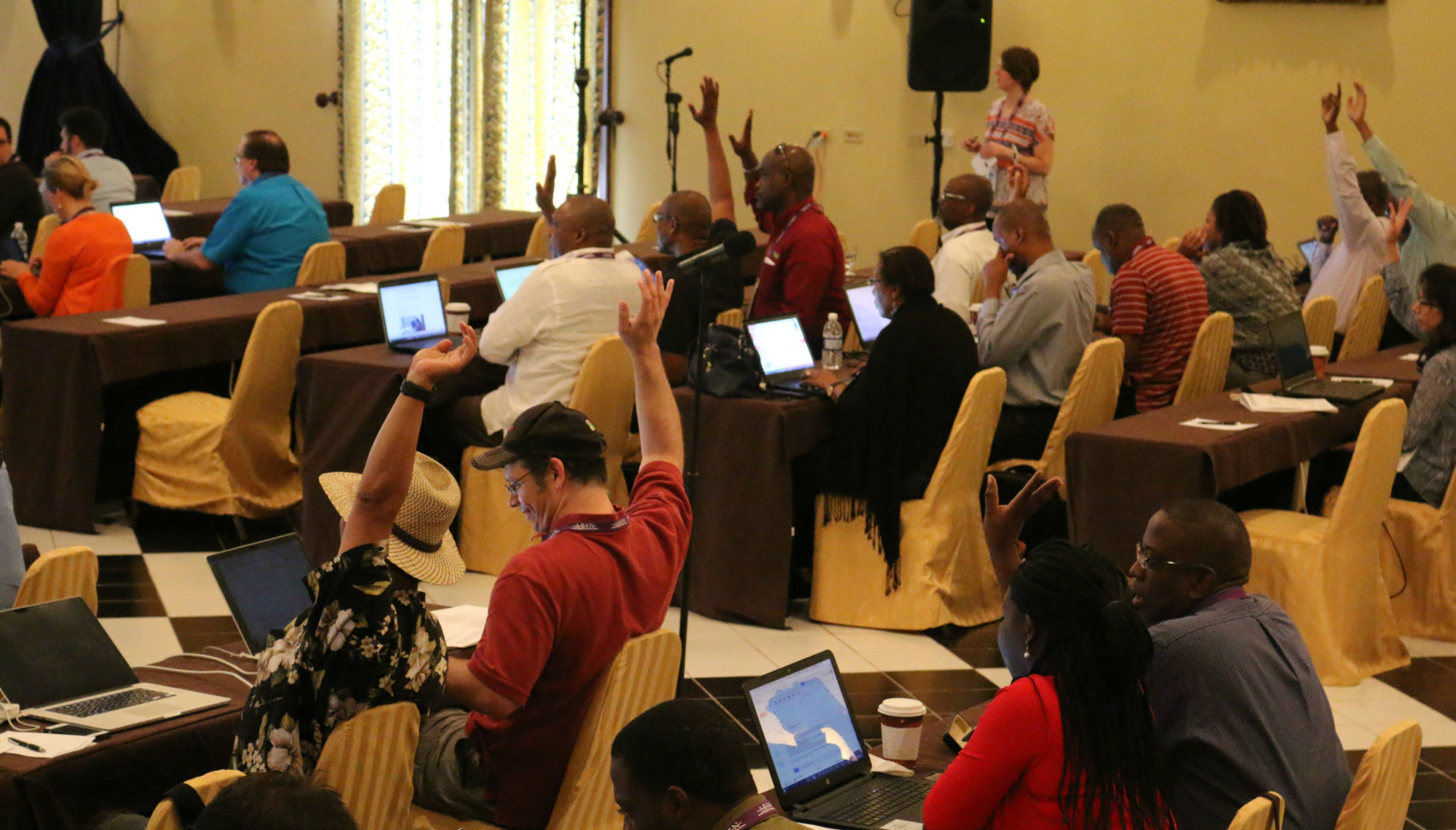 ARIN 37 Day 2 Daily Recap
Today marked Day 2 of the ARIN 37 Public Policy and Members Meeting.  First thing this morning we heard updates from the Number Resource Organization (NRO) comprising the five Regional Internet Registries (RIRs).  We received reports from our RIR colleagues about their respective regions.
The three policies discussed in detail today included:
In a special IANA Transition Panel, we heard about the current status of the IANA stewardship transition proposal and where it stands now. We also saw presentations on policy simplification and ARIN software development.  Lastly, we rounded out the day with an open microphone session that included topics from legacy address space to future IANA delegations.  We continued to enjoy chatting with you on Twitter about the meeting using #ARIN37.
Panel on #IANA update & transition after #TransferPolicy #ARIN37 @miltonmueller @ron2twit @vgcerf pic.twitter.com/TthPZpynw0

— Lousewies v d Laan (@LousewiesvdLaan) April 19, 2016
Excellent opportunity to see what's happening at #ARIN37 if you're not in Jamaica this week. https://t.co/8Pi7mJS1rH

— 6connect (@6connect) April 19, 2016
With an excellent YT feed as well https://t.co/sK2Az2jqow @bevilwooding #ARIN37 https://t.co/w38Mi0g0zt

— Tracy Hackshaw (@thackshaw) April 19, 2016
Interesting slide on "allocation request" hit rate for various sections of #ARIN Policy Manual #ARIN37 @AFRINIC pic.twitter.com/u0tzDdfAu8

— Seun Ojedeji (@seun_oj) April 19, 2016
On behalf of C&W Business, today it was my pleasure and privilege to welcome #ARIN37 to the most… https://t.co/MXH6aujFX3

— Donovan G White (@maninja2) April 18, 2016
#ARIN37 learning about Internet Numbering Policies pic.twitter.com/7L7MyYp055

— Kevin Powell (@kevpanhead) April 19, 2016
In the coming weeks, complete webcasts, transcripts, and abbreviated notes from the entire meeting will be posted online.  In the meantime, downloads of all the slide decks presented at the meeting are already available. Don't forget that you can participate in the last day of ARIN 37 tomorrow morning whether you're onsite in Jamaica or online anywhere in the world.  See you again tomorrow!
Recent blogs categorized under: Public Policy
---
GET THE LATEST!
Sign up to receive the latest news about ARIN and the most pressing issues facing the Internet community.
SIGN ME UP →
---
Blog Categories
ARIN Bits
•
IPv6
•
Business Case for IPv6
•
Fellowship Program
•
Grant Program
•
Caribbean
•
Internet Governance
•
Updates
•
IPv4
•
Elections
•
Tips
•
Public Policy
•
Customer Feedback
•
Security
•
Outreach
•
RPKI
•
Training
•
IRR
•
Data Accuracy