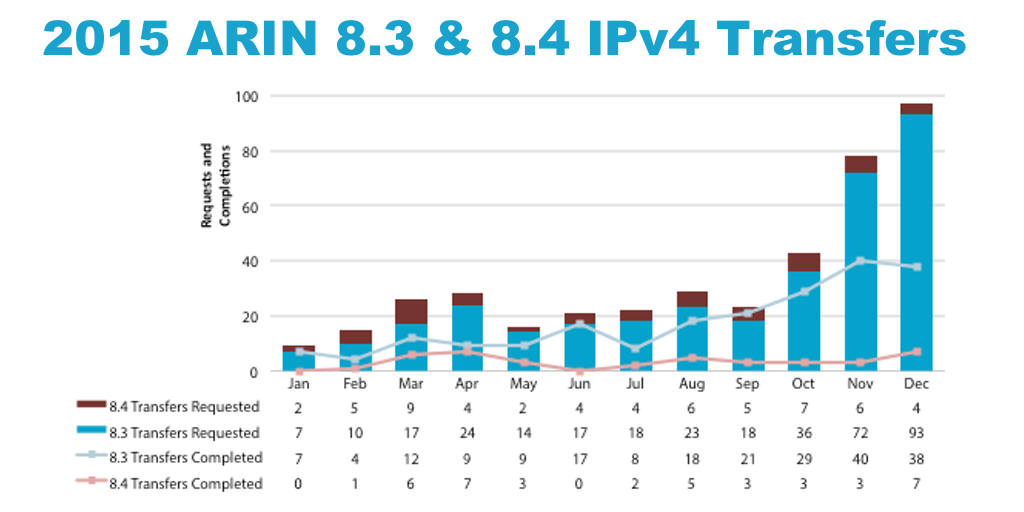 IPv4 is depleted. Now what?
It has been more than three months since ARIN's free pool of IPv4 address space depleted, and we have seen a few interesting trends in the registration operation since then.
1. The waiting list for unmet requests has grown to over 200 organizations and the relative rate of incoming IPv4 free pool requests has decreased.
Since 24 September 2015 when we issued the last IPv4 address block from the free pool inventory, we still have some IPv4 requests coming in and the waiting list for unmet requests continues to grow. At the time of writing this blog, there were 242 organizations on the waiting list for unmet requests and it is expected to continue slowly growing.
2. There has been a steady increase in IPv6 request traffic since the months leading up to IPv4 free pool depletion.
Leading up to the September announcement of IPv4 free pool depletion there was a short-lived spike in IPv6 requests. The IPv6 request traffic was certainly heavier in the last six months of 2015 when compared to the first half of the year. We expect the number of IPv6 requests to increase steadily in 2016. We are already noticing more IPv6 inquiries coming from end-user organizations and ISPs through our interactions with them in the Registration Services Department.
3. There has been a steady increase in the number of IPv4 transfer requests.
As expected, we experienced an increase in the number of transfers to specified recipients following depletion of the IPv4 free pool. You can see the increase in the included graphic here, but what is not readily apparent is the ongoing work in the background that will yield an even sharper increase in transfer request traffic in the coming months. We are receiving a large number of transfer pre-approval and related requests that will later result in a formal transfer request.
To many of you who regularly read this blog, we expect none of this is a surprise. To others, however, this is new information and they will be looking for information and guidance on these registration-related topics in 2016.
To help keep the community informed on registration trends this year, we will focus several of our blog posts on IPv4 transfers and IPv6 registration-related topics. We will share information about trends we are seeing and provide pointers we believe could be helpful to you. For example, we've been receiving questions like these that we'll be answering throughout the year:
What's happening with the IPv4 waiting list?

What are the first steps I need to take if I want to receive IPv4 address space from a specified recipient transfer?

How often can I receive IPv4 address space from a specified recipient transfer?

How much IPv6 address space can my organization request?

As an ISP, what size IPv6 blocks should I assign to customers/end-sites?

How does IPv6 network planning differ from IPv4 network planning?
Let us know if you have any other specific questions you'd like to see us address, and keep your eyes peeled for future posts related to IPv4 transfers and IPv6.
Recent blogs categorized under: IPv4
---
GET THE LATEST!
Sign up to receive the latest news about ARIN and the most pressing issues facing the Internet community.
SIGN ME UP →
---
Blog Categories
ARIN Bits
•
IPv6
•
Business Case for IPv6
•
Fellowship Program
•
Grant Program
•
Caribbean
•
Internet Governance
•
Updates
•
IPv4
•
Elections
•
Tips
•
Public Policy
•
Customer Feedback
•
Security
•
Outreach
•
RPKI
•
Training
•
IRR
•
Data Accuracy