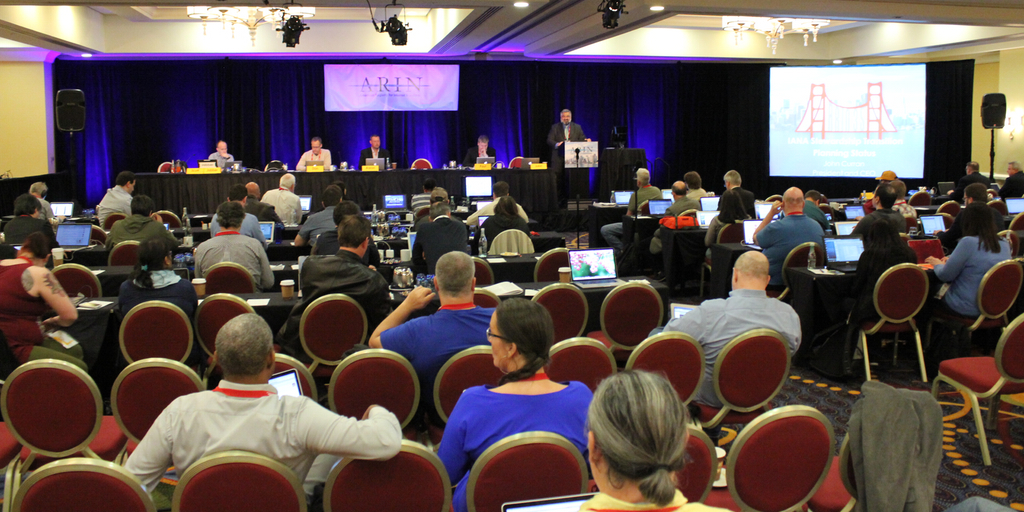 ARIN 35 Members Meeting Daily Recap
On the final day of ARIN 35 in San Francisco we wrapped up with a Members Meeting that was open to the entire ARIN community – onsite and online.  Throughout the morning we heard an update on ARIN fees and services and took questions and comments from attendees.
We received departmental reports from Communications and Member Services, Engineering, Financial Services, Human Resources and Administration, and Registration Services.  Of note, some interesting points shared with the community included:
We're growing our outreach program with more ARIN on the Roads events

New Get6 campaign can just launched on TeamARIN

There are upcoming changes to the election process and voter eligibility

96,512 ARIN Online accounts have been activated since inception through Q1 of 2015

Total Whois traffic reached 12% over IPv6
#IPv6 is growing #ARIN35 #Whois via IPv6 pic.twitter.com/PcQpIJqiUM

— ARIN (@TeamARIN) April 15, 2015
The Operational Test & Evaluation environment is a place to test code and process - about 161 networks have access to today

 ARIN has an open source software repository, and you're invited to make your tools available here too

Currently, ARIN has 68 employees and a 95% retention rate

ARIN's IPv4 depletion planning includes maintaining our 2-day service level agreement turn around time

We stand ready for the first request that goes on the IPv4 waiting list

ARIN expects the IPv4 waiting list will be activated in the coming weeks

65 transfers were approved (all types combined) in March 2015 – that's more than any other month in ARIN history!
Rounding out the day, we got reports on ARIN finances, the Advisory Council, and Board of Trustees. Concluding the meeting was one more chance for people to bring up topics with a closing open microphone session, during which several attendees expressed their thanks for the meeting and shared their intent to participate again in the future.
In case you want to reference the slides from today's meeting, all of them are already posted on the ARIN website; and in the coming days, full transcripts, notes, and webcasts from every day of the meeting will also be made available.  Thanks to each of you who participated in ARIN 35 for contributing your insights and expertise.
Mark your calendars for 1-3 June 2015 for ARIN's Public Policy Consultation in San Francisco, California and 8-9 October 2015 for ARIN 36 in Montréal, Québec.
Recent blogs categorized under: Public Policy