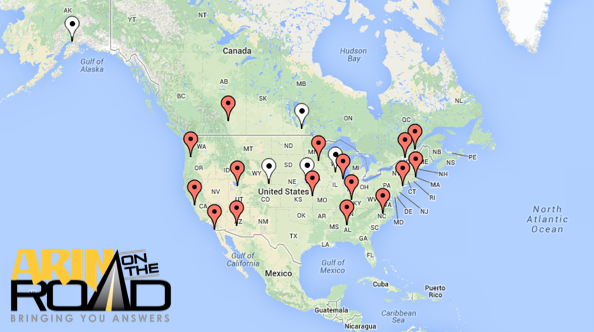 Should you attend an ARIN on the Road event?
By Susan Hamlin, Director of Communications and Member Services, ARIN
For the past four years, ARIN has hosted a series of one-day educational events to provide the ARIN community with opportunities to meet and discuss issues ranging from our technical services to public policy for Internet number resources at a location near them. The program is designed to bring new faces and voices into ARIN deliberations such as policy discussions, providing feedback on our services, or growing the number of members participating in ARIN governance.
We want you to see the human face of ARIN. Thus far we've visited 19 different cities throughout our region, and more are on the way this year.  In the next few weeks we'll be heading to Cheyenne, Wyoming; Omaha, Nebraska; and Anchorage, Alaska.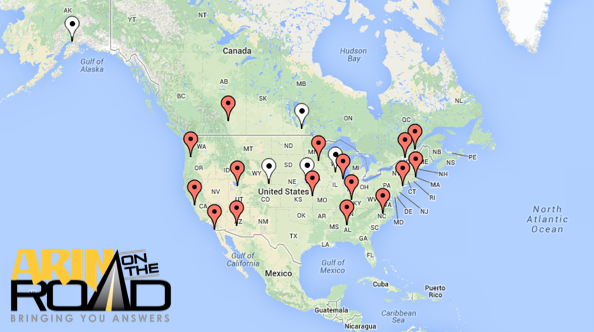 Those who attend ARIN on the Road events continually offer positive feedback, but you don't have to take our word for it.  When asked What is the most valuable thing you learned at ARIN on the Road? this is what attendees told us:
As a non-technical person, appreciate the info on Automation and DNSSEC at a layperson level – Birmingham, Alabama attendee
I'd love to see you come to SLC again. Knowledgeable speakers - interesting subjects! IPv6 justification is easier than it looks. RPKI is cool. – Salt Lake City, Utah attendee
Upcoming policies & how to participate in the policy process. I had no idea I could be involved remotely. – Chicago, Illinois attendee
DNSSEC and RPKI were fascinating! – Washington, DC/Northern Virginia attendee
Liked the security & IPv4 transfer seminars! – Calgary, Alberta attendee
Who what and how ARIN is and operates, services offered, and where our organization fits – Birmingham, Alabama attendee
The updating of all the interactive features - using RESTful – Brooklyn, New York attendee
Policies are being put into place to make the Internet/IPs/DNS more secure – Minneapolis, Minnesota attendee
Additionally at our most recent ARIN Public Policy and Member Meeting in Chicago, Elise Gerich of ICANN gave us a great shout out during an open microphone session, saying:
I just want to compliment ARIN on the ARIN on the Road sessions you do…I went to the ARIN on the Road in Portland where you did it with NANOG. It was really well attended. New faces and new voices. I think it's a really good outreach activity that you guys are doing. And I wanted to thank you for it.
We hope you will make sure to attend when  ARIN on the Road makes a stop at a city near you.  There is no cost to attend, just come to learn, connect with peers, and ask questions. Links to register for any of the next three events are at: https://www.arin.net/ontheroad/
We are starting to plan our itinerary for 2015, so if you're convinced you'd like to see to an ARIN on the Road drive your way, let us know in the comments below.
Recent blogs categorized under: Outreach
---
GET THE LATEST!
Sign up to receive the latest news about ARIN and the most pressing issues facing the Internet community.
SIGN ME UP →
---
Blog Categories
ARIN Bits
•
IPv6
•
Business Case for IPv6
•
Fellowship Program
•
Grant Program
•
Caribbean
•
Internet Governance
•
Updates
•
IPv4
•
Elections
•
Tips
•
Public Policy
•
Customer Feedback
•
Security
•
Outreach
•
RPKI
•
Training
•
IRR
•
Data Accuracy