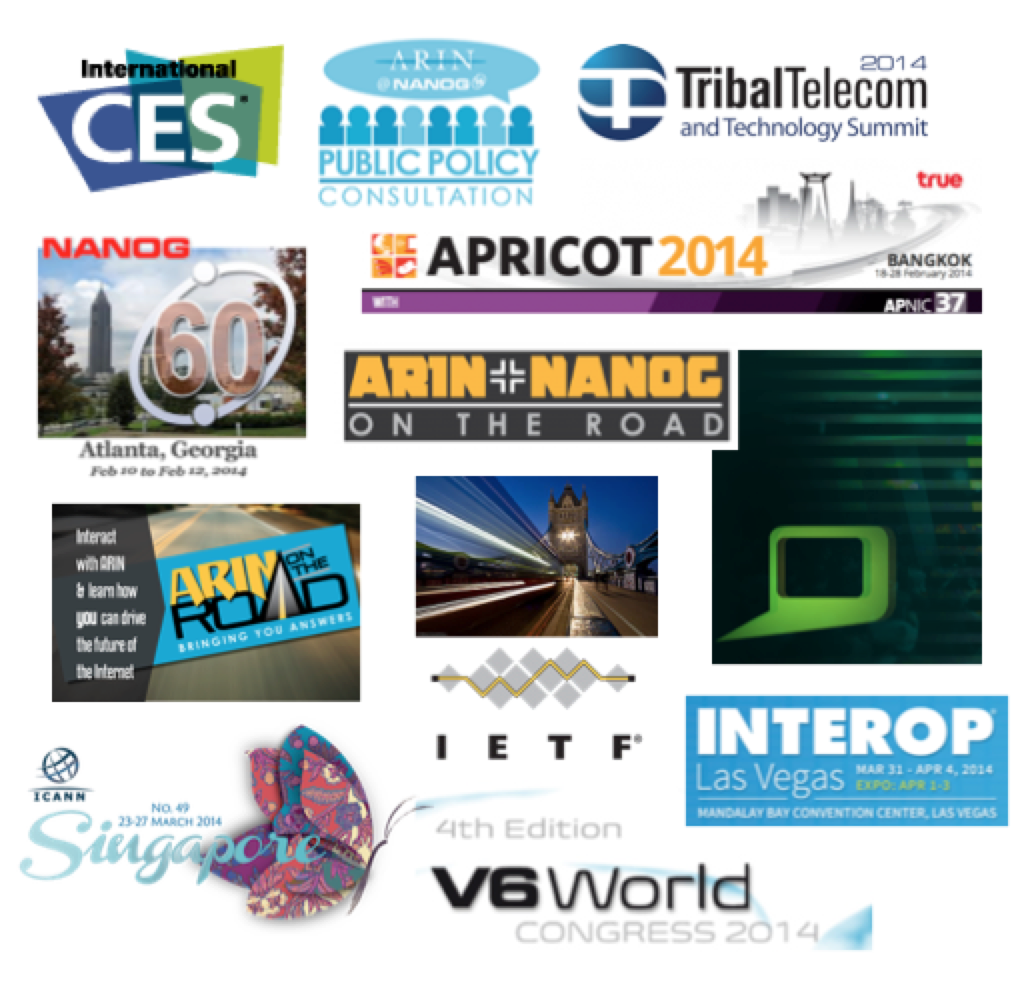 Outreach Update – Kicking off 2014 with a Bang
With a new year come many opportunities to speak with new people in new locations.  Our dance card for the first quarter is filling up pretty fast.  Here's where we'll be over the next few months.
Consumer Electronics Show (CES)
7 – 10 January, Las Vegas, Nevada
This week we're at CES talking to attendees and other exhibitors about the importance of incorporating IPv6 capability into CE internet-connected devices.  Come find us at booth #35403 in LVCC, South Hall 4 to chat with us on this issue.
**NANOG 60 **and
ARIN Public Policy Consultation
10 – 12 February, Atlanta, Georgia
In February we're headed to Atlanta, GA to join NANOG for their next meeting for North American network operators. We will be hosting our Public Policy Consultation at NANOG 60 to discuss current policy proposals on Tuesday morning, 11 February. Join us remotely if you aren't attending NANOG 60.
Tribal Telecom and Technology Summit
10 – 12 February, Phoenix, Arizona
At a meeting for tribal communities, ARIN President and CEO, John Curran will be giving a keynote session on Governance, Communications Technologies, and the Transition to IPv6 on Wednesday, 12 February at 8:35 AM.
ARIN + NANOG on the Road San Diego
25 February, San Diego, California
Again we're teaming up with NANOG for a road show, this time in San Diego. More details about this event will be posted soon.
ARIN on the Road Salt Lake City
27 February, Salt Lake City, Utah
ARIN on the Road is also headed to Salt Lake City this February.  We'll discuss all kinds of topics from current IPv6 stats to RPKI and DNSSEC.
24 – 28 February, Bangkok, Thailand
As part of APRICOT 2014, APNIC 37 will take to Bangkok to discuss the future of the Internet in the Asia Pacific region.
2 – 7 March, London, England
IETF 89 will bring together the international community of network designers, operators, vendors, and researchers concerned with the evolution Internet architecture for a week of discussion.
18 – 21 March, Paris, France
At this gathering of international IPv6 experts, our President and CEO, John Curran will address the crowd on the Economics of IPv6 Transition on Wednesday morning.
March 23 – 27, Singapore, Singapore
The next ICANN meeting will be help in Singapore at the Raffles City Convention Centre where wide range of topics about the Internet will be discussed.
March 30 – 31, Toronto, Canada
Leaders from government, civil society, academia and private enterprise will gather to talk about cyberspace security and governance.  Presented by the Canada Centre for Global Security Studies at the Munk School of Global Affairs at the University of Toronto, ARIN's President and CEO will be speaking.
March 31 - April 4, Las Vegas, Nevada
Rounding out the first quarter of 2014, we'll be exhibiting at booth #538 at Interop Las Vegas. Make sure you find us to talk to us about how to get your IPv6 address space if you'll be at the show.
At which of these events will we see you?
Recent blogs categorized under: Outreach
---
GET THE LATEST!
Sign up to receive the latest news about ARIN and the most pressing issues facing the Internet community.
SIGN ME UP →
---
Blog Categories
ARIN Bits
•
IPv6
•
Business Case for IPv6
•
Fellowship Program
•
Grant Program
•
Caribbean
•
Internet Governance
•
Updates
•
IPv4
•
Elections
•
Tips
•
Public Policy
•
Customer Feedback
•
Security
•
Outreach
•
RPKI
•
Training
•
IRR
•
Data Accuracy