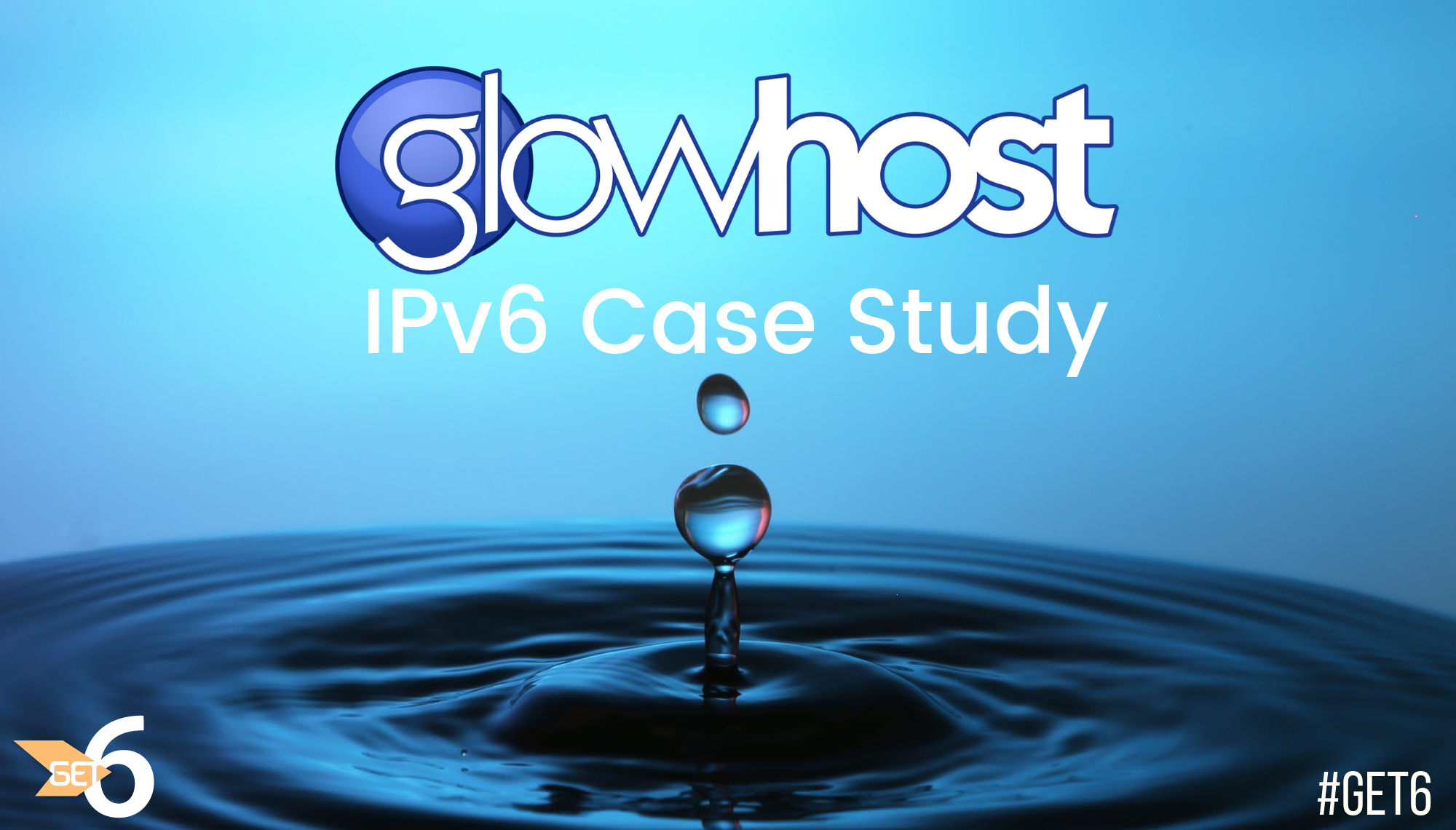 Setting Customers Up for Success with IPv6 [Archived]
OUT OF DATE?
Here in the Vault, information is published in its final form and then not changed or updated. As a result, some content, specifically links to other pages and other references, may be out-of-date or no longer available.
GlowHost IPv6 Case Study
GlowHost was founded in 2002 as a more personal approach to the webhosting industry. Part of our company's unique approach to web hosting includes offering the latest technology for our customers. This is why everything we do is supportive of IPv6. The ability to provide IPv6 addresses to our clients has greatly improved our forecast for providing the future of Internet routing. We not only have potential clients specifically requesting IPv6 during pre-sales communications, but also existing clients looking to enable IPv6 for their existing services.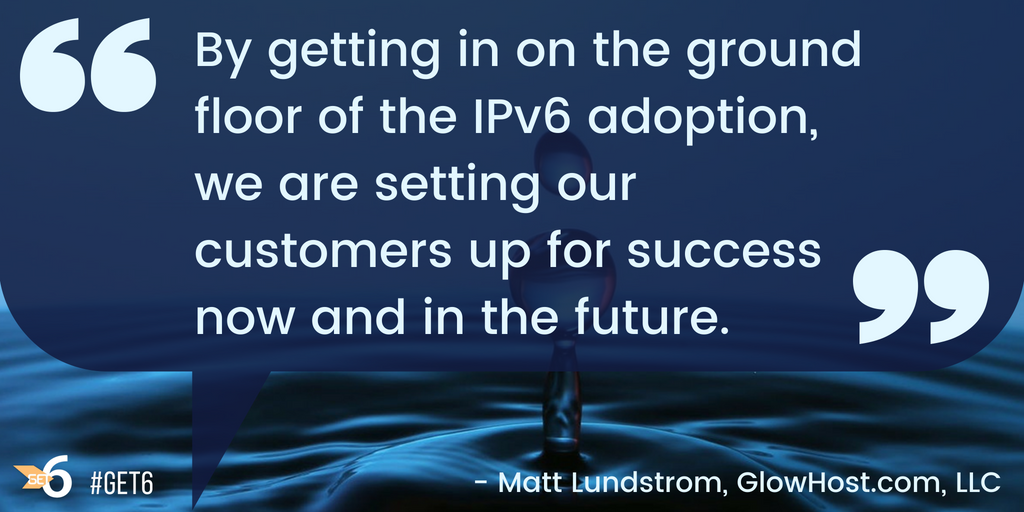 Essentially, IPv6 is the future and will, one day, be required. As the Internet's infrastructure continues to grow, so will the number of users and devices on the Internet. All forms of content delivery including SaaS, websites, domains, media streaming, and the Internet of Things will all eventually utilize IPv6. By getting in on the ground floor of the IPv6 adoption, we are setting our customers up for success now and in the future, without the need to scramble when a request is made.
Getting started
The first I heard about IPv6 was about seven years ago when we were starting to hear some panic about no more IPv4 addresses. While some people deployed it in a mad rush, others did nothing about it. We didn't want to get caught in the middle, so we started ramping up ahead of time. After researching the pros and cons of IPv6 assignments, we contacted our upstream datacenter partners to determine direct availability. Then it was as easy as routing the IPs and assigning them to our servers.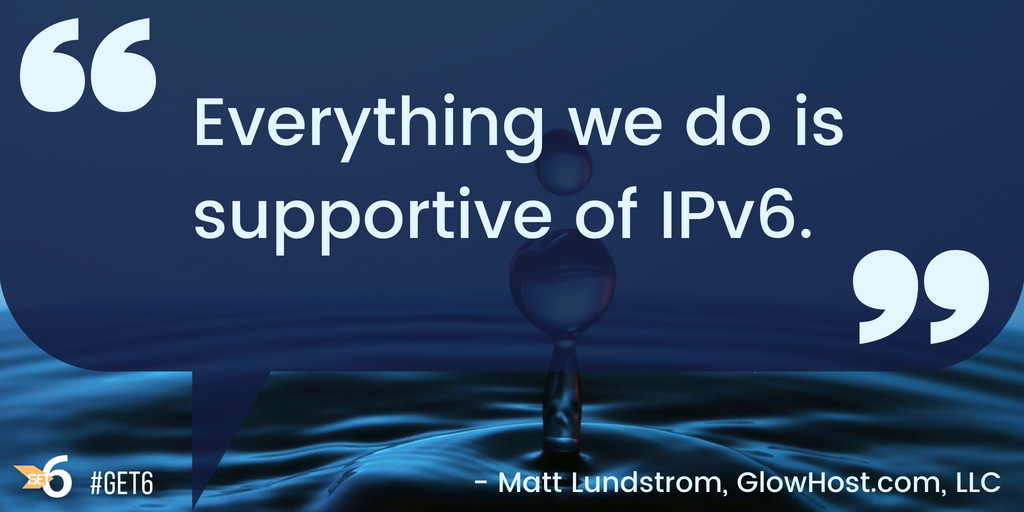 Fast-forward to now, and everything we do is supportive of IPv6. All of our internal shared servers have IPv6 capabilities ready to go, and any shared customer can request an IPv6 address be assigned to their account. Furthermore, we can allocate an IPv6 block to Dedicated and Virtual Dedicated Servers in all of our datacenters. All of our hosting plans have IPv6 addresses available for assignment, from shared hosting to fully dedicated servers. This means your website or app has IPv6 connectivity to any other service that may have this as a mandatory requirement, as well as ensures it's always available in the future.
Your vendors may need a nudge
GlowHost's infrastructure is able to fully support IPv6 from the datacenter down to our managed services, including the software that we provide to customers. If, at any moment, we need to switch everything over to IPv6, we can. Now we're just waiting for full adoption of IPv6 on the rest of the Internet.
Over the years, we've aligned ourselves with our vendors to make sure we have support. At times, we would try to run things and then it would break, so we had to contact our software vendors to find out what's going on. Then we had to nudge them along with feature requests. All of our guys voted for IPv6 feature requests, and eventually we got the support we needed. Once we had the software working, we had to go to the datacenter and let them know we wanted IPv6 there too. We were running back and forth between vendors until we got to where we are today. As I see it, everything has a bug, but it's definitely workable now.
You get what you pay for
The biggest hurdle in the adoption of IPv6 was working with some of our datacenters to support this new standard, considering that not all datacenters are ready even today. We received some pushback from datacenter network administrators saying IPv6 wasn't ready for primetime. Part of their network supported it, but they weren't too excited about being one of the first ones to get new hardware and be the guinea pig. Thankfully, I think we're beyond that stage now. Hardware prices of machines that support IPv6 has gone down so it's easier for companies to integrate it into their infrastructure. However, in cases where a vendor doesn't support IPv6, I think you get what you pay for. It's worth it to pay more for IPv6 support. For example, let's say you are an enterprise customer that has built out five to ten servers. A lot of effort went into making everything work beautifully, but then a major technology change comes along that requires a complete redo. You feel sick to your stomach. If only you had known about that requirement ahead of time. Having your network and applications on IPv6 before it is a potential problem can help you get a great night's sleep.
With all of our upstream datacenter partners now prepared, we can confidently say that all that's left is to turn on the ignition. The hard part is already behind us. All of the 18 datacenters we operate around the globe support IPv6 now. When we looked for places to put our machines, full IPv6 support was one of the many items on our shopping list.
Words of wisdom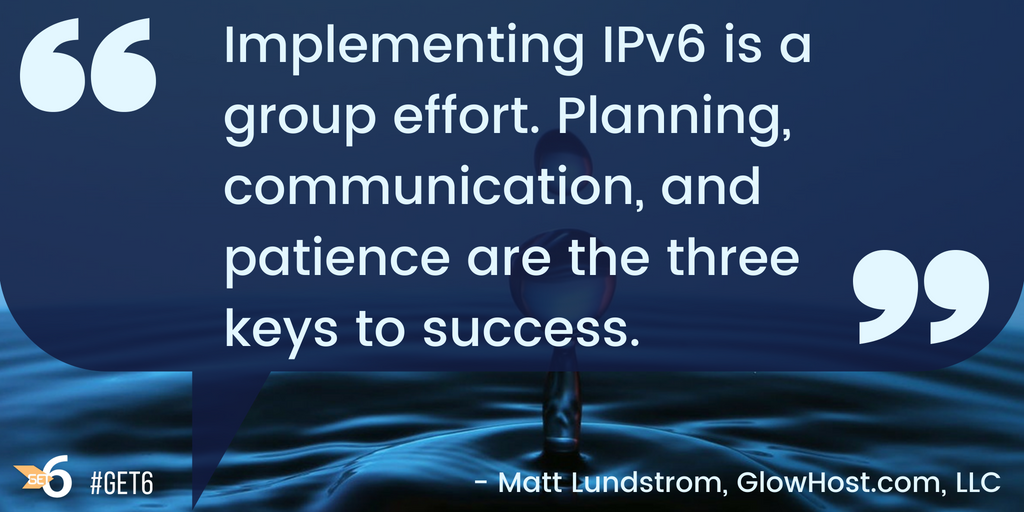 Don't let old habits hold you back from advancing to better technologies. With the exhaustion of IPv4 space, everyone will need to eventually adapt to the new standards. As you're preparing for IPv6, here a few key concepts to keep in mind.
Implementing IPv6 is a group effort. Planning, communication, and patience are the three keys to success.

Plan for your infrastructure to support IPv6, because it's coming. Make sure your upstream datacenter providers have incorporated IPv6 into their strategies as well.

Keep everyone in-the-know through extensive communication. You should be speaking with your upstream providers and encouraging them to support IPv6 if they aren't already.

Bring new information down the ladder and educate your team, since they're the key players who will be ensuring the success of IPv6 implementation.

Lastly, patience is a virtue. Not everyone is ready, and your most important partners may need just a little more time. Everyone is preparing for this new technology.
With the exhaustion of IPv4, IPv6 is undoubtedly the future. GlowHost is ready to move forward, and we look forward to doing so with the rest of the world.
Any views, positions, statements or opinions of a guest blog post are those of the author alone and do not represent those of ARIN. ARIN does not guarantee the accuracy, completeness or validity of any claims or statements, nor shall ARIN be liable for any representations, omissions or errors contained in a guest blog post.
OUT OF DATE?
Here in the Vault, information is published in its final form and then not changed or updated. As a result, some content, specifically links to other pages and other references, may be out-of-date or no longer available.