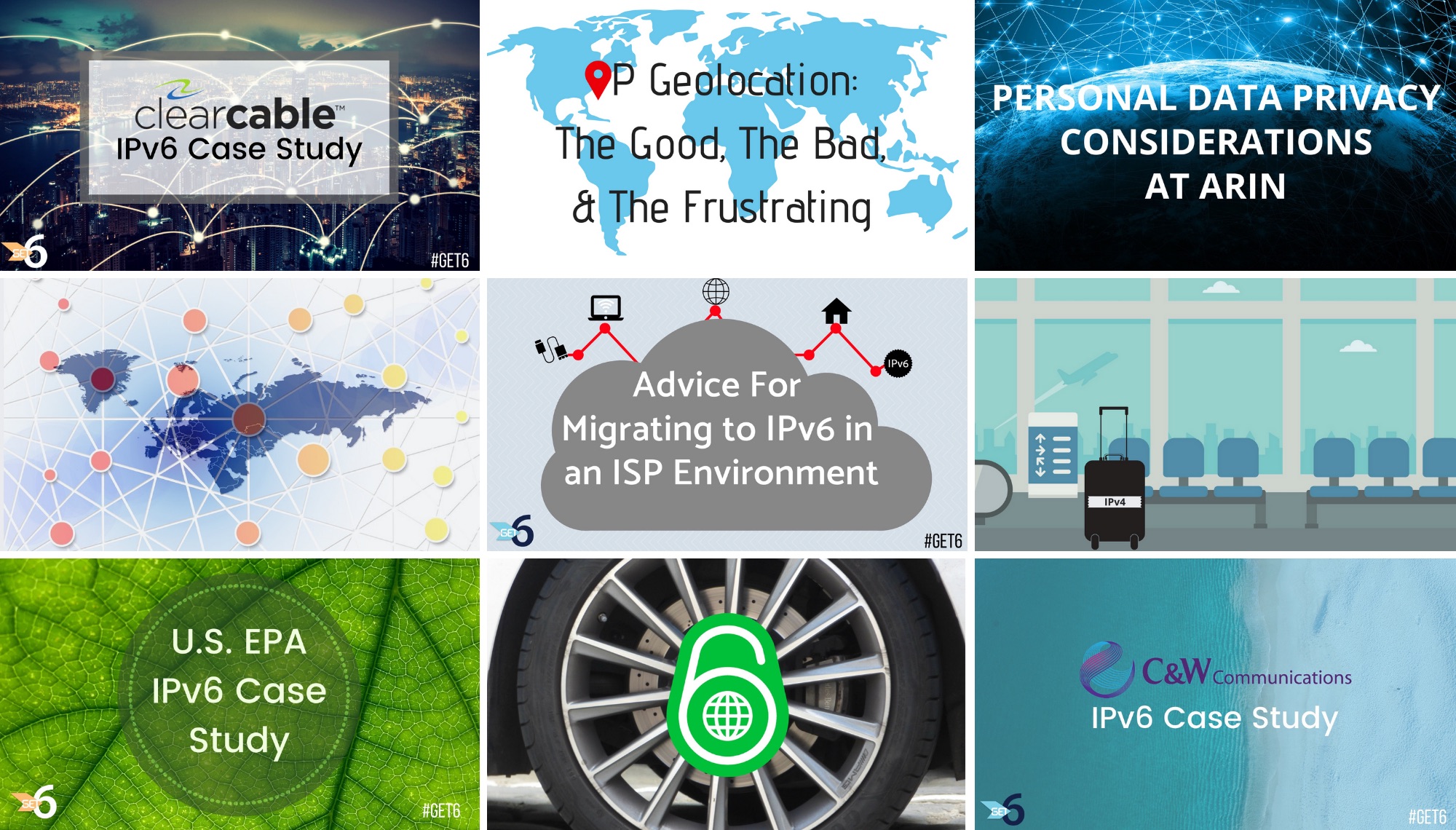 10 Articles You Don't Want to Miss
Another year has come and gone, and we want to thank you for all you've done to support our community this year. It's been a productive and fun 2018. We traveled to Miami and Vancouver for our Public Policy and Members Meetings, started new initiatives with ARIN in the Caribbean and ARIN Lunch by the Numbers, gathered your feedback to continue work on our new website, welcomed new faces to the community, and so much more.
We wanted to share a few highlights from TeamARIN, and would like to thank all the authors who contributed to the blog this year. We had a total of 19 different guest contributors and 68 blog posts published so far in 2018!
Top 10 most visited posts in 2018:
A Common Mistake with DHCPv6 - Torbjörn Eklöv, Co-founder and Owner of Interlan, offers his advice for how to avoid making a common mistake when doing DHCPv6.
IPv6 Addressing Plan Design for Service Providers - Ryan McCann of Clearcable explains what it takes to design a standardized and sensible IPv6 addressing plan for Service Providers.
Advice for Migrating IPv6 to an ISP Environment - Mansour Ganji, Network Engineer, explains the most important steps service providers need to take to migrate to IPv6, while dealing with issues like transparent caching.
EPA Committed to Finding a Workaround For Every IPv6 Challenge - Brian Epley and his team share what it took to make IPv6 deployment a reality at the U.S. Environmental Protection Agency.
Changes to Out-of-Region ROUTE, ROUTE6, and AUT-NUM Objects in the RIPE Database - In September 2018, RIPE implemented changes to out-of-region route, route6, and aut-num objects in its database. Kerry Carmichael, Communications and Technical Writer, shares what you should know.
IP Geolocation: The Good, The Bad and The Frustrating - How widespread is the problem of incorrect IP geolocation? Jon Worley, Technical Services Manager, explores this question to reveal the good, bad, and frustrating facts.
Personal Data Privacy Considerations at ARIN - Given the global nature of the Internet, how organizations handle personal data warrants increasingly close attention. With the recent regulatory changes in Europe, we decided to take a fresh look at our data privacy practices.
Enabling Internet Access Services Over IPv6 in the Caribbean - Brent McIntosh of C&W Communications discusses what network engineers and business decision makers need to know for our networks to scale and thrive in the future.
What drives IPv6 Deployment? - Geoff Huston, APNIC's Chief Scientist, takes a look at how far we've come since World IPv6 Launch Day in 2011, and breaks down the theories of what drives IPv6 deployment.
Has your company forgotten about some of its IPv4 address space? – Suzanne Rogers, Paralegal, explains how you can find out if your organization has unclaimed IP address space.
We thank you again for your support this year. We're truly powered by your participation. Wishing you all the best in 2019!
https://www.youtube.com/watch?v=S4gDuJEujg4
Happy Holidays From TeamARIN!
Recent blogs categorized under: Updates
---
GET THE LATEST!
Sign up to receive the latest news about ARIN and the most pressing issues facing the Internet community.
SIGN ME UP →
---
Blog Categories
ARIN Bits
•
IPv6
•
Business Case for IPv6
•
Fellowship Program
•
Grant Program
•
Caribbean
•
Internet Governance
•
Updates
•
IPv4
•
Elections
•
Tips
•
Public Policy
•
Customer Feedback
•
Security
•
Outreach
•
RPKI
•
Training
•
IRR
•
Data Accuracy