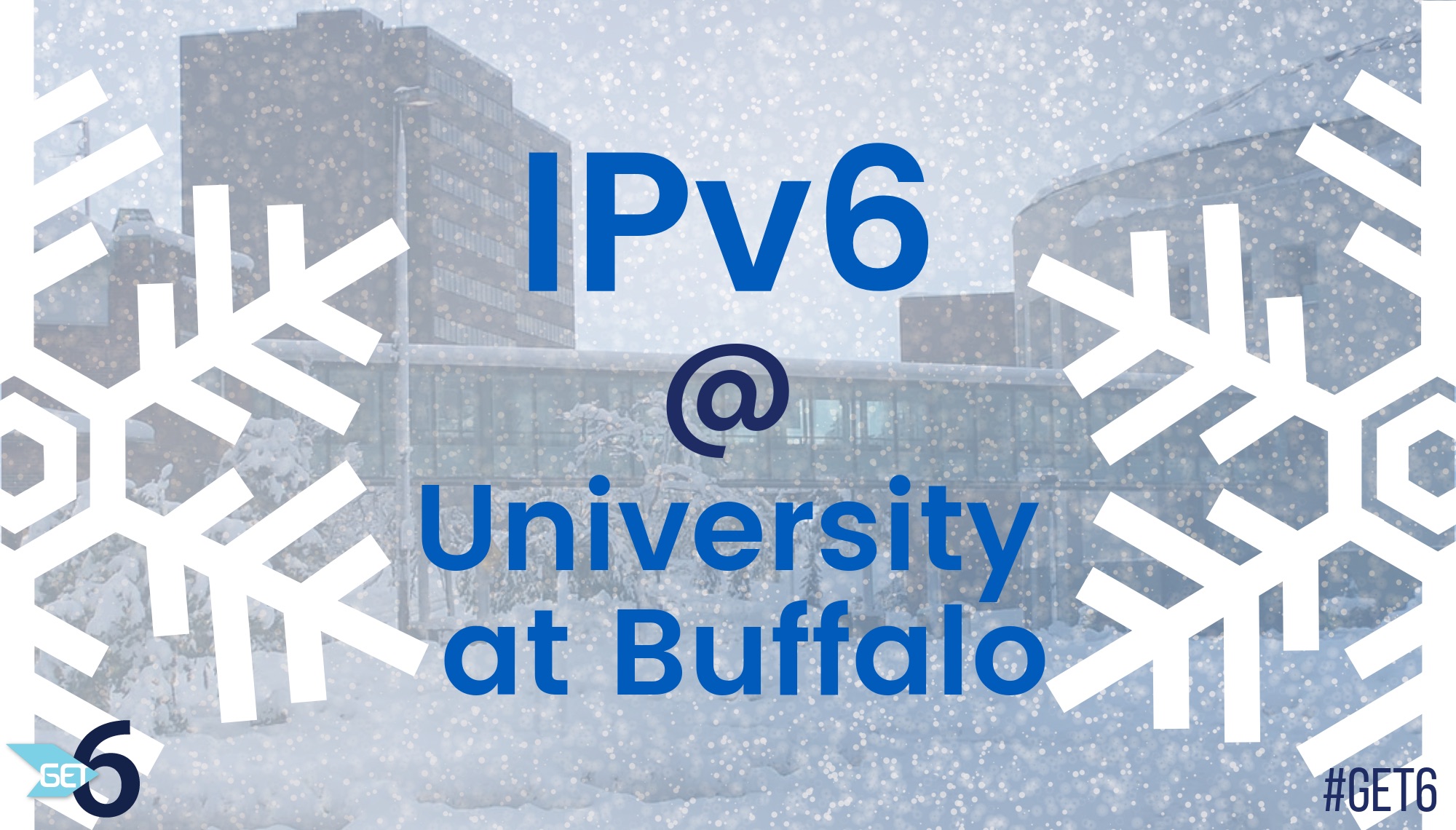 Agile Dual-Stack Approach to Campus-Wide IPv6 Roll Out
University at Buffalo IPv6 Case Study
The University at Buffalo is the flagship school in the State University of New York (SUNY) system, with over 31,000 students and 8,600 full-time employees. We began a project to enable IPv6 campus-wide in 2014, at the direction of our senior IT leadership, the CIO and IT directors from central IT and departments around campus.
Avoiding disruption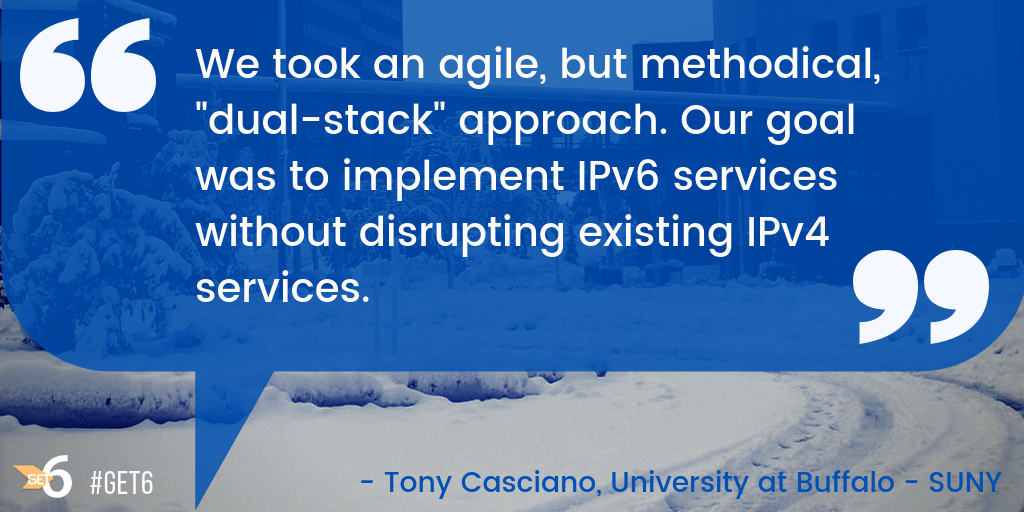 From the beginning, we took an agile, but methodical, "dual-stack" approach; our goal was to implement IPv6 services without disrupting existing IPv4 services.
Our first big rollout was for Wi-Fi, which at the time supported fewer services and was poised for growth, making it a good test bed. As the project progressed, we had to consider the life cycle of our existing hardware and software solutions. We prioritized services for deployment based on which could be patched, vs. those for which it made sense to wait for a refresh.
Group project
We had dedicated IT teams working on this project for four years, meeting biweekly. It was critical to involve specialists from different areas, from System Admins to Software Developers, Network Engineers and Desktop Support Staff. Our IT managers were closely involved with these groups too, attending meetings frequently and setting priorities for the project staff. At every major step in the project, we communicated our progress to other IT staff and the campus community.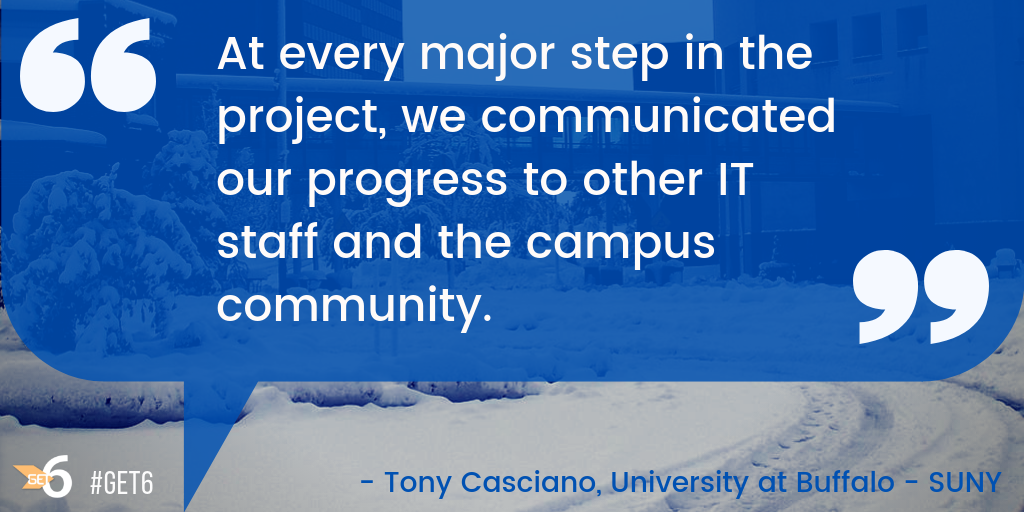 Give it time
Being IPv6 ready is a big insurance policy for UB's networking future. When more things move to IPv6, we don't have to play catch up. I couldn't imagine doing this right in a rush. It took the IPv6 team 1.5 years to address a myriad of IT infrastructure problems before we could even think about application conversions. This may seem like a long time to outsiders, but it took the largest anti-virus provider in the world a year to provide UB's IPv6 project team with a version of anti-virus software capable of filtering individual IPv6 addresses.
Current state of affairs
Today nearly 100% of UB's enterprise services are IPv6-enabled, and UB is positioned for the future. We're ready to utilize IPv6-only services, and, with lots of IP address space, we're ready for the Internet of Things too.
Do your homework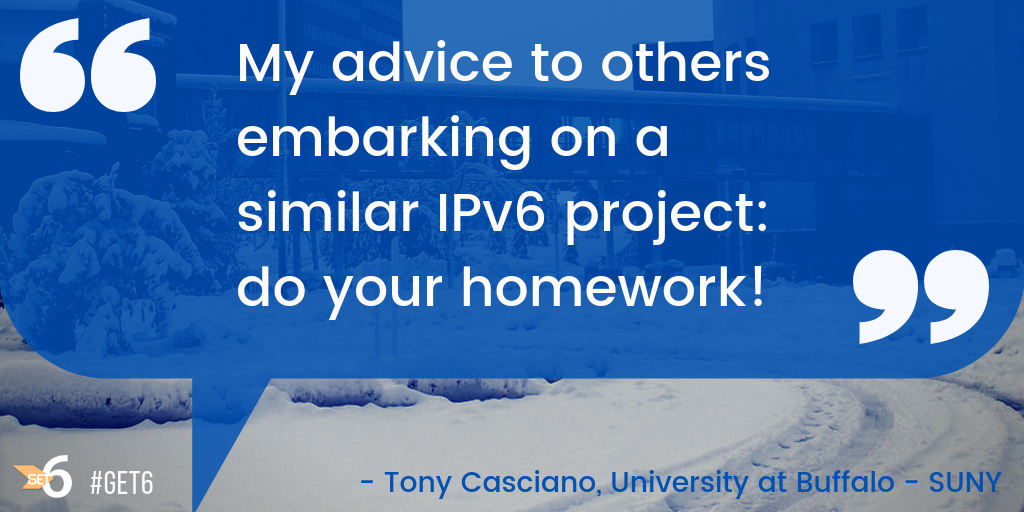 From my perspective, this project was a great learning experience, and an opportunity to be exposed to the nuts and bolts of university IT. My advice to others embarking on a similar project: do your homework! We were fortunate to have done a lot of preparation and learning beforehand, without which our project would not have been nearly as successful.
Any views, positions, statements or opinions of a guest blog post are those of the author alone and do not represent those of ARIN. ARIN does not guarantee the accuracy, completeness or validity of any claims or statements, nor shall ARIN be liable for any representations, omissions or errors contained in a guest blog post.
Recent blogs categorized under: IPv6