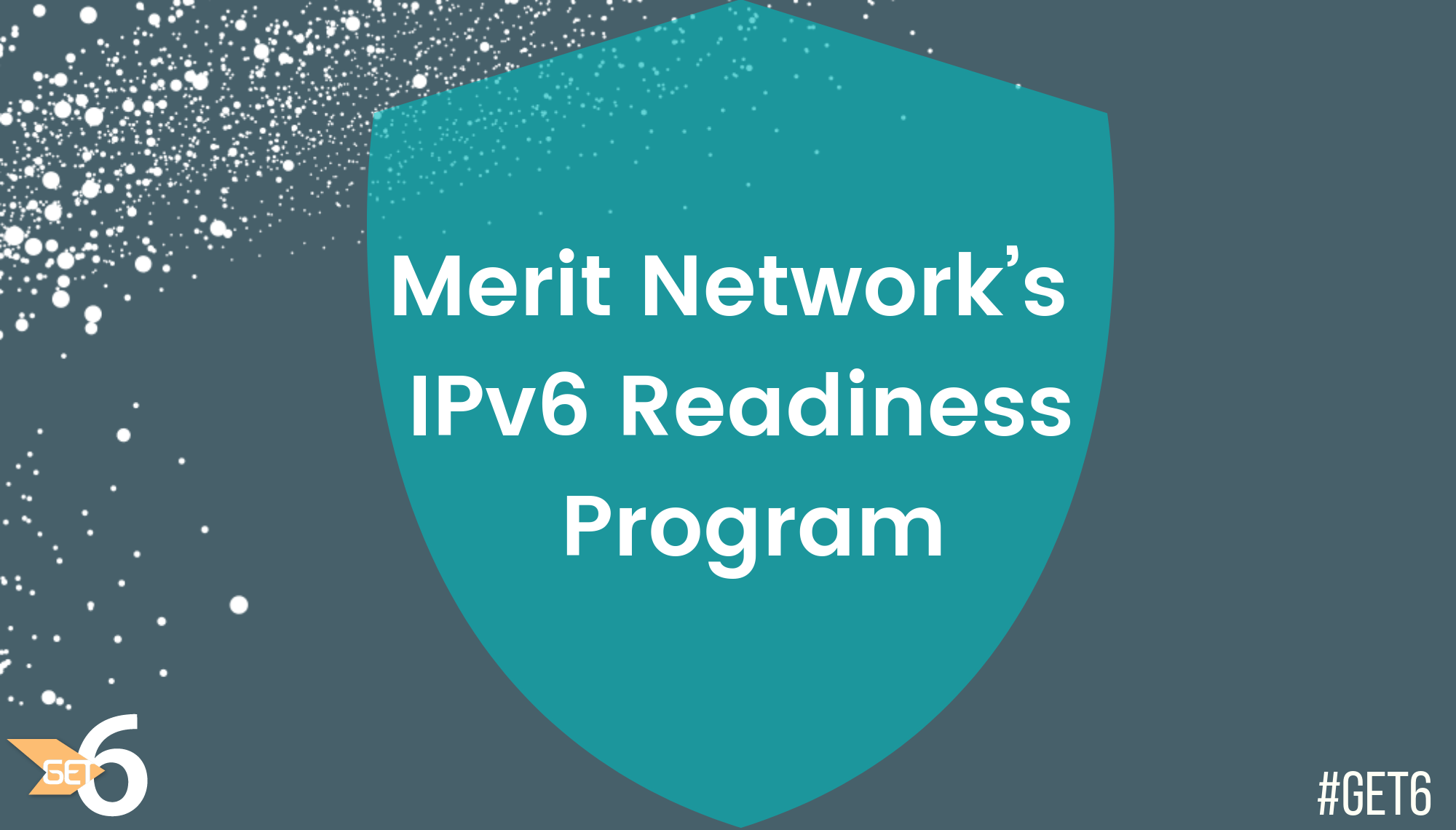 A Model for Advancing IPv6 Deployment in REN and Higher Ed Networks
Merit Network's IPv6 Readiness Program
Merit Network Inc. is a non-profit, member-owned organization that runs a regional Research & Education (REN) network in the state of Michigan. Merit has twelve governing member institutions which are public universities. It serves as their internet service provider and provides them with IPv4 and IPv6 addresses.
In October 2017, Merit assessed their IPv4 address usage and determined that several of the governing members could run out of IPv4 addresses in five years if they continued at their current growth rate. Merit presented these results to its governing board members and recommended a program that would help them begin or further IPv6 deployment on their campus networks. All twelve CIOs representing Merit's governing board members approved the creation of the IPv6 Readiness Program along with appropriate funding.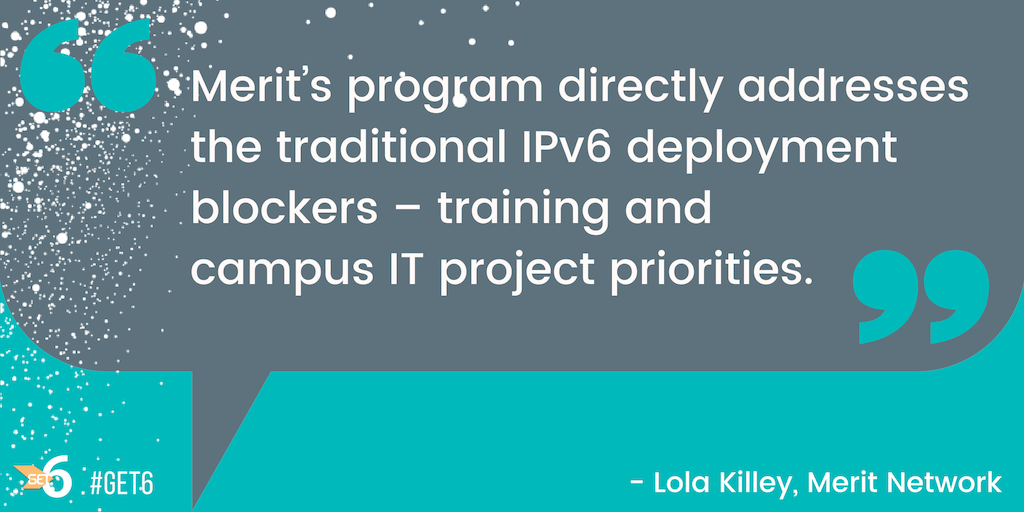 The traditional approach for IPv6 deployment has been for the network engineers to assume responsibility for IPv6 transition delay or deployment strategies to address immediate network performance requirements. Transition delay strategies won out for many reasons, but at the top of the list were the lack of staff expertise and not having a budget to invest in a long-term deployment strategy, both of which point to the absence of higher-level IT management engagement. Merit's program uses a unique approach whereby it has funding and CIO approval for IT staff and leadership training and IPv6 deployment activities. Consequently, Merit's program directly addresses the traditional IPv6 deployment blockers – training and campus IT project priorities.
The IPv6 Readiness Program uses education, guidance, and community building as its three-pronged approach in promoting IPv6 deployment. The program is building a training curriculum for the myriad levels of networking expertise and operational engagement. The curriculum includes a four-day technical training class for network engineers and systems administrators that provides a deep dive into routing, addressing, security, transition planning, DNS, applications, and other topics. It will offer classes for CIO IT executives, IT senior leadership, IT managers, and help desk teams as well.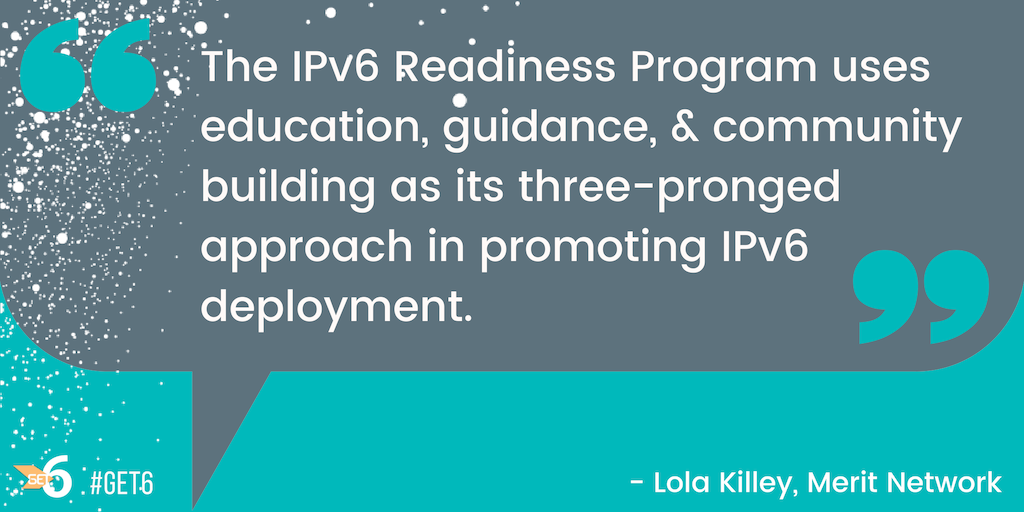 The program created an assessment guide to assist campus tech teams to document their current IPv6 deployment which can be used for developing their own IPv6 deployment plan. Merit senior network engineers will work with the campus tech teams in their assessments and provide best practice information in the higher education community.
The program has provided informational workshops and conference sessions, and has scheduled training classes, more conference sessions, and quarterly meetings to build the learning and support community. These events will reinforce the information learned in the training as well as build rapport and a knowledge base for campus IPv6 deployment. Merit's higher educational members have issues that are similar and relevant to each other, so building a Merit governing member community in IPv6 technology and deployment is important to their deployment successes.
Merit's IPv6 Readiness Program is a two-year pilot program which will finish in December 2019. Merit expects that the program will serve as a model for the higher education and REN communities for promoting and advancing IPv6 deployment in their networks. I look forward to sharing more about this program as it evolves over the coming year.
Any views, positions, statements or opinions of a guest blog post are those of the author alone and do not represent those of ARIN. ARIN does not guarantee the accuracy, completeness or validity of any claims or statements, nor shall ARIN be liable for any representations, omissions or errors contained in a guest blog post.
Recent blogs categorized under: IPv6