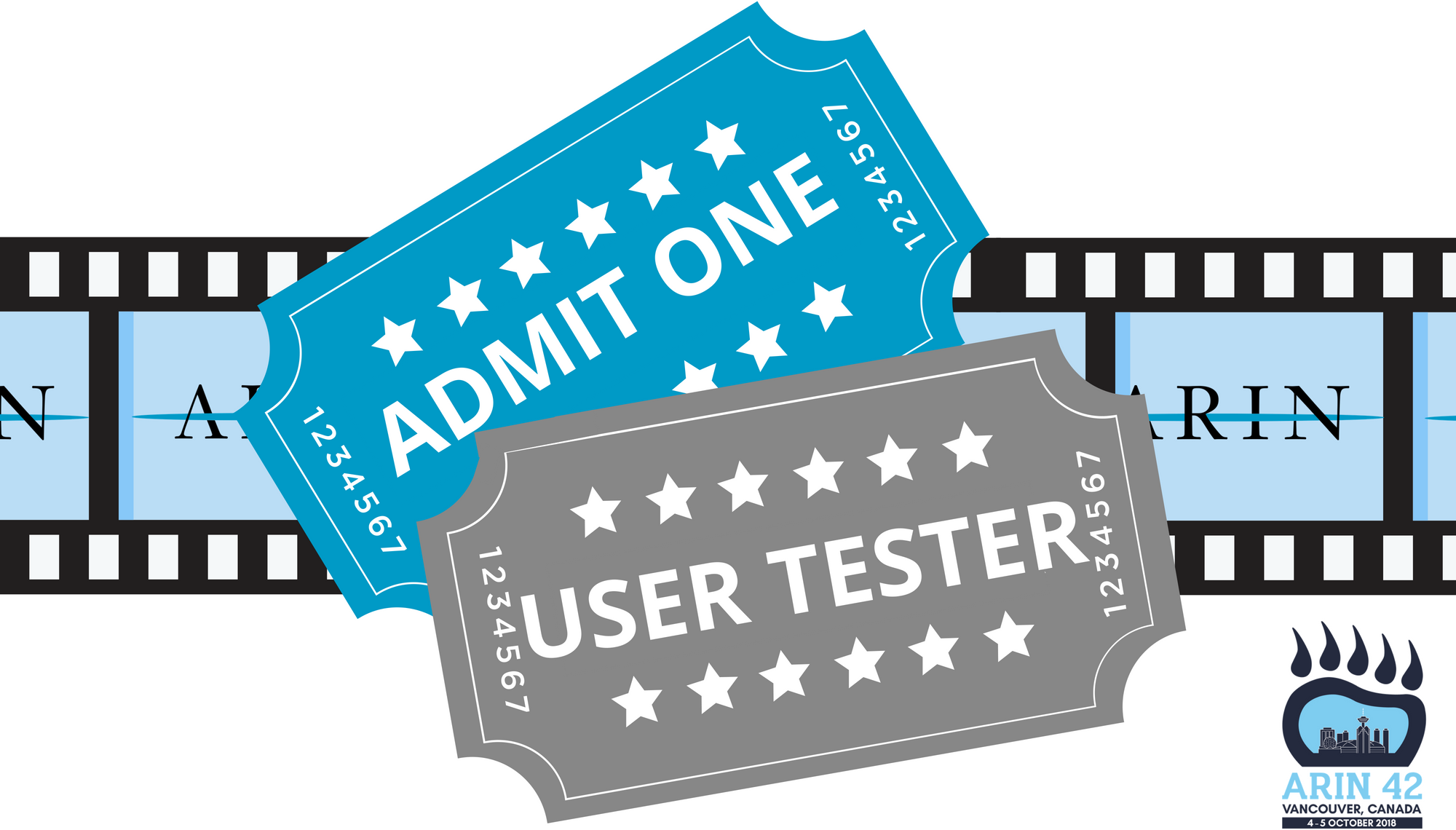 You're Invited! Join Us at ARIN 42 For A User Testing Experience
You're invited to a special screening of our new website at ARIN 42 on October 4-5 in Vancouver, BC.  We want you to preview the work we've done on the totally redesigned www.arin.net. This is your chance to have VIP access and a front-row seat!
The Details:
At your convenience during ARIN Help Desk hours on both Thursday 4 October and Friday 5 October, you can sit down with me and my fellow UI specialist to get a first look at improvements underway. We will be sitting right outside the doors of the general session. Just stop by for a quick walkthrough — most last five to ten minutes — of the site and tell us what you think.
If you're planning to be in Vancouver all week, feel free to stop by earlier. We will be set up during NANOG 74 as well.  Aren't joining us in Vancouver? The preview will also be live online with a feedback survey so you can tell us your thoughts.
Is Any Experience Needed?
Nope! You don't need any prior experience with ARIN or with user testing. We want to make sure our changes and improvements are headed in the right direction for our community, which means anyone and everyone is welcome to test them out.
This is a great hands-on opportunity to make an impact on our website and online service. Be sure to mark that you are interested in being a user tester when you register for the meeting. Or you can email meetings@arin.net to sign up in advance.
We look forward to seeing how many "stars" you think our new website has earned. We thank you in advance for your input — we couldn't do this without you.
Recent blogs categorized under: Customer Feedback
---
GET THE LATEST!
Sign up to receive the latest news about ARIN and the most pressing issues facing the Internet community.
SIGN ME UP →
---
Blog Categories
ARIN Bits
•
IPv6
•
Business Case for IPv6
•
Fellowship Program
•
Grant Program
•
Caribbean
•
Internet Governance
•
Updates
•
IPv4
•
Elections
•
Tips
•
Public Policy
•
Customer Feedback
•
Security
•
Outreach
•
RPKI
•
Training
•
IRR
•
Data Accuracy