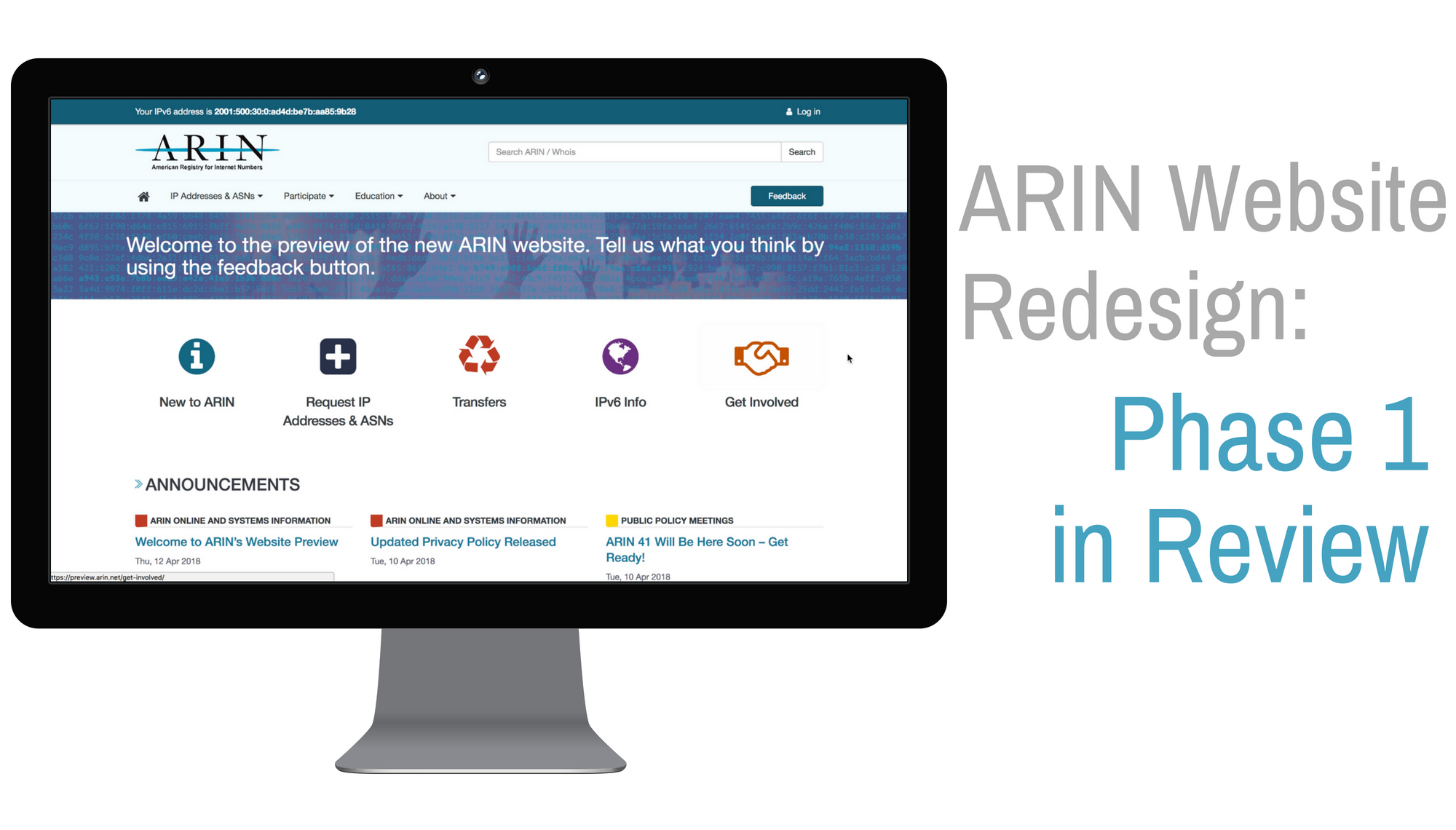 ARIN Website Redesign – Phase 1 in Review
Redesigning any website is no small feat, and ARIN's website is no exception.  The ramp up to our Phase 1 preview at ARIN 41 included a full site audit, creation of the ARIN Vault, card sorting exercises involving staff and community, and paper prototyping with volunteers at ARIN 40. We formed a special cross-department team involving communications, operations, software development and user experience. It has been a wild ride so far.
Next up will be testing options for ARIN Online integration with the new website.
But back to the preview, when we returned from ARIN 41 we spent some time reviewing the feedback we received online and in-person, as well as through our online tree test of our proposed navigation hierarchy.  We received lots of great input that we have already put to use in shaping the next phases of our redesign effort.
Some Numbers
The Preview homepage received approximately 2500 total pageviews and 700 unique page views

Eleven ARIN 41 attendees sat for in-person user tests that lasted an average of 11 minutes

Thirty-eight individuals completed the feedback survey available through the preview site

One hundred twenty-four individuals started the navigation Tree Test; 72 completed the study, 52 abandoned – 14 of 27 questions were answered on average

Over 70% of respondents said they found the main menu either somewhat or very intuitive. Sub-categories got a similarly favorable rating with 52% saying they were very or extremely helpful. An additional 44% found them somewhat helpful.

When asked about the five "top task" items on the homepage, 65% of respondents found them to be extremely or very helpful. The main complaint was that they were not necessarily helpful to power users/frequent visitors.
Top Take Aways
In-person User Tests
Likes
In-person testers gave generally high marks to look and feel

Common descriptors were: clean, easy, organized

People like videos
Dislikes
A couple of testers at the Miami event, not unexpectedly, suggested Events could be higher on the home page

A few testers were resistant to scrolling
Preview Feedback Survey
We received 19 freeform comments on the navigation menu, including several items that have already been identified as stories for improvements:

Shortening the delay on the menu hover

Ordering and number of topics in the sub-menu

Changes to headings

Some actions under consideration:

Adding a Username and Password field for account login

Using a single color for announcements

Improvements to the top task graphics and labeling to make them more intuitive

Reorganizing the lower half of the page to reduce "clutter"

Updates to the top-level navigation and sub-menu

Improvements to the search box to make it more intuitive to use
Tree Test
Naming conventions, especially as applicable to page titles, should be reconsidered for clarity

Top-level navigation needs some modification, possible additions

Some issues in the test are resolved by the mega-menu and it's presentation of related options in a single drop-down. We could not test exactly as the menu displays

Need landing pages for ASN and IPv4

IPv6 content should be consolidated

Users currently expect to find POC info under Manage Resources

Users currently expect to find Org Id info under Getting Started

Tester had no clear idea of where Membership info should be located

Expected Elections info under Participate not About
This is just a sampling of the kinds of great insights we received from our preview testers, and there will be more opportunities for the community to give feedback before we launch our new website!
Coming Soon
ARIN Online and www.arin.net integration options – help us shape your path from the website to the customer account application.
ARIN Website Preview Testing at ARIN 42 – Last looks! This will be the final opportunity for the community to provide feedback on the new website prior to launch in 2019!
Recent blogs categorized under: Updates
---
GET THE LATEST!
Sign up to receive the latest news about ARIN and the most pressing issues facing the Internet community.
SIGN ME UP →
---
Blog Categories
ARIN Bits
•
IPv6
•
Business Case for IPv6
•
Fellowship Program
•
Grant Program
•
Caribbean
•
Internet Governance
•
Updates
•
IPv4
•
Elections
•
Tips
•
Public Policy
•
Customer Feedback
•
Security
•
Outreach
•
RPKI
•
Training
•
IRR
•
Data Accuracy