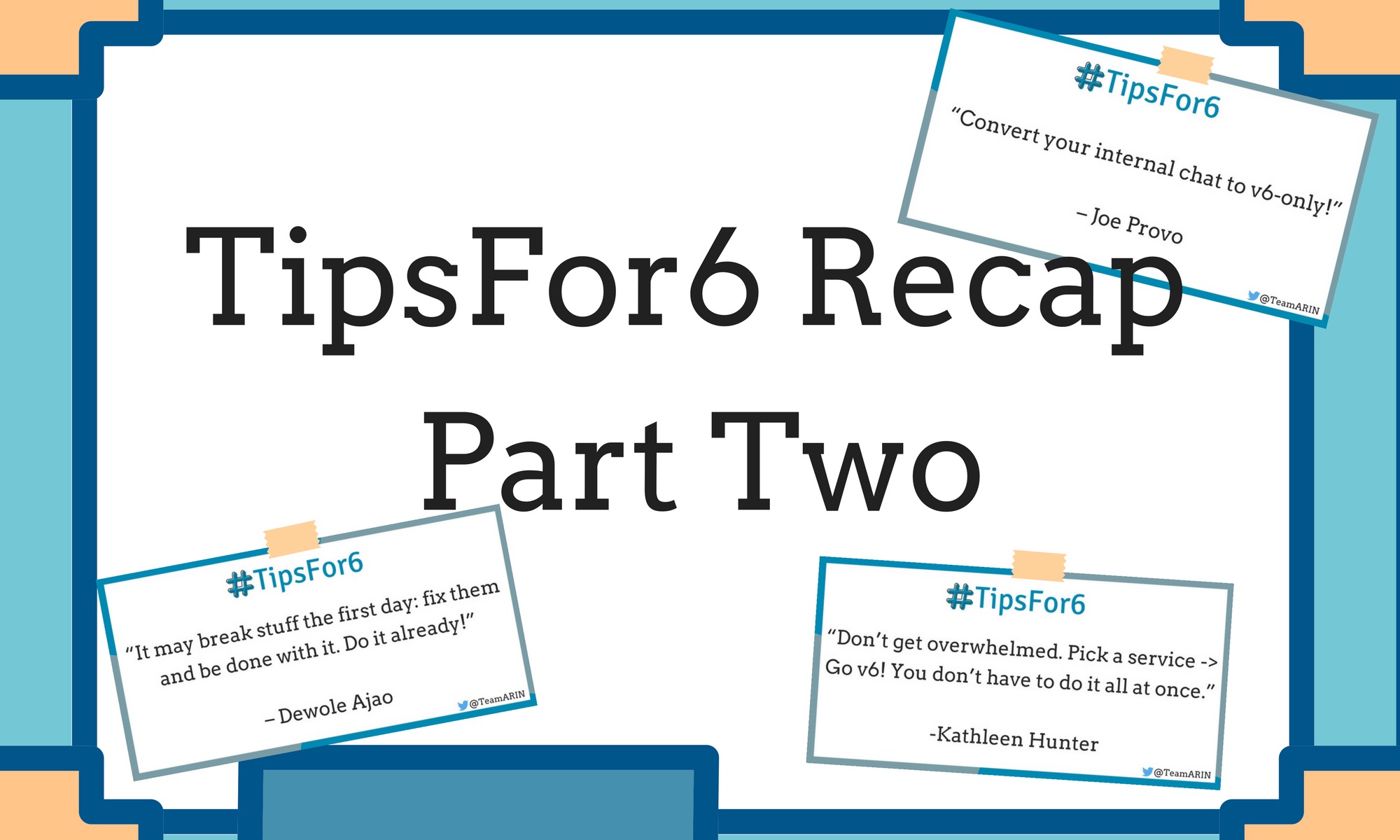 IPv6 is Not the Boogeyman
We brought our #TipsFor6 Campaign down to Miami, Florida for the ARIN 41 meeting to add even more voices to this initiative. We wanted to provide a platform to help our community members share what they've learned about IPv6, which may spark others to Get6 too.
Our ARIN 41 meeting attendees had a lot to say about IPv6, so we want to share their insightful tips with you. Enjoy the recap of all the tips we collected during ARIN 41, and don't forget to Tweet us @TeamARIN using #TipsFor6 any time with your best tip!
---
"Just do it! Hire the right people." – ARIN 41 Meeting Attendee
"If a service exists behind ACC/Firewall, ensure customer IPv6 ranges are configured before bringing service live on IPv6. Set server MTU to 1420 or lower to support customers using tunnel protocols." – ARIN 41 Meeting Attendee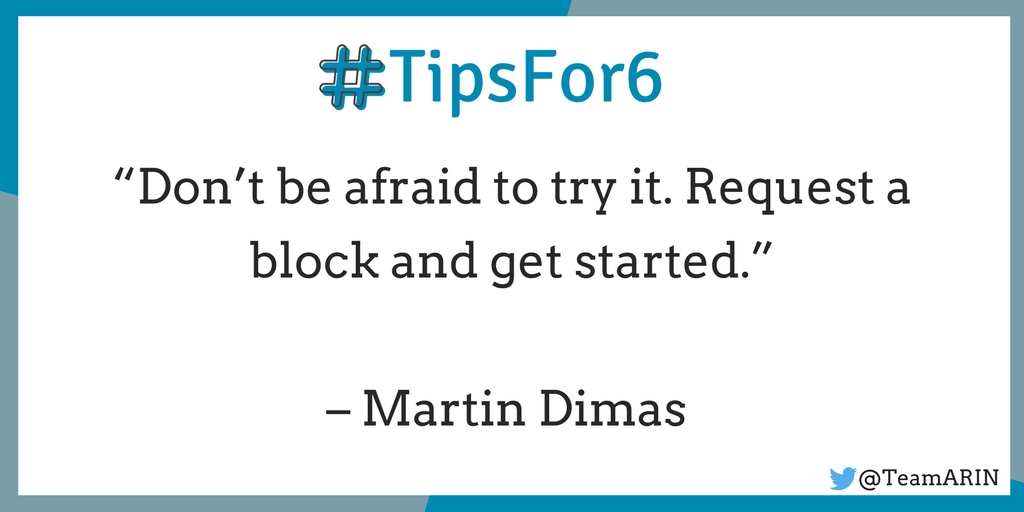 "If you have a non-trivial network with any sort of geographic spread (think multiple POPs and datacenters), talk to ARIN about a /28 instead of a /32. Do a strawman design breaking up the network on nibble boundaries and accounting for future growth, and you'll see where I'm going with this." – ARIN 41 Meeting Attendee
"Nearly 20% of critical infrastructure (DNS) is running across v6 today. V6 is here, become familiar with the protocol and how it works. Read up, bang on your keyboard, figure out where the : (colon) key is - you will need it. IPv6 is not the boogeyman!" – ARIN 41 Meeting Attendee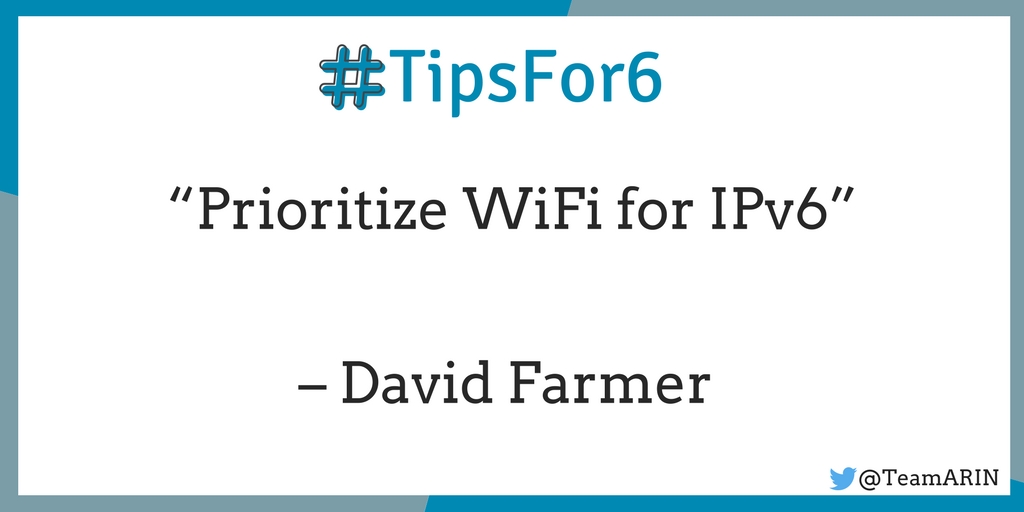 "Just start doing it." – ARIN 41 Meeting Attendee
"Read: Preparing Applications for IPv6" – Andy Newton
"You can put your VLAN numbers in the network address for ease of operations."
– ARIN 41 Meeting Attendee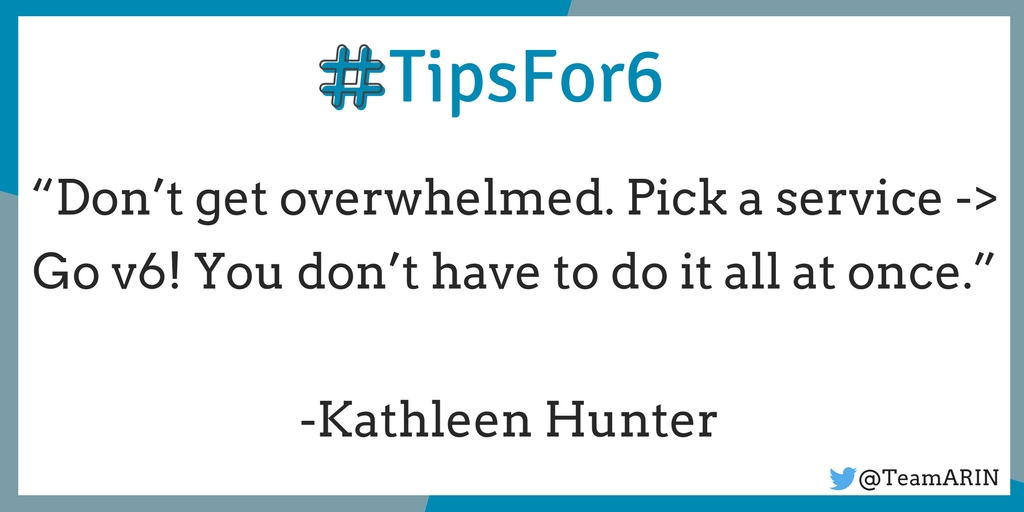 "There is a fundamental paradigm change – we do not care about optimizing for address space conservation at all. Instead, optimize for engineer brain cell conservation (a finite resource!) by encoding useful information in the address such as environment, VLAN, etc. A sparse deployment which fully takes into account expansion plans will cause your successors to be in awe of your foresight! Whatever you do, don't subdivide on non-nibble boundaries!" – ARIN 41 Meeting Attendee
"Don't cross the streams." – ARIN 41 Meeting Attendee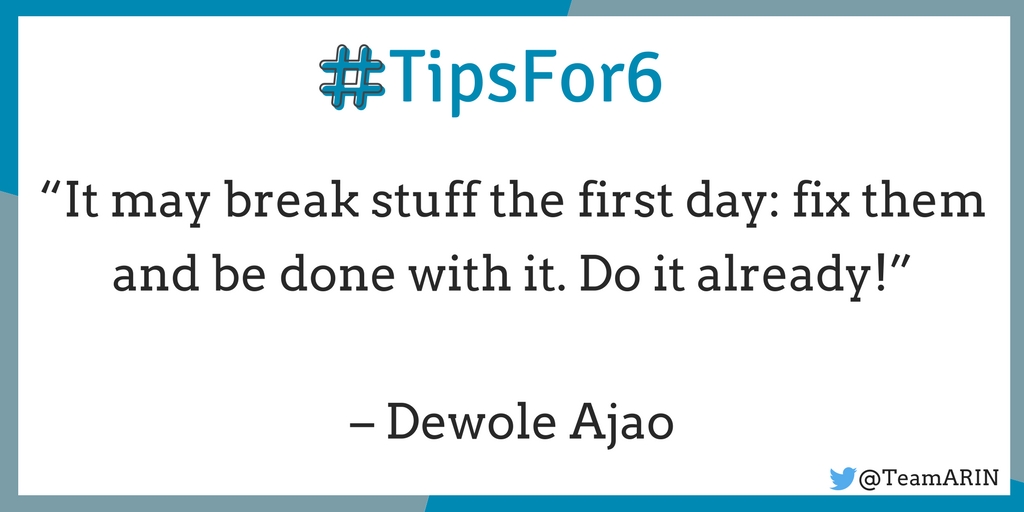 "Happy eyeballs is not your friend! Do acceptance and reachability testing with single-stacked, v6-only tools and targets, not a web browser." – ARIN 41 Meeting Attendee
"When IPv6 address planning, use a different mindset than with IPv4 address plans. IPv6 allows one to be more creative than with IPv4, and create plans that encode other information and network topology in your subnet addresses." – ARIN 41 Meeting Attendee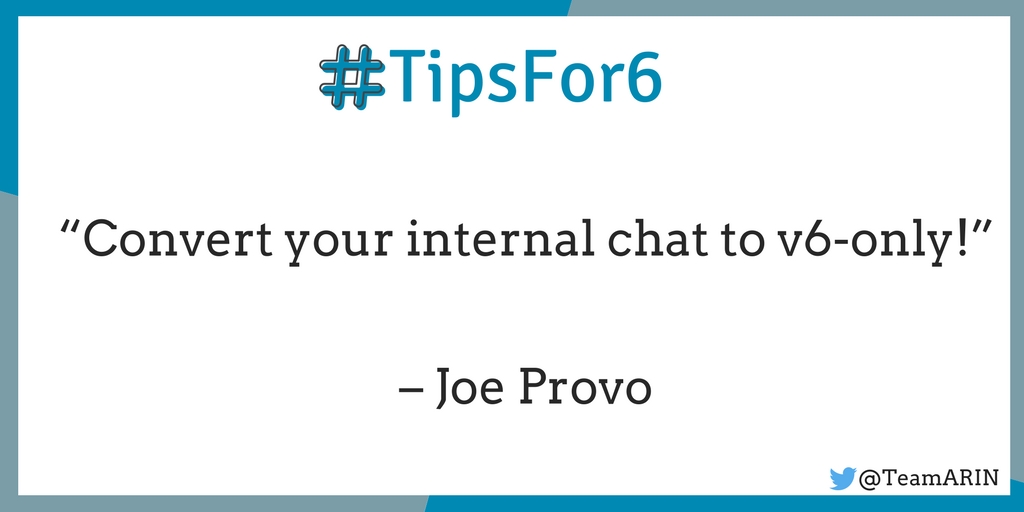 "Don't be afraid to encode data (VLAN ID's, Rack #'s) in your v6 address scheme. Documenting this scheme qualifies as an address plan under ARIN rules." – ARIN 41 Meeting Attendee
We want to thank everyone who shared a tip with us in Miami! Together, we are making IPv6 a reality in our region.
If you want to check out the other #TipsFor6 we've collected, take a look at our first recap.
Recent blogs categorized under: IPv6