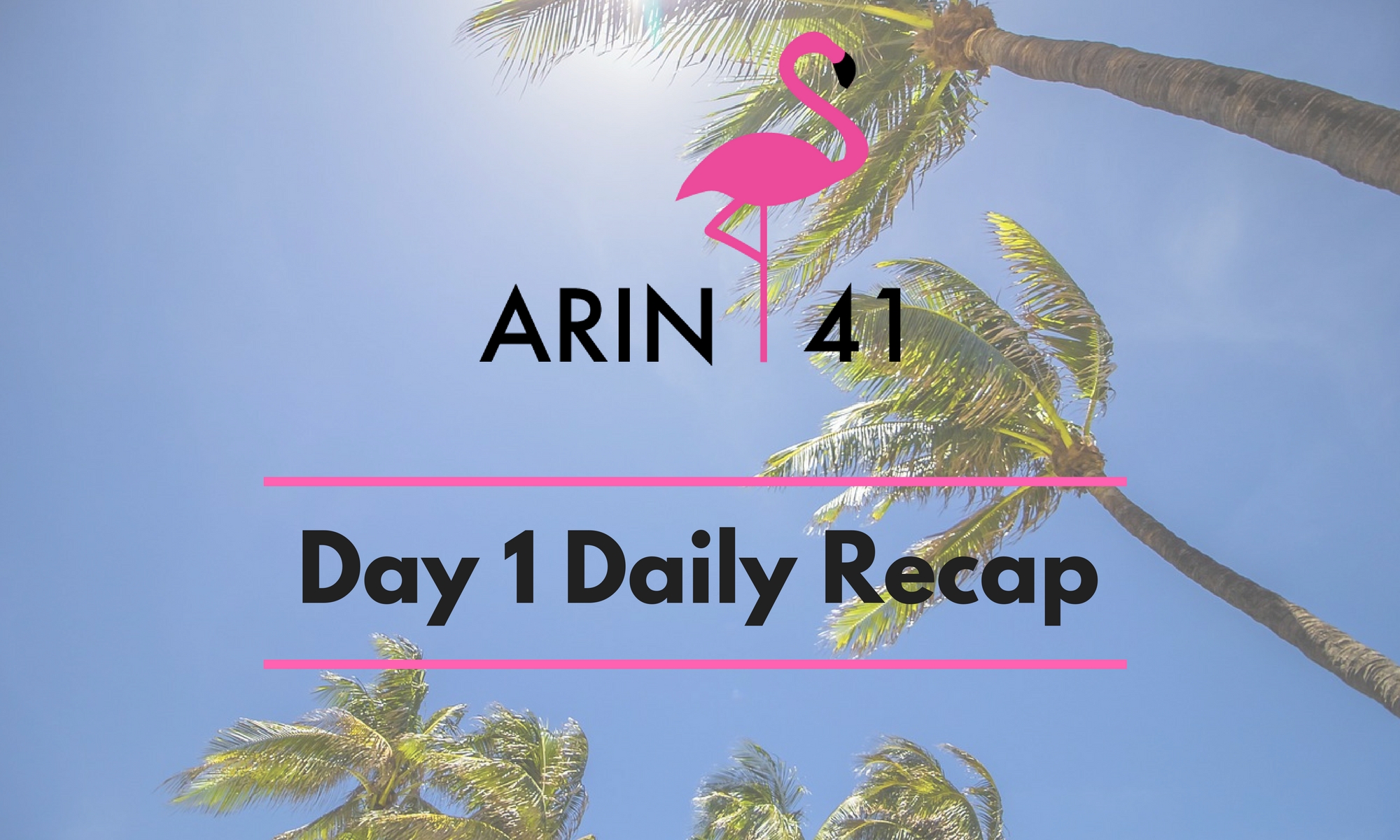 ARIN 41 Day 1 Daily Recap
¡Bienvenidos a Miami! The ARIN 41 Public Policy and Members meeting kicked off today in beautiful Miami, Florida. For those who are unable to be here in person, it's easy to join us remotely for tomorrow's session. You can watch our online webcast, follow along with our live transcript and participate through chat. Be sure to register before tomorrow so we can add you to the chat rooms. Here's a brief recap of what we've been up to since we arrived in the sunshine state.
What's happened so far at ARIN 41?
We kicked off yesterday afternoon with an informative orientation for ARIN meeting newcomers. This session provided a short overview of ARIN, what to expect during the meeting, and instructions for how attendees can participate. Following the orientation, Sean Hopkins, Policy Analyst, presented an in-depth Policy Development Process (PDP) tutorial to help guide newcomers (or anyone wishing to refine their knowledge) through our PDP, and give them the skills to engage comfortably in policy discussions throughout the meeting. It was great to see high attendance at this tutorial!
We awoke to an attendee breakfast before diving into the official start of our Public Policy and Members meeting. John Curran, ARIN CEO and President, offered opening remarks, followed by Sean's Regional Policy update, where he presented the current proposals being discussed by the other Regional Internet Registries. Tina Morris, ARIN Advisory Council (AC) Chair, presented the Advisory Council On-docket Report which included an overview of which recommended draft and draft policies will be presented throughout the ARIN 41 meeting. Our Senior Director of Registration Services, John Sweeting, was up next to provide an overview of our experience with the recent policies that have been implemented, which led to a lively discussion.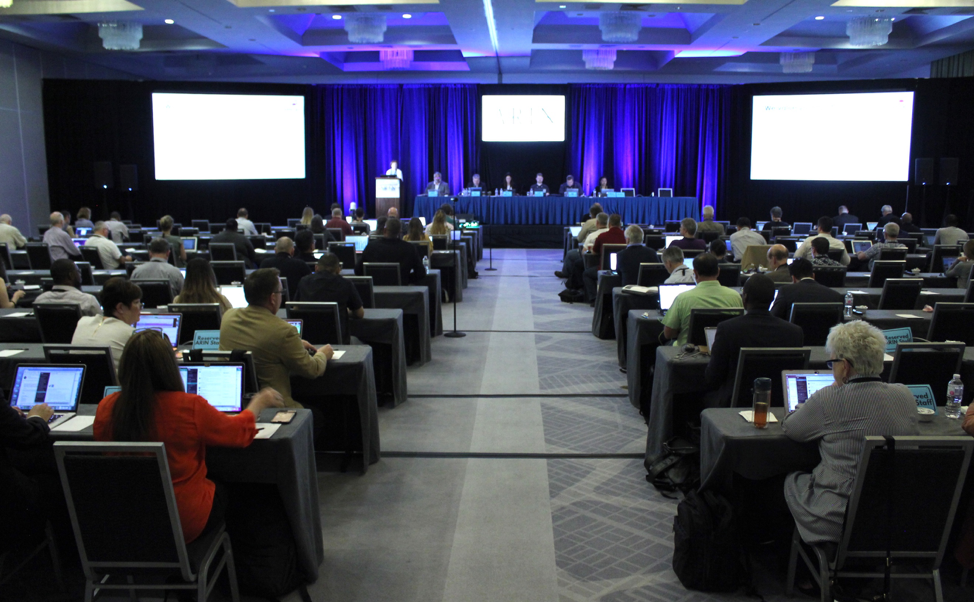 Susan Hamlin, Senior Director of Communications and Member Services, shared the various ways we currently communicate with you, our community. This includes our mailing lists, the newsletter "ARIN Bits", TeamARIN website, outreach events, and of course our meetings! There was an opportunity for us to hear from you about how we are doing in our communications effort and some feedback was given.
ARIN AC Member, Alison Wood, presented the first draft policy up for discussion:
Leslie Nobile, ARIN's Senior Director of Global Registry Knowledge, shared information and stats about Point Of Contact (POC) Validation. She arrived at the conclusion that there is room for improvement when it comes to organizations validating their POC information, which is something we are working hard to improve.
After a break, David Farmer presented the next recommended draft policy up for discussion:
We heard an interesting update from John Curran about our Data Privacy practices, in light of the General Data Protection Regulation (GDPR) taking effect next month in the European Union. While our general operations do not fall within the scope of the GDPR, we support many of the principles related to privacy.
Leslie Nobile was back to present information on Orphaned Orgs and POCs. She discussed the different ways Orgs and POCs become orphaned, explained why it would be beneficial to remove orphaned Orgs and POCs from the ARIN database, and shared what those next steps would look like. She noted there will be a forthcoming community consultation on ARIN's plans to clean these out of the database.
After lunch (and a Women's Networking Lunch) we returned to a Number Resource Organization (NRO) Activities Report which included information on the NRO structure, finances, current technical projects, and more, which was presented by Paul Wilson, Director General of APNIC and Chair of the NRO. John Curran provided an update on the Internet Routing Registry (IRR) Consultation which was opened earlier this year.
ARIN AC Members David Farmer and Kerrie Richards introduced the next two draft policies up for discussion:
After the policy discussions, John Curran presented the proposed changes to ARIN's Fee schedule, which is currently open for Community Consultation, followed by the always enjoyable presentation on the Internet Engineering Task Force (IETF) Report by Cathy Aronson, our official IETF Reporter for 2018. She shared highlights from IETF 100 and IETF 101.
Richard Jimmerson, ARIN CIO, presented the results from our Customer Satisfaction Survey which was conducted at the end of last year. According to the results of this survey, we've made significant improvements over the last few years, but we still have work to do.  John returned to finish today's session with the Address Supporting Organization Review Consultation, an open mic session and closing announcements.
What's Tweetin'?
Excited to be attending my first @TeamARIN conference with @LousewiesvdLaan and @ron2twit! #arin41 https://t.co/Jswd89o3Wn

— Brian Winterfeldt (@bjw72) April 15, 2018
Joining @TeamARIN as a newcomer. We are starting now with @JimmRich #ARIN41 pic.twitter.com/zL6b1qGt2Z

— Paola Pérez ॐ (@paoperezc) April 15, 2018
Thanks @TeamARIN for being selected. I have again so many other reasons to come and participate.

— Blaise Arbouet (@ArbouetB) April 16, 2018
Not so #GDPR version for @TeamARIN privacy policy review by @jcurranarin #arin41 pic.twitter.com/CKizo2dHFk

— Ron da Silva (@ron2twit) April 16, 2018
First Caribbean ARIN Advisory Committee member to present ARIN Policy Kerry-Ann Richards #arin @CaribNOG pic.twitter.com/m2yBlzGqvs

— Albert Daniels (@danielsah) April 16, 2018
For those of you who are here in Miami, join us this evening for the ARIN 41 Social at Ball and Chain. We'll be back tomorrow with an update on day two of ARIN 41. ¡Hasta luego!
Recent blogs categorized under: Public Policy