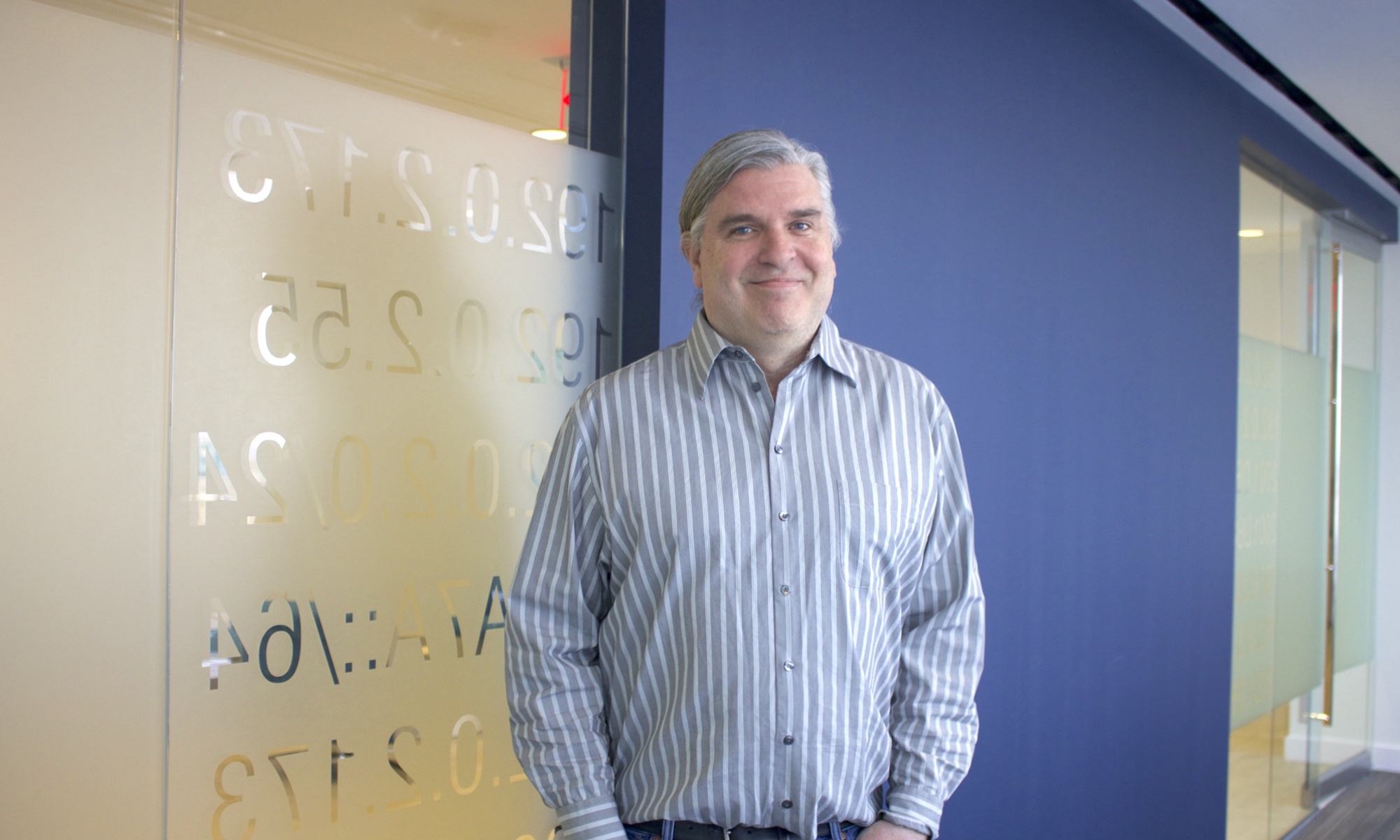 We Stick Around For You
Over the last 20 years, we've hosted 40 Public Policy and Members Meetings along with many other outreach events, such as our ARIN on the Road events. For those of you who regularly attend these events, you may have noticed some familiar faces among the ARIN staff.  This is all thanks to our incredible employee retention rate of over 95%! The average tenure here at ARIN is now over seven years, with many of our employees celebrating their 10th, 15th, and even 20th anniversaries. So it's not uncommon to see familiar faces at many of our events.
Our 20th anniversary as an organization occurred this past December, which coincided with the 20th anniversary of one of ARIN's first employees, Cathy Clements. This month, we want to acknowledge another employee's special anniversary – Michael O'Neill! Michael currently works in our Engineering department. He started at ARIN 20 years ago on 16 March 1998 and has been with us ever since. Michael began at ARIN as a Senior IP Analyst and then moved to a System Engineer role, followed by a Network Administrator; and now serves as a Senior Network Engineer.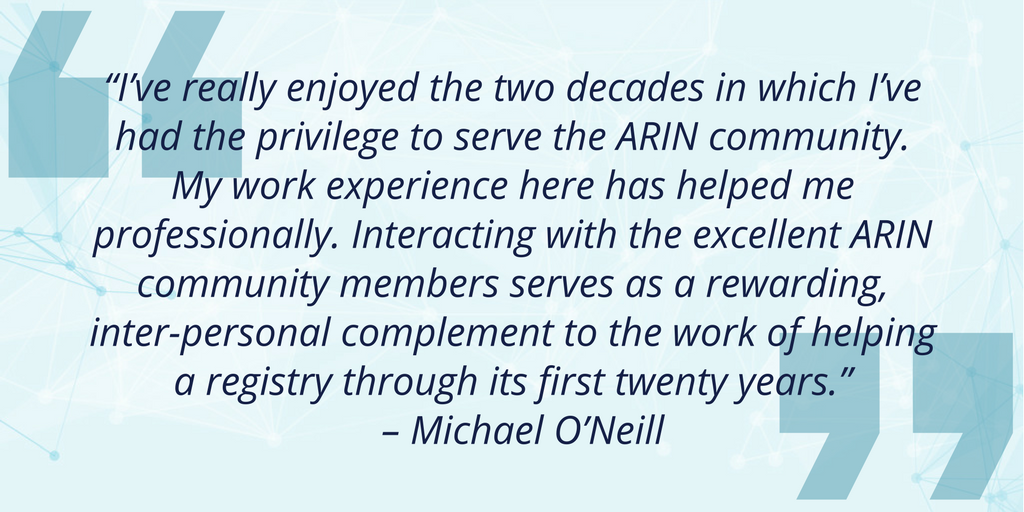 So, why should you care about our excellent employee retention rate?
Generally speaking, everyone benefits from a company with a strong employee retention rate. When employees are happy, they tend to provide better customer service and feel more aligned to the organization's mission. And this is evident in our second-to-none Registration Services team. This team has an average tenure of over seven years and if you ask them what their favorite part of working in Registration Services is, they say, "working with our members, talking to them on the phone and meeting them face-to-face at the ARIN Public Policy and Members Meetings, ARIN on the Road events, and other industry meetings." In fact, you may have had the chance to interact with and get to know many of them on a more personal level throughout the years. But if you haven't, be sure to "meet" the team in a recent blog post they wrote.
An excellent employee retention rate also helps our community retain its trust in ARIN. Together, we hold a breadth of knowledge and experience about the world of Internet number resources, and this means we can put that knowledge to work for you: our valued customers. As always, we are excited to work with our community to make the Internet a better place for everyone in our region for many years to come.
We invite you to join us in congratulating Michael O'Neill on celebrating 20 years with ARIN! We also want to thank all of our employees for their hard work, as well as our members and larger community for the support they give us each and every day.
Recent blogs categorized under: Updates
---
GET THE LATEST!
Sign up to receive the latest news about ARIN and the most pressing issues facing the Internet community.
SIGN ME UP →
---
Blog Categories
ARIN Bits
•
IPv6
•
Business Case for IPv6
•
Fellowship Program
•
Grant Program
•
Caribbean
•
Internet Governance
•
Updates
•
IPv4
•
Elections
•
Tips
•
Public Policy
•
Customer Feedback
•
Security
•
Outreach
•
RPKI
•
Training
•
IRR
•
Data Accuracy