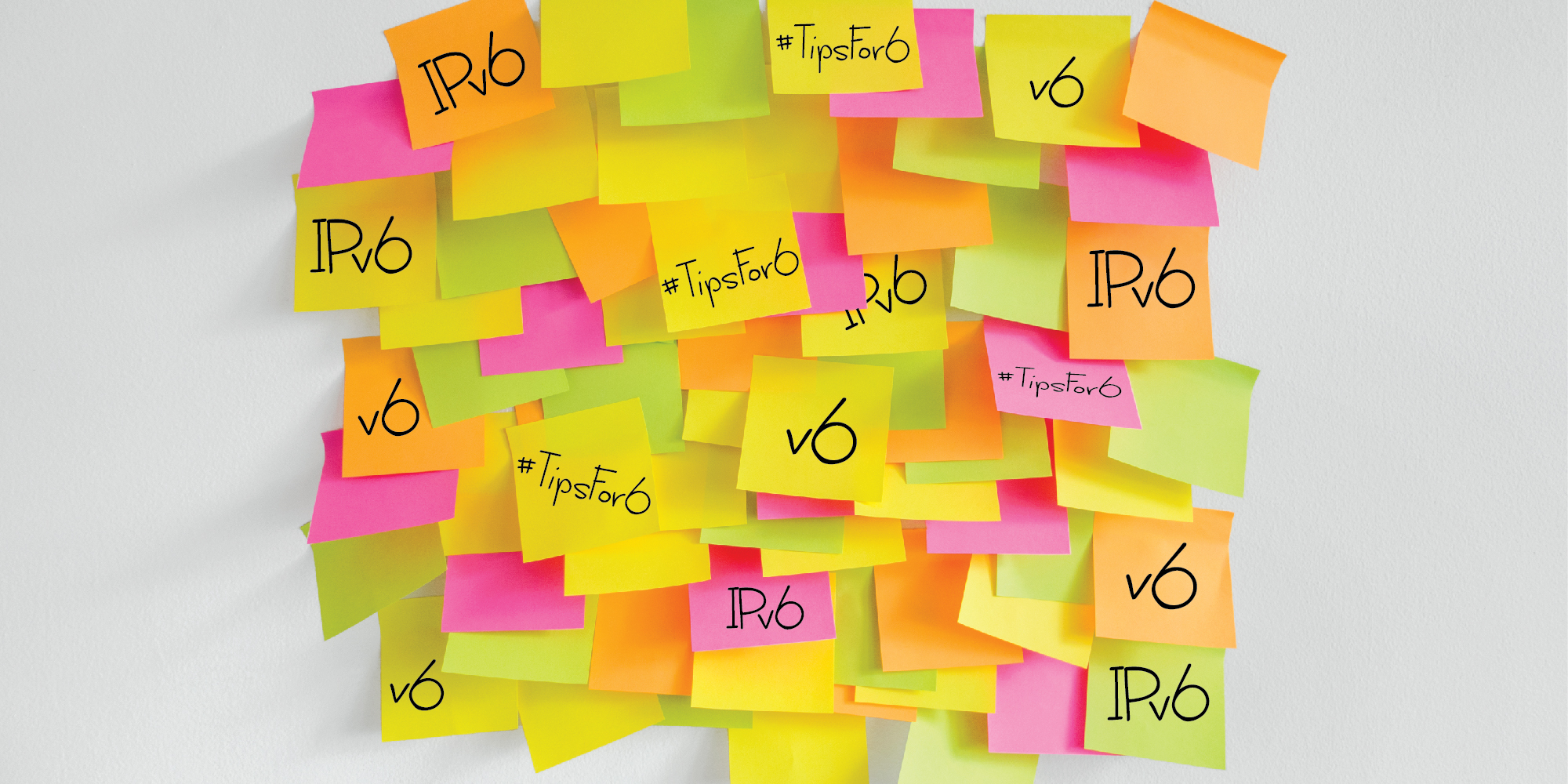 What are your best TipsFor6?
We're proud to say that over 56% of our members have registered an IPv6 block, but we also realize that means many are still left without IPv6. So, we wanted to give our community the chance to voice what they've learned from their own deployments.
Over the next few weeks, we will be asking you to share your best tips and lessons learned when it comes to IPv6. No matter what stage of IPv6 deployment you're in, we encourage you to share something you've found helpful along the way.
As a community, we can continue our work to make IPv6 a reality in our region. We want to give you a platform to share what you've learned about IPv6, which may spark others to Get6 too!
Here are a few examples of what you may want to share:
An IPv6 deployment tip

Something you wish you had known before deploying IPv6

Advice for someone who is trying to convince their organization to get on board with IPv6

How you created a plan to get IPv6

The first step you took in your IPv6 deployment

The biggest obstacle you had to overcome
Here are a few examples of what your tip might look like:
"Once I got the proper materials and started researching and planning, it [IPv6] was not a nightmare like people had made it out to be.  Some resources that we used to get up to speed were online tech documents, message boards, and books like Cisco IPv6 Fundamentals or Cisco IPv6 for Enterprise Networks." - Charles R. Watt
"In discussion with my manager, we decided that the best way to get buy-in from the whole IT department was to make it an official project.  This is key as it sets expectations for all the project members and stakeholders, and holds each team member accountable for completing their assigned tasks." - Mattias Lindgren
"It seemed like a very daunting task at first, but one of the smartest decisions we made was to divide the network up into client and server environments. While our plan is still to eventually implement IPv6 everywhere, we decided to proceed only on the client side of the network that serves end user workstations." - Mike Milne
There are several ways you can send us your tips. You can email your tip to epratt@arin.net, you can use the hashtag #Tipsfor6 or simply reply to our tweets on Twitter (@TeamARIN), or you can send your tip through Facebook. We will plan to collect all of your best IPv6 advice and turn it into a blog post in the coming weeks.
Now is your chance to share what you've learned with our community and beyond. We thank you in advance for sharing your #TipsFor6!
Recent blogs categorized under: IPv6
---
GET THE LATEST!
Sign up to receive the latest news about ARIN and the most pressing issues facing the Internet community.
SIGN ME UP →
---
Blog Categories
IPv6
•
Business Case for IPv6
•
Fellowship Program
•
Grant Program
•
Caribbean
•
Internet Governance
•
Updates
•
IPv4
•
ARIN Bits
•
Elections
•
Tips
•
Public Policy
•
Customer Feedback
•
Security
•
Outreach
•
RPKI
•
Training
•
IRR
•
Data Accuracy