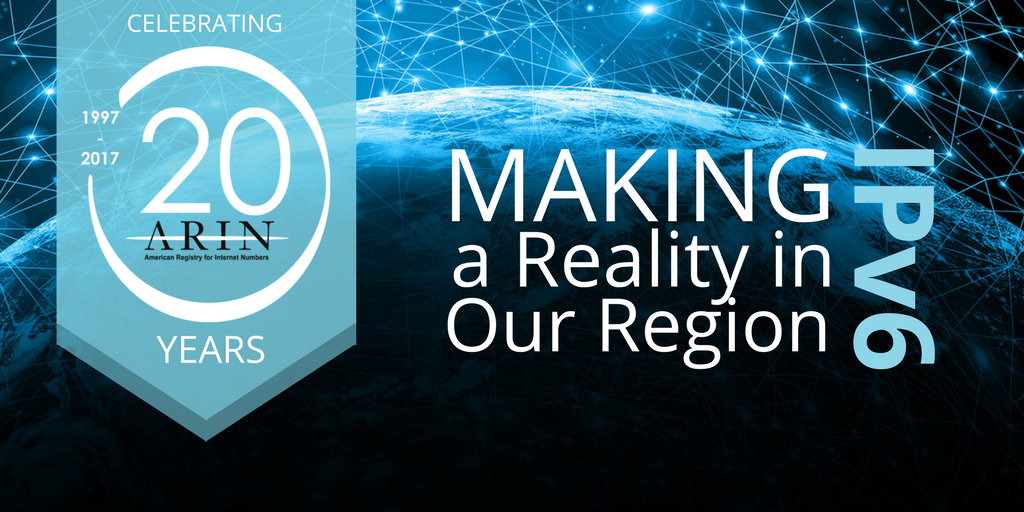 Making IPv6 a Reality in Our Region
As many of you know, we will be celebrating our 20th Anniversary this December. Since we were formed in 1997, one of the most critical objectives our organization has worked towards is spreading awareness of IPv4 depletion and encouraging the widespread implementation of IPv6. We want to take some time at our anniversary to reflect on how far our community has come in making IPv6 a reality in our region, as well as what we're doing to go even farther.
In the early 1990's, it became clear that the world would eventually run out of IPv4 addresses. IPv6 was formalized as a protocol in 1998 to provide enough addresses for continued growth of the Internet. With IPv4 depletion on the horizon, ARIN began really emphasizing the importance of adopting IPv6 in May 2007 when our Board passed a Resolution to encourage networks to implement IPv6. With the help of volunteers from the ARIN Advisory Council, ARIN staff mapped out a plan to attend a large number of outreach events that included some of the largest Internet conferences in the region. During the calendar year of 2010, ARIN was present at 23 different outreach events starting with CES in January and including InterOp, IT Roadmap, Rocky Mountain IPv6, CANTO, FOSE, Open Source Convention, and HostingCon, among others. The message was clear - IPv4 addresses will no longer be available and IPv6 adoption is necessary for the Internet's continued growth. We've continued to spread that message to this day.
The ARIN region ran out of IPv4 on 24 September 2015. Today, 3,098 ARIN members (~56%) have registered an IPv6 block. While we're happy with that progress, we know we can do more. We're continuing our IPv6 outreach campaign. We're continuing to make sure the community's aware that IPv6 fees are minimal and that registering an IPv6 block makes them eligible to request addresses via the reserved IPv4 block to facilitate IPv6 deployment policy (NRPM 4.10). And today, we're proud to announce a new campaign. Approximately 2,500 of our members without IPv6 are eligible to receive a block with no additional cost. We plan on implementing a new campaign to reach out to these members with a personal invitation to help them receive  that free IPv6 block.
We're incredibly pleased with the ARIN community's progress with IPv6 deployment, but we still have work to do to make IPv6 ubiquitous. Together with you, the members of the ARIN community, on our 20th anniversary we're proud to commit ourselves to work harder than ever to spread the message of IPv6 adoption in the years to come.
Recent blogs categorized under: IPv6