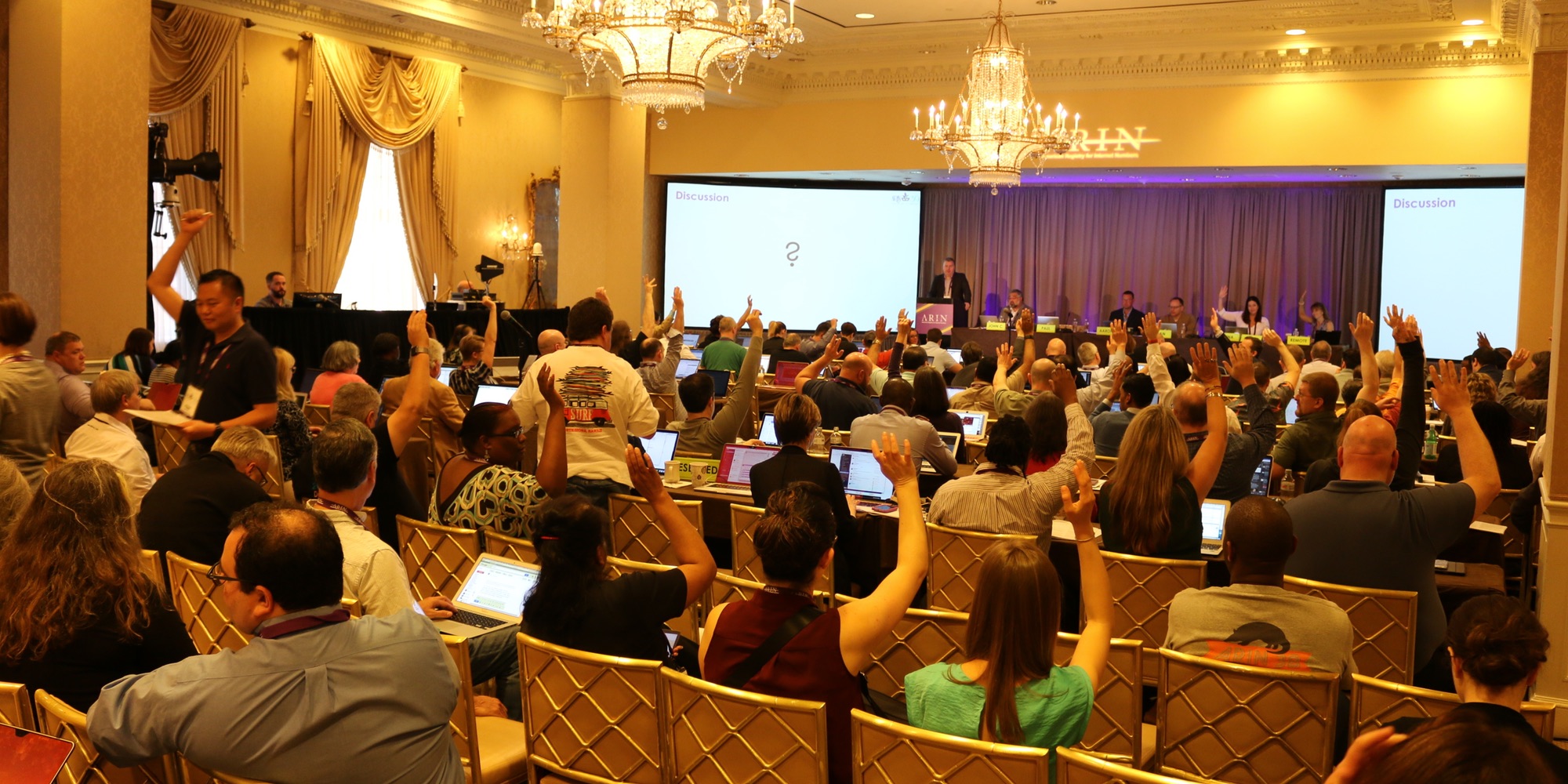 ARIN 39 Day 2 Daily Recap
In the blink of an eye, the ARIN 39 Public Policy and Members Meeting Day 2 has come and gone.  Today participants discussed draft policies, received reports from Internet community members from around the world, and had an opportunity to engage in conversations with fellow attendees.  Here's your quick recap of what happened today.
Full Day of Sessions
This morning we took a look at the work the Number Resource Organization Number Council (NRO NC) is doing and at global statistics on Internet Number Resources from each of the five Regional Internet Registries (RIRs). We received reports from Alan Barrett of AFRINIC and Oscar Robles of LACNIC about their respective regions. Then, ARIN's Senior Director of Registration Services, John Sweeting, spoke about trends in specified recipient transfers. Finally before breaking for lunch, ARIN's President and CEO, John Curran, shared his reflections on the Internet and the US Government.  When explaining what has changed since the IANA stewardship transition completion, he said there has been no change to policy for any of the IANA registries, nor a change in the IANA registry operations, only that the IANA registries are now operated by Public Technical Identifiers (PTI) by direction of the affected communities rather than the US government.
Today's agenda included 3 draft policies including:
In the afternoon, we were greeted with a special address by ICANN CEO, Göran Marby. This is the first time an ICANN CEO has attended (or presented) at an ARIN meeting and he was warmly received. He emphasized that the three communities that make the Internet work (protocol, numbers, and names) must work together as equals.  Elise Gerich spoke about PTI, an affiliate of ICANN that is responsible for performing the IANA functions and delivering the IANA Services on behalf of ICANN and the relationship between the RIRs and PTI.  Next we heard a presentation from Jason Schiller about the IANA Numbering Services Review Committee. He said it should be boring as long as the IANA operator continues to do a good job. Next up were presentations by more fellow RIRs. Axel Pawlik provided an update on the latest from the RIPE NCC community, while Geoff Huston gave a lively presentation from APNIC. Geoff then went on to comment on the state of IP addresses (both IPv4 and IPv6 allocations) globally which prompted an engaging discussion by attendees. Nate Davis, Chief Operating Officer for ARIN, gave the last presentation of the day providing information on software development projects completed since the last meeting and what's in the pipeline. We ended the day, as usual, with an energetic open microphone session to allow our community members the opportunity to discuss topics of their choice. Participants took to the mic to express appreciation for the fellowship program and to talk more community networks, transfers, and much more.
Tweet up
Again today, we've been chatting with you on Twitter using the #ARIN39 hashtag. Here are a few of our favorites from the day
Presentations from different Regions about Internet policies & practices in #ARIN39 Conference @hetsorg @ICANNAtLarge #hetsevents pic.twitter.com/QcCDQRXnSJ

— Yubelkys Montalvo (@yubypr) April 4, 2017
Alan Barrett, AFRINIC CEO, giving AFRINIC update at #ARIN39 pic.twitter.com/rvbwphFOA9

— Arthur Carindal (@carindaln) April 4, 2017
Axel Pawlik, Managing Director of @RIPE_NCC kicks off the #RIR Updates series at #ARIN39 w/ the RIPE NCC Update. pic.twitter.com/yM1eVm31DZ

— Jason Hynds (@JSunHy) April 4, 2017
#ARIN39 @oscarrobles gives @lacnic overview, #RIR work, as well as policy & outreach efforts. #ICANN #NARALO #ISOC #ISPs & others listen in! pic.twitter.com/gEII8fqcqK

— Javier Rúa-Jovet (@javrua) April 4, 2017
"I'm here as an equal partner to work together with you." – @ICANN CEO @GoranMarby to the #ARIN39 community.

— Susannah Gray (@susegray) April 4, 2017
Our colleague Elise Gerich, just presented IANA service update and how the relationships are currently mapped between PTI, ICANN & the RIRs. https://t.co/1XctJcQaM2

— ICANN for Techies (@ICANNTech) April 4, 2017
The @CARIBNOG guys on-site / #ARIN39 Fellows, @brentmcin & @JSunHy, get a behind the scenes network view from @TeamARIN Mark & Frankie. pic.twitter.com/8eECQAsikv

— Jason Hynds (@JSunHy) April 4, 2017
If you want to refer to anything you've seen so far, all slides from the public policy portion of the meeting are available online. See you back again tomorrow for your third and final daily recap of the meeting. Wednesday's sessions are open to everyone, and we hope you will join us whether that be in the Big Easy or from your home town via remote participation.
Recent blogs categorized under: Public Policy