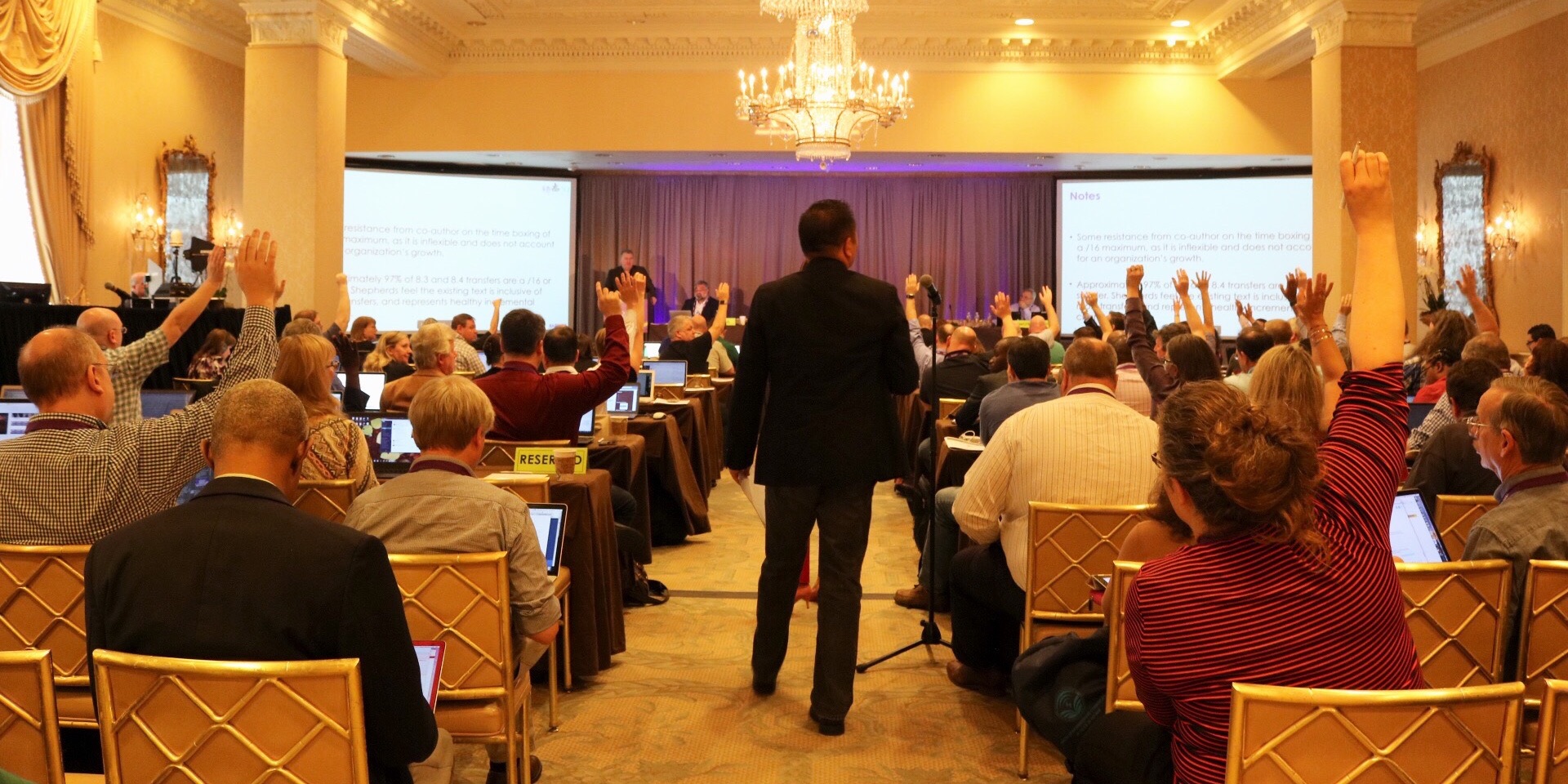 ARIN 39 Day 1 Daily Recap
From the winding streets of the French Quarter of New Orleans, Louisiana, the ARIN 39 Public Policy and Members meeting has begun.  Here is a high-level recap of what has happened so far. Be sure get involved tomorrow and Wednesday either in person or remotely.  It is (Big) Easy to join us from afar, by watching the webcast online, following along with the live transcript, voting in straw polls, and asking questions via chat. Just be sure to register before we get started tomorrow so we can add you to the meeting chat rooms!
What happened at ARIN 39 so far?
On Sunday afternoon, an orientation guided newcomers through what to expect at their first ARIN meeting.  Then, registration services led a tutorial on the ARIN transfer process.  Starting Monday morning, the meeting kicked off with welcoming remarks, followed by an overview of on-docket proposals.  Then we heard a report on ARIN's policy implementation followed by a look at policies in progress around the world.  We also had a special session on the importance of having accurate Whois data for the safe and secure operation of the Internet.
In a very interesting IPv6 panel, a group of industry experts from Comcast, Louisiana State University, LinkedIn and Amazon Web Services discussed their progress with IPv6, obstacles they've faced, and benefits from either the corporate or customer side.
Animated discussions about each of the three policies on the agenda today included:
In the afternoon, we heard updates on most recent Internet Engineering Task Force (IETF) meetings and on Number Resource Organization (NRO) activities.  Lastly, we took a look at Internet Technology Health Indicators (ITHI) metrics on the health of the Internet's unique identifier systems.
What's tweeting?
We've enjoyed chatting with you on Twitter about the meeting using the #ARIN39 hashtag. Here is a collection of just a few tweets we've seen so far:
#ARIN39 starts! @jcurranarin gives quick @TeamARIN overview, #IANA history, work of #RIRs, etc. #ICANN #NARALO #ISOC #ISPs & others present! pic.twitter.com/Qm5B5It40F

— Javier Rúa-Jovet (@javrua) April 2, 2017
IPv6 panel at #ARIN39. Pay attention to current reality of traffic uptake not historic anecdotes. pic.twitter.com/FqN9ceoeSz

— merike kaeo (@estodoubleshot) April 3, 2017
@jjmbcom @aaronhaaronh @ahpeterson others share #IPv6 implementation status #naralo #arin39 – are you on board? #ipv4 is so old school… pic.twitter.com/08rLPwQl4y

— Ron da Silva (@ron2twit) April 3, 2017
#IPv6 panel at #ARIN39 is eye opening. Rapid adoption and deployment.

— John Laprise (@JohnLaprise) April 3, 2017
Great @TeamARIN panel on #IPv6! #ARIN39

— Kevin Otte (@nivex) April 3, 2017
Attending the Women's Networking lunch at #ARIN39, nice getting to know each other! @hetsorg #hetsevents @ICANNAtLarge pic.twitter.com/WGURgk1as7

— Yubelkys Montalvo (@yubypr) April 3, 2017
@ #ARIN39 awesome speeds on WiFi over IPv6 at ARIN 39. pic.twitter.com/shgD248fdZ

— Brent Mc Intosh (@brentmcin) April 3, 2017
I'm obviously ecstatically happy about my new #ARIN39 t-shirt. Camera = cue cheesy grin. https://t.co/oOWhfXA1qN

— Susannah Gray (@susegray) April 3, 2017
See you back again tomorrow for your next daily recap.
Recent blogs categorized under: Public Policy
---
GET THE LATEST!
Sign up to receive the latest news about ARIN and the most pressing issues facing the Internet community.
SIGN ME UP →
---
Blog Categories
ARIN Bits
•
IPv6
•
Business Case for IPv6
•
Fellowship Program
•
Grant Program
•
Caribbean
•
Internet Governance
•
Updates
•
IPv4
•
Elections
•
Tips
•
Public Policy
•
Customer Feedback
•
Security
•
Outreach
•
RPKI
•
Training
•
IRR
•
Data Accuracy