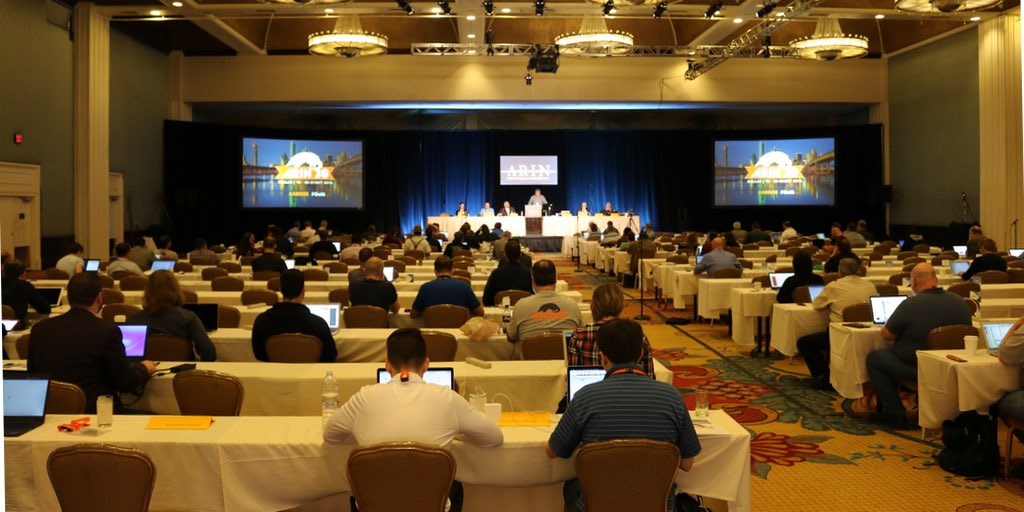 ARIN 38 Daily Recap 2
Today marked the last day of the ARIN 38 Public Policy and Members Meeting in Dallas, Texas.  In the morning we continued the public policy portion of the event and then in the afternoon we concluded with the members meeting.  See yesterday's blog for a recap of Day 1, and stay tuned to find out what happened today on Day 2.
First we heard a report on the current activities of the Number Resource Organization (NRO), which included confirmation that as of October 1st, the Service Level Agreement between the five RIRs and ICANN for IANA operations is in effect. Then a law enforcement agency (LEA) panel presented on the importance of accurate Whois data for public safety.  Representatives from the FBI, DEA, and Royal Canadian Mounted Police shared their intent to use the public policy process to collaborate with the community to address their concerns about the reliability of data in the RIR's databases that they rely on as a first step in many criminal investigations. LEAs plan to propose policies in each RIR within the next year aimed at requiring network operators to regularly update their Whois information.
Then the community launched into two policy discussions, including Recommended Draft Policy ARIN-2016-6: Eliminate HD-Ratio from NRPM and Draft Policy ARIN-2016-3: Alternative simplified criteria for justifying small IPv4 transfers.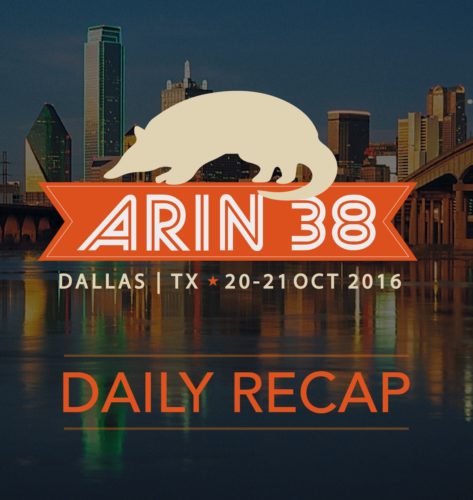 After wrapping up policy talks, we heard about completed and forthcoming organizational software projects and the ARIN Services Working Group, which is tasked with facilitating discussion with the community and developing recommendations.  We also received reports from Engineering, Registration Services, the Advisory Council, Board of Trustees, and we took a look at ARIN finances.  A few observations include that since IPv4 depletion, requests for IPv4 address space has been decreasing while pre-approvals and specified recipient transfers have been increasing. IPv6 request traffic has remained steady, with an increase in help desk inquiries.  For the first time, the percentage of ISP members with both IPv4 and IPv6 holdings surpassed those with IPv4-only.
As always, an open microphone session rounded out the meeting where people brought up their thanks for the fellowship program and issued a reminder to vote.  Also, it was stated that as of yesterday, all of the root name servers have IPv6 addresses in production.
Thanks for your participation in ARIN 38!  Your input in the policy process and ARIN community is very important.  Today's slides are already posted online divided among Public Policy Meeting Presentations and Members Meeting Presentations. Within the next week we'll also be adding webcast recordings, full transcripts, and abbreviated notes as well. Be sure to save the date for ARIN 39 in New Orleans, LA from 2-5 April 2017.
Recent blogs categorized under: Public Policy