Why You Decided to Deploy IPv6
We asked you to tell us about your IPv6 deployment journey at your own organization via an open survey.  Out of more than 150 responses, we collected some interesting information that you may enjoy hearing more about.
Some of the services companies provide over IPv6 include (but are not limited to): DNS, DHCP, webhosting, Internet connectivity, network monitoring, email, video streaming, VoIP, ftp, apps, colocation, dedicated server, virtualization, AAAA records, IPTV, WAN uplink, and more.  More than 65% of respondents said they have IPv6-enabled transit and/or peers (77%), network infrastructure (88%), DNS (AAAA or NS records) (67%), and firewalls (72%). However it seems like many organizations still haven't made their public-facing websites ready for the next generation of the Internet.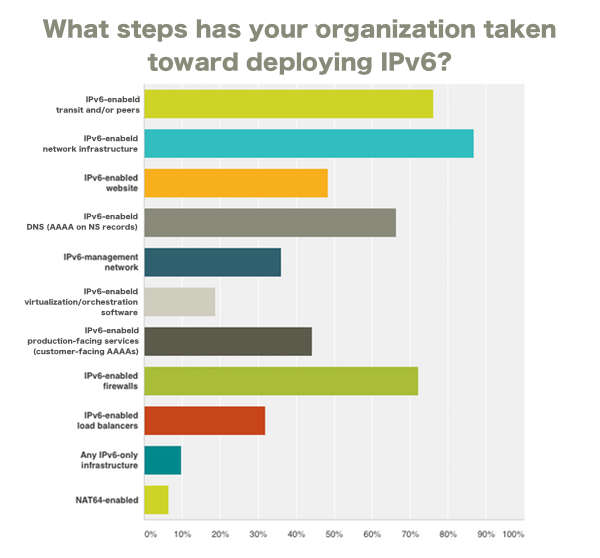 Of those who already deployed IPv6, many organizations made the decision to do so because they wanted to futureproof their technology and be experienced with the protocol before customer demand increases.  Many recognized that IPv4 was depleted and that IPv6 is important for business growth.  Some also indicated that deploying IPv6 was a natural progression during planned network improvements that presented little downside.  Several suggested that their company prides itself on being at the forefront of technology, and thus IPv6 was part of their effort to be a market leader and stay ahead of industry trends.  Others indicated that they did not think there is another good long-term solution for dealing with IPv4 scarcity.  International organizations in particular suggested IPv6 is important to connect globally and to be sure customers and clients are able to access them from all over the world.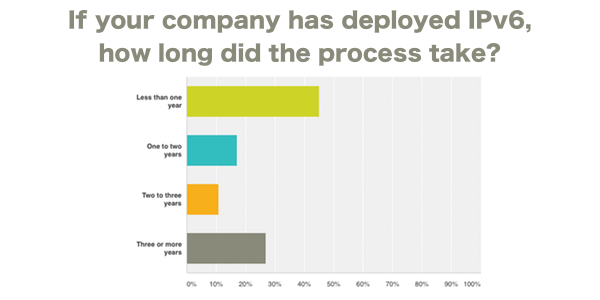 Most respondents began work on deploying IPv6 in 2014 (18%) and 2015 (19%) and the process took less than year to complete for more than 45% of respondents. Many internal stakeholders were involved in the decision to deploy IPv6.  A common theme among respondents echoed that executives and management needed to be involved to get the project off the ground.  Specific roles mentioned include: CEO, CIO, CTO, Executive Director, and the like.  From the technical side, implementation involved the IT Department, Network Operations, Systems Administrators, Engineers, Information Services, Technology Directors, and even consultants.  Notably, approval from finance or purchasing was crucial to getting sign off to begin work on IPv6 projects.
Many suggested that deploying IPv6 would have been easier if there had been more of a management push to accomplish it, a hard deadline, and a cross-functional effort across their organization.  Respondents also indicated training would have been helpful, along with examples and best practice documentation from peers.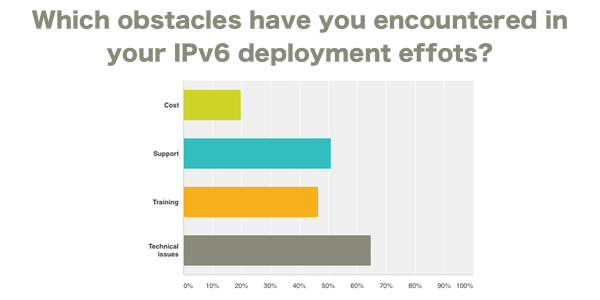 Interestingly, only 20% of respondents indicated "cost" is a barrier to IPv6 adoption within their organizations, many citing technical issues as a larger concern.  In a following blog post we'll take a look at how some of our survey respondents overcame a few of their IPv6 adoption challenges. We'll also share some of the benefits and advice for others that were given. Stay tuned, and in the meanwhile, be sure to follow @TeamARIN on Twitter for some of the feedback from the survey using the hashtag #get6.
Recent blogs categorized under: IPv6
---
GET THE LATEST!
Sign up to receive the latest news about ARIN and the most pressing issues facing the Internet community.
SIGN ME UP →
---
Blog Categories
IPv6
•
Business Case for IPv6
•
Fellowship Program
•
Grant Program
•
Caribbean
•
Internet Governance
•
Updates
•
IPv4
•
ARIN Bits
•
Elections
•
Tips
•
Public Policy
•
Customer Feedback
•
Security
•
Outreach
•
RPKI
•
Training
•
IRR
•
Data Accuracy