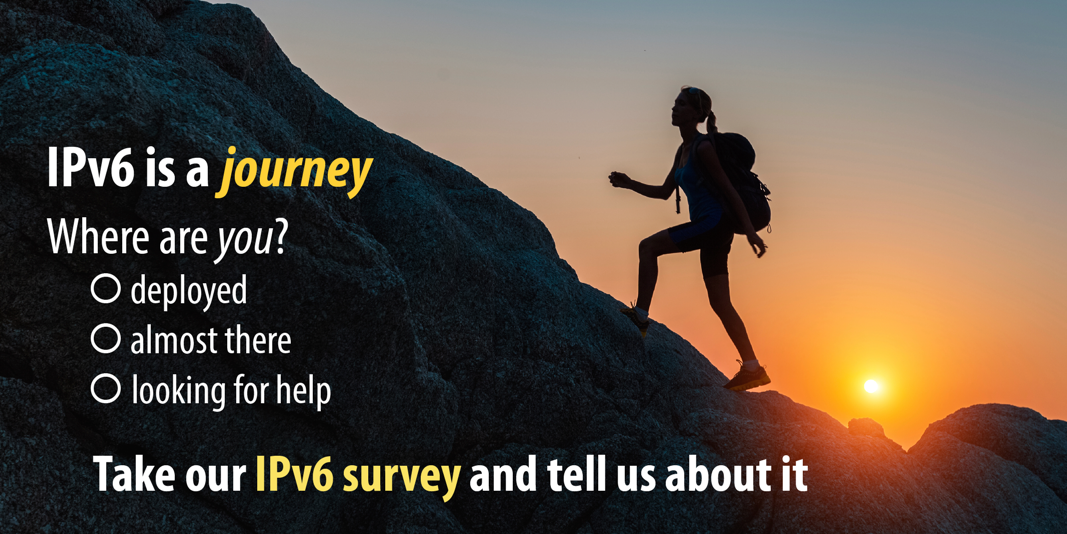 Where are you on your IPv6 journey?
Over and over again we hear that people need more resources to help them deploy IPv6, so we have set out to find out what would be the most valuable for those who are trekking upward. Our first step is to discover what kind of IPv6 activities are already occurring in our region. To do that we have an IPv6 Deployment Survey aimed at those organizations who have already begun their journey to IPv6.
Have you started, or even completed, deploying IPv6? If so, please take our short survey to help us collect information about where you are in the process, the challenges you have faced, and the advice you would give to others. By attempting to identify the pain points companies are experiencing, we hope to be able to help you overcome them.
The survey will begin by asking you some demographic questions, followed by questions designed to help us understand what types of services your company has already made available over IPv6. Next we'll ask you about the obstacles you encountered along the way and how you overcame them. We'll also ask you what kind of resources were (or would have been) useful for you and if there's one piece of advice you could give to others, what would it be?
Many respondents to date have indicated they have an IPv6-enabeld network infrastructure, IPv6 transit and/or peers. The main obstacle we're seeing so far appears to be technical issues, and for almost half of those who have responded so far, the process has taken less than one year to accomplish. Better vendor support would have made deploying IPv6 easier for many of you, and lots of respondents have suggested the best advice is to plan early and strategically.
Please take a few minutes to answer our survey questions yourself.  It shouldn't take more than ten minutes to complete, and the results will be used for educational purposes only. Also consider including your contact information at the end so we may reach out to you for more detail or to partner with you in our outreach efforts (that currently include Get6 and lists of hosting/DNS providers and consultants/trainers on our IPv6 wiki). We're looking forward to using the results of this survey to continue to help you on your IPv6 journey!
Recent blogs categorized under: IPv6