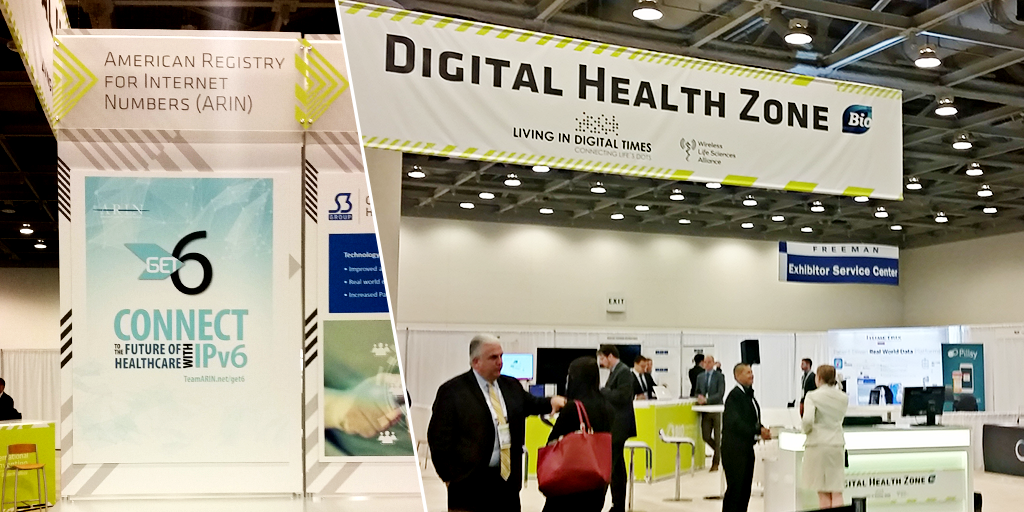 Healthcare's Digital Future is Here, But How Will it Connect?
This past week, I attended the Digital Healthcare Summer Summit and 2016 BIO International Convention on behalf of ARIN. You might be wondering what one of the Regional Internet Registries and healthcare have in common. The answer is quite a bit.
Igniting the Tipping Point
The theme of the Summit itself was "Igniting the tipping point," a nod to the fact that the digital revolution in healthcare is not necessarily a new topic, but one that is poised to move into the everyday lives of clinicians, researchers and patients everywhere. These technologies can improve clinical efficiencies, education and most importantly, patient outcomes; but there is still much work to be done in order to make the case for investments in digital healthcare and widespread adoption.
This is a theme familiar to ARIN. In September of last year, ARIN announced the depletion of IPv4 addresses and the need to transition to IPv6. Since then, ARIN has focused on educating communities outside the tech world on making the move to IPv6 and why the time is now. IPv6's unlimited address pool and true end-to-end connection is the backbone that will facilitate the Internet of Things as we add more and more connected devices to our lives.
Creating the Internet of Healthcare Things
In speaking with attendees and exhibitors at the summit, many told me condition specific wearables and monitoring devices in particular are igniting the tipping point. Whether it is a sock with a sensor in it to track patients within a hospital, facility, or at home to make sure they are moving post-surgery, or an application to help patients adhere to medication-that is accessed via mobile phones and smartwatches, these types of digital healthcare innovations will have an immediate impact on outcomes.
So how will all these devices connect? That's where I've been able to share ARIN's message on IPv6. I'm delighted to say there are app and device makers who are aware of IPv6 and taking that into consideration as they develop, but there is still much to be done to educate care providers and their network teams about future proofing their networks to use IPv6 to the fullest.
The Internet of Healthcare Things is fast emerging and its promises will be felt everywhere on the healthcare continuum, from wellness care to acute disease conditions. But with any technological revolution, the devices are only one side of the coin. IPv6 and network evolution play a key role in sparking our connected healthcare future.
Any views, positions, statements or opinions of a guest blog post are those of the author alone and do not represent those of ARIN. ARIN does not guarantee the accuracy, completeness or validity of any claims or statements, nor shall ARIN be liable for any representations, omissions or errors contained in a guest blog post.
Recent blogs categorized under: Outreach